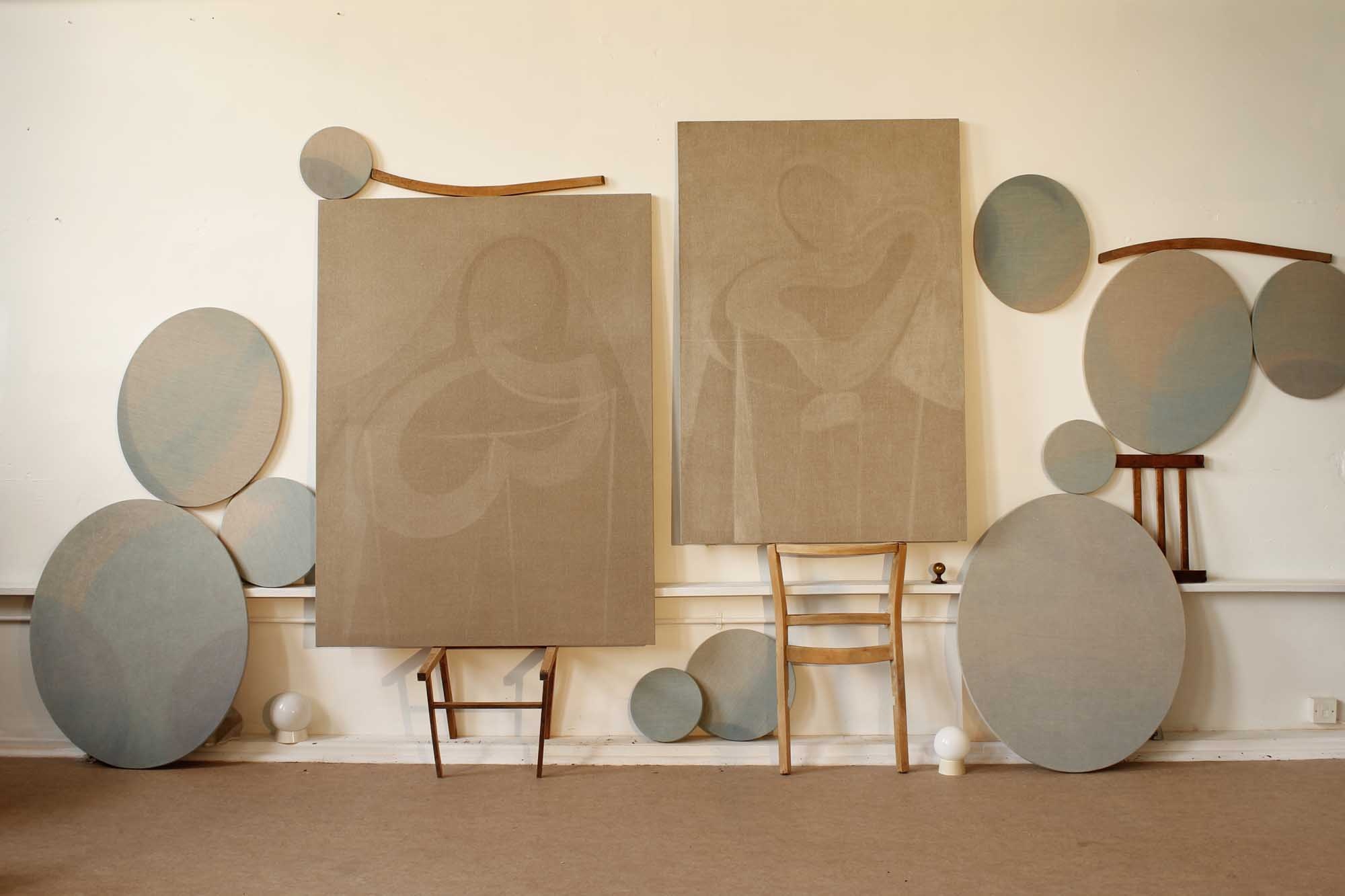 1st February – 2nd March 2013 COLE 3-4a Little Portland St London www.colelondon.com
Yelena Popova works across a range of media incorporating painting, installation and video. For this show she continues to engage with the materiality of painting, but introduces art historical quotations of portraits reminiscent of old masters to further explore histories of representation.
In acknowledging the conditions and causes of the production of portraiture Popova reflects on the history of capitalism as reflected through the history of painting.
There is a single image on the wall of Popova's studio, a black and white reproduction of a portrait of St.Veronica, by Robert Campin. 'It talks to me about painting, representation, documentation and portraiture'.
Her portraits in their restrained gestures and materials
are reminiscent of a print, or an x-ray. But instead they are diagrams of existing portraits, traces of their subjects' former glories, sometimes imperceptible if not viewed from a certain angle. Status, power and wealth are stripped out, leaving us with a raw linen surface and the bare minimum of materials used in production. Sometimes the image disintegrates into an elegant arrangement of abstract shapes and lines suggesting the drapery and decor around the withdrawn sitter. The paintings become willing accomplices to this investigation of an accumulated wealth display.
An interest in the different spatial arrangements between art presented in museums, national collections, stately homes and contemporary art spaces also comes into play through the way in which Popova installs the work. How painting acts as a collectible item within these different scenarios is considered–is it able to think or reflect on history, politics, economics? Histories of representation come to the fore, in terms of both the subjects of portraiture and the subsequent display and ownership of these works.
As well as employing the installation to tackle the status of painting and its value as object, Popova's choice of material continues this. The materiality of painting has always been central to her practice and here it is extended as she juxtaposes the bare linen and thinness of paint with gold leaf dots. Production and commodification of the work are highlighted through the use of this ostentatious element, purporting to add value. This is contrasted with Popova's adaptation of National Gallery postcards, in which celebrated images become a surface for Popova's preparatory drawings.
href="http://www.colelondon.com">www.colelondon.com
About The Artist
Yelena Popova (b. 1978, Urals, Russia. Lives and works in Nottingham). Graduated from
MA Painting at the Royal College of Art in 2011. Recent solo shows include Abstract Possible, Eastside Projects, Birmingham (2012), Invites, Zabludowicz Collection, London (2012), Unnamed, Figge Von Rosen Gallery, Berlin (2012). Recent group exhibitions include
Gaiety Is The Most Outstanding Feature Of The Soviet Union, Saatchi Gallery, London (2012), Red Mansion Prize, Royal Academy, London (2012), Twofold, Outpost Gallery, Norwich (2012), Bloomberg New Contemporaries, ICA, London, (2011). Forthcoming: The Futures Of The Past: Annette Amberg, Asier Mendizabal, Yelena Popova, Kunst Raum Riehen, Basel, May–June 2013.
Categories
Tags