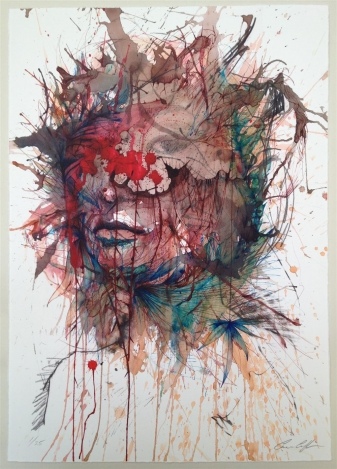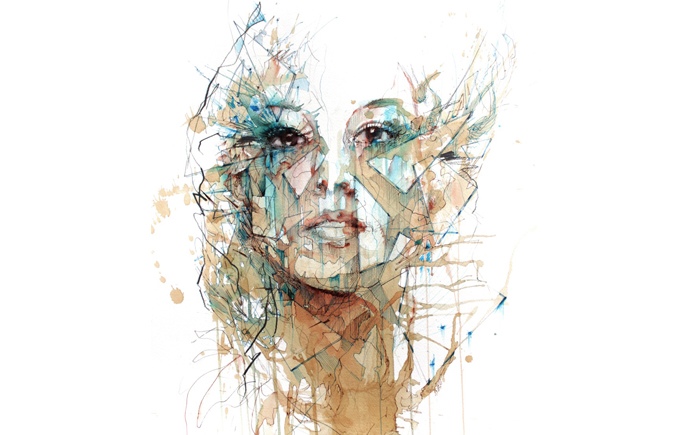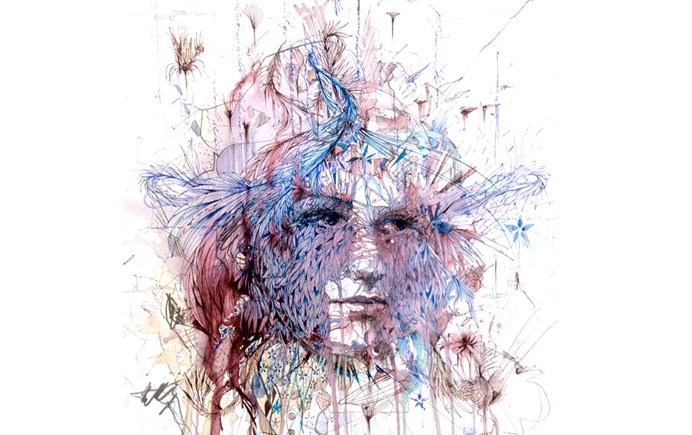 We caught up with Carne Griffiths for a quick chat about him showing at London Art Fair which you can catch this weekend and him joining up with Fabulous Noble The uber cool bespoke portrait company .
1.If you weren't an artist, what else would you be?
It would have to be something that involved drawing! Maybe a technical draftsman. I did some research into family history recently and my great grandfather was a marine engineer in liverpool around the time the titanic would have been due to port.. I looked at black and white photographs of huge drawing rooms.. that would have suited me fine.
2. Can you tell us more about your work and what are the main ideas you would like to express?
My work is primarily concerned with drawing – I love line and I love the exploration of making a new piece of Art. I like to leave gaps in the work so that the viewer can fill in his or her own stories or emotions and I often create work expressing notions of reverie abandonment or awe.
3. How do you start the process of making work?
I wait for the right moment to begin – it's normally an impulse or reaction to something I have seen. That part is quite magical. I try and avoid process and approaching each piece in the same manner.
4. What defines something as a work of art?
I believe art is a conversation between viewer and artist, it communicates something, an idea, an emotion, a response of some kind.
5. Anytime, any place – which artist's body would you most like to inhabit?
Wow great question – and hard to pick one but most certainly between Antonin Artaud – his incredible journey of self discovery and self destruction through experimentation revealed the most amazing drawings – torturous but beautiful in their honesty.
also Andre Masson – one of the pioneers of automatic drawing during the early stages of the surrealist movement, to experience the excitement that surrounded this groundbreaking technique of associating the unconscious mind with drawing and writing.
6. What is your favourite 'ism'?
Surrealism – I love the early stages of surrealist experimentation and the fact that it doesn't seem to take itself too seriously.
7. What was the most intelligent thing that someone said or wrote about your work?
I don't know about intelligent but somebody once wrote a beautiful critique of a piece called acceptance that I made in 2010. The piece is of a reclining male figure contemplating his own mortality it has an unfinished feel in parts and elaborate ornamentation in the centre. The critique drew an analogy between the line in the drawing and life's complexity – I wish I'd written it, or at least thought it when making the work!
8. If Moma and the Tate and the Pompidou wanted to acquire one of your works each, which would you want them to have?

I would split a triptych I made in 2011 between the three, the pieces Mortal, Immortal and Eleven were created after spendng my first year working full time as an artist. They remind me to keep pushing things forward. Moma Mortal, Immortal Tate and Pompidou Eleven, because it sounds good
9. Are you exhibiting somewhere currently?
Yes I have a busy first quarter of 2013, I am currently exhibiting 7 pieces of work at the London art fair with Ink-d Gallery, which runs until the 20th January , and will be showing 4 new works in a months time at 'Above Second' in Hong Kong with the fantastic Coates and Scarry, The exhibition is called 'Trailblazers' and I'm fortunate enough to be showing alongside such great artists as, Angela Lizon, Carlo Cane, D*Face, Joe Sorren, Lyndsay Carr, Nick Walker, Pure Evil, Nigel Cox, Rose Sanderson and Sas Christian.
10. Why did you decide to become part of Fabulous Noble?
I found out about Fabulous Noble through FAD.. I loved the concept and they presented a really fresh approach towards portraiture which I thought would give me an opportunity to challenge what I do. Plus they are great people with a lot of energy and enthusiasm.
About Mark Westall