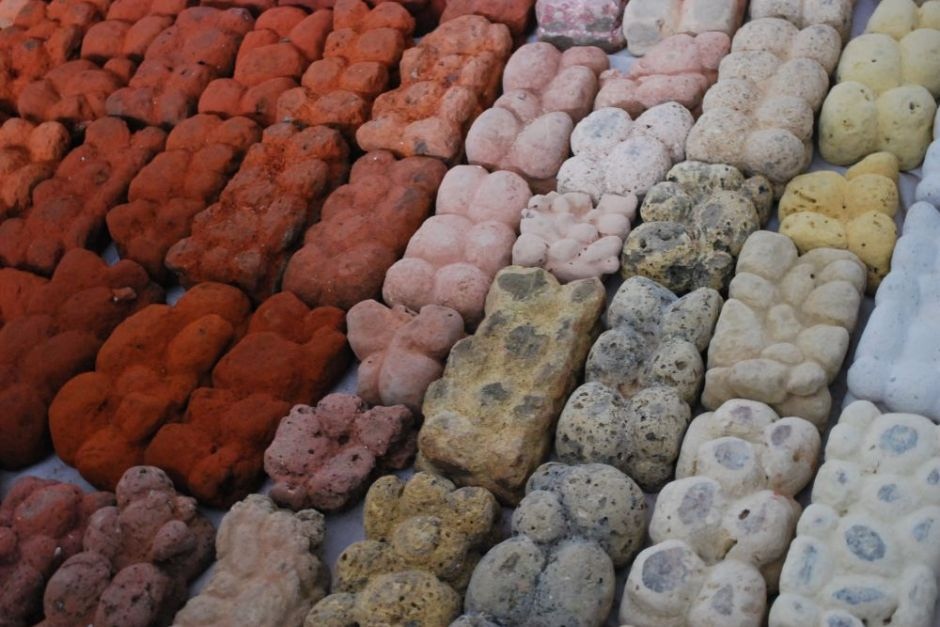 18th January – 2nd March 2013 www.katemacgarry.com/
This will be Matt Bryans' fourth solo exhibition at the gallery. The show consists of an installation of hand-carved bricks and erased newspaper landscapes.
Bryans has recently transferred his process of erasure from newspaper cuttings to brick. As with his newspaper works he has taken a pre-existing, familiar material and eroded the surface, revealing new forms. Bryans has not only used a local material but also one that is heavily associated with Englishness. Bricks are the foundation of England's built environment and were the cornerstone of the industrial revolution. The old lives of these bricks, found in bombsites and other places in and around London, are carved into an odd, organic demeanour. Freed from their mortar they are sculpted into something that appears to have been eroded by nature.
The newspaper collages are Bryans' take on the ancient English theme of landscape. The artist has described them as "annihilated landscapes". They are a profusion of archetypal and empty spaces suffused with a melancholy presence. In Bryans' work a poetic transformation takes place, an alchemy with contemporary and banal found materials, producing something suggestive of worlds that exist in some legendary or fictional past tense. Examining his works there is a sense that we are penetrating the surface of things, getting under the skin of the world. His hallucinatory newspaper landscapes also seem to reflect political issues buried in our contemporary landscape.
About The Artist
Matt Bryans, born 1977 in Croydon, England, lives and works in Norway.
Selected exhibitions: The Future's Not What It Used To Be, Newlyn Art Gallery Cornwall, 2013 and Chapter Gallery, Cardiff, 2012; Matt Bryans, Stavanger Arts Centre, Norway, 2012; Breaking the Land, SFCamerawork San Fransisco, 2011; Matt Bryans – Hibernation, Martin van Zomeren, Amsterdam, 2010; Matt Bryans, Jack Hanley Gallery (presented by Kate Fowle) 2009; Matt Bryans, Kate MacGarry 2008; Recent Acquisitions, Museum of Contemporary Art, Los Angeles, Matt Bryans, Atlanta Center of Contemporary Art, Atlanta, Collage Effect, 1301PE, Los Angeles, 2006; Pin-up, Tate Modern, London, Picture This!, MMD Museum Dhondt-Dhaenens, Deurle, Belgium, 2005.
Categories
Tags