Yvette Greslé talks to Matthew Houlding about 'The Oceanic' an exhibition of sculpture, wall based reliefs and drawings at Ceri Hand  through to 9 February.  For more information about the show see www.cerihand.co.uk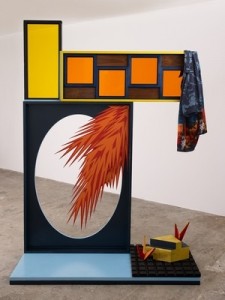 'The Oceanic' (the title of Houlding's show) is the name of a hotel that no longer exists. It was designed by German modernist architect and urban planner Ernst May, in Mombasa, Kenya. May (born in Frankfurt am Main in 1886) developed his ideas in Weimar Germany, and took them to, among other places, the Soviet Union. With the emergence of Nazi Germany May, who was Jewish, immigrated to East Africa where he bought a coffee plantation in what was the British colony of Tanganyika, now Tanzania. After three years of farming he moved to Nairobi, Kenya where he again practised as an architect. In different parts of the African continent, modernism takes on particular inflections: it can signal both a colonial past and a hopeful post-liberation future. Houlding spent his childhood in 1970s East Africa, an experience that has left him with aesthetic reference points, and personal memories upon which he draws.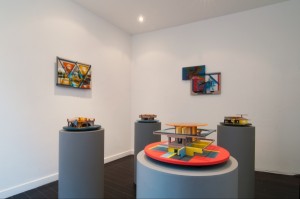 In Houlding's structures we imagine multiple narratives, historical and personal. Idiosyncratic details – palm trees, snorkels and brightly patterned Hawaiian shirts – converge with the forms, shapes and sharp angles we have come to associate with aesthetic modernism. Geometry at play, multiple simultaneous viewing points and displaced perspectives are referenced and re-imagined. We look through cut-outs or translucent screens that direct our gaze outwards and through to the world of the gallery, the objects that surround us or images of buildings and places we do not know. Domestic and architectural motifs and objects are cropped and re-imagined: we see the edges of verandahs, coffee tables and banisters. Some structures are shelves for things, that found or specially constructed, appear dream-like and strangely unreal. Reflective surfaces mirror us back to ourselves. Tiny shadows are cast by miniature palm trees. We imagine oceans and tilted horizon lines. Painted surfaces and bright colours – blues, reds, yellows and greens – remind us of happy times and summer holidays. But emptied out swimming pools – in objects and photographs – speak of endings and time that has passed.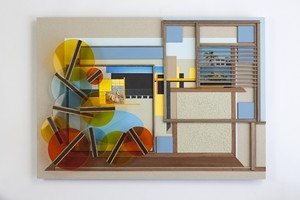 YG: What is the impetus for your work? What brought you to object-based work? What interests you about space?
MH: I think I've always been interested in recreating buildings and places. I've always been interested in place, and in environment. This is to do with personal experience.  I began by being interested in ideal spaces or what I thought were ideal spaces. I've always been interested in reproducing these. I've always been interested in people building their own spaces and their own place.
YG: When you speak about space, are you referring to public space or domestic space?
MH: It's more about personal ideals.
YG: What brought you to that interest?
MH: Probably where I grew up. I grew up in East Africa. I went out there when I was a kid in the '70s. I was there for about 20 years, but went to boarding school in the UK.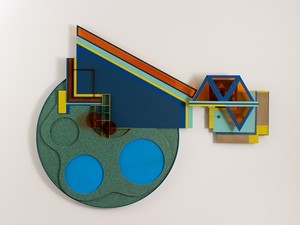 YG: I'm struck by your relationship to your life in East Africa, and the relationship of that experience to your work. This relationship seems to be one based on personal observations and memories. Do you have a lengthy research process or a gathering process?
MH: I think it's more of a gathering process. I started with Ernst May and the Oceanic Hotel. It started off with me living in the tropics and hearing about May who was part of the early modernist movement in Europe. The title's quite an open title and so I just started pulling in other things of interest. I did some reading but I'm not a research-led artist. I bring my own histories into existing histories. That creates a different narrative, and allows me to bring more things in. Everyone has their own history within the bigger picture. I tend to use things or appropriate things, fit them to my own imagination and personal history.
YG: Your structures are so abstract, and you read them symbolically. Where do you find the objects you use – such as the clothes or the snorkels?
MH: Some of them I've bought off the internet or second hand. I'll search 'Hawaii shirts' for example.
YG: Do you keep diaries?
MH: I might keep a visual diary in terms of taking a lot of photographs. I find writing difficult.
YG: Do you have your own archive or way of collecting and storing objects.
MH: My studio. Certain things will be hidden or stacked away and then I'll re-discover them and use them (either for a work or as reference material). I collect a lot of newspaper cuttings, photographs, graphics, things that have particular colours that are pertinent to me.
YG: How do you imagine your studio, as a place?
MH: It's divided into a work space, a construction space and an office space where the photographs and paperwork is kept. It's a hub of where things go to and come from. It is an important place, my own world. That's what I love about studios, places where you can escape and conjure things up before you bring them out into the world for other people to see.
YG: Your work looks very labour intensive. Do you actually construct these objects and their components yourself?
MH: Yes, although details such as the laser-cut Perspex are cut by someone set up to do that kind of thing – from drawings that I did.
YG: Do you work with designers, in a collaborative, cross-disciplinary sense?
MH: No, but a lot of my work blurs the boundaries between the design model and the sculpture. I've never built things with the aim of having them reproduced for real. They're not models to be reproduced. After school I went on to study silversmithing and jewellery because it dealt with craftsmanship and making. That was what always interested me – craftsmanship and making. I believe that when things have that high quality of making it puts them into a believable system. You can believe in them a lot more.
YG: When you were living in East Africa was there anything that struck you about architecture or space?
MH: The architect Ernst May was connected with social housing programmes in the Soviet Union in the 1930s. As the political system changed with the war, and Stalin coming into power, he left Russia.  May took his family to East Africa. I got to know about him through an architect in Kenya. He gave a talk about architecture in Mombasa, and mentioned Ernst May. The Oceanic Hotel (I think) was one of the first modern concrete buildings. That just struck a chord and I dug a little deeper. I don't remember the Hotel (maybe vaguely) and then I discovered these postcards of it. The Hotel has been demolished. It provided a basis because it no longer exists. I had a vague image of it – postcard images of it and images from books. It seemed to provide a ground for blurring fact and fiction which is what I do in my work. I liked the title and the broadness of what that title meant. It meant I could fit a lot of things to it. I've always been interested in constructivist art, and that promise of a brighter future. Although their work was much more political. I make things that project something positive but also my history of the past.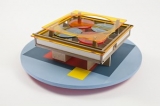 YG: Are you interested in social ideals about architecture and space?
MH: I'm more interested in a personal ideal. I don't think that I'm interested in a bigger social ideal because this has to fit with a bigger political system, and if that's not in tow then they generally don't work. If times change they end up as a remnant of an idea. I've never built cities but once did play on the idea of gated communities. It's more exclusive than inclusive.  There was a time in the late '90s/2000s when public space was being taken over by developers. New buildings were going up and suddenly your roots were cut off. Gates were put in. Even the Docklands have become like a gated park of high rises.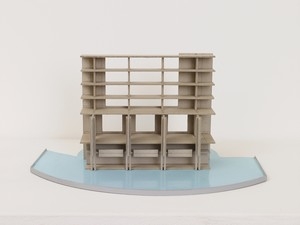 YG: Your objects seem bright and optimistic at first but when you look closely there are all these empty swimming pools or spaces that are emptied out and disused.
MH: With the shirts that have just been hung up. It's as though a day has ended or a time has ended. This speaks to me of my relationship to East Africa.
YG: Are these works nostalgic?
MH: Yes, I think there is nostalgia, a melancholy, a part yearning. You can't return to it but maybe there's a yearning to go back to the past in the future.
YG: Your work makes me think about modernism in architecture, and the ways in which it travelled around the world.
MH:  Yes. Modernism in India, South America or Africa has always had its own bent. Its motifs have been adapted to different countries
YG: What do you think is particular about East Africa in terms of the way that modernism migrated there? Your objects incorporate a lot of translucent screens and cut-outs.
MH:  Modernism has always been about window space and looking out, a relationship to landscape.   One of the descriptions of the Oceanic Hotel spoke about how it had a lattice frontispiece. Its central stairway had lattice work which functioned to ventilate the building.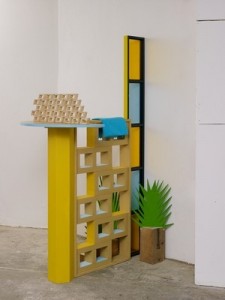 YG: Drawing on my memory of living on an island, I always thought that the relationship between the verandah, the landscape, the ocean and the horizon line is interesting.
MH: The horizon line is something I'm interested in. I tilt it in the work. Sometimes it's a meeting point between the sea and the sky.  I really like that meeting point.
YG: I'm fascinated by your references to the sea, to water, or its absence in the swimming pools.
MH: Sea has always played a big part of my life. I like the beach for collecting, and use a lot of the stuff that I collect.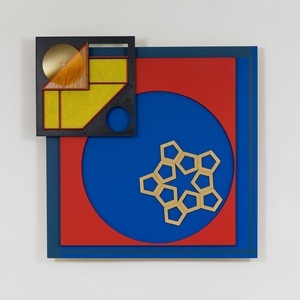 YG: Do you recreate what you find on the beach or use actual found materials or objects?
MH: I use things that I find. I've used timber for example. Not so much shells (although I used to collect them as a kid) but the wood. It's got history to it. That's what I like about found objects and materials – you're automatically playing with some sort of history, with something that's come from somewhere. Whenever I use a found object it has a connection back to something that I don't have an association with.
YG: The snorkel on the shelf in one of the works is really funny.
MH: That brought out the functionality of the shelf.
YG: You bring together all these worlds and places. In one structure you have the ocean, you have a shelf, and references to what reminds me of G Plan furniture.
MH: I was just trying to make sculpture. I tend to go with things. It's also an aesthetic thing and an intuitive thing. Intuition and instinct plays a part in my work.
YG: When you reference objects or motifs from East Africa, do you think about how these are mediated by tourism for example? I'm thinking about the photograph of the empty pool – the aesthetic of it reminds me of a postcard from the 1970s.
MH: I am aware of it but it's not really been part of my world. Although maybe even with living there it was in a sense like being a tourist, although I saw myself as a local person. I have used images that are I suppose tourist images. I collect a lot of images of sea and palm trees. It fits with my idea of a personal ideal. I collect images of mountains and things like that – they are classic images of ideals.
YG: What about the ubiquitous swimming pools? What is it about swimming pools that fascinate you so much?
MH:  Swimming pools have attachments to them, things like status– people have them domestically and then there are swimming pools at hotels or for the masses.  It's a man-made nature in a sense. They're just striking things and I like them.
YG: What's your relationship to the formal aspects of the work – shapes and objects that you like as aesthetic things? On the one hand you're negotiating the pragmatics of making things work and fit together, and on the other hand you have all these personal attachments and associations.
MH: In some of the works I was interested in making graphic constructions. I started off in one of the works with two squares, interlocking them, and then I introduced a black circle which is like a black sun – almost like a void as well. I wanted to mix as many things together as possible – a constructed surface, a narrative that was abstract, but I wanted some sort of picture element as well.
YG:  You're interested in form (as a modernist preoccupation) but also narrative.
MH: I like a narrative element and something that might have a story attached to it. Elements such as coloured triangles could be part of an architectural facade but could also be related to tiny little fish dotted around a rock or something.  Laminate materials could be a floor surface or some sort of furniture surface. Perspex gives a layer that the viewer has to look through but it also changes as it picks up on what's around. It picks up on light.  I like that it picks up your own reflection, and puts you in the work as well. The piece never remains the same. I like that it changes.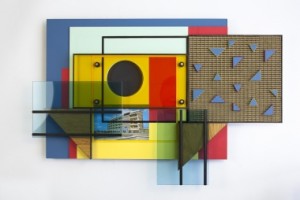 YG: The works or objects in the works, such as the models of palm trees, cast shadows.
MH:  You get false depth and new depth. It becomes important that your eye doesn't stay on one part of the work all the time. It keeps you moving around.
YG:  Light, shadow, movement, narrative all make me think of cinema. Are you interested in moving images?
MH: I'm interested in making moving images to go with the work. I like the idea of filming places rather than photographing them. Over the past few years I've gone to different places and taken lots of different photographs. Different images of one pool are photocopied and pieced together.
YG:  You work with many different kinds of scale and ways of displaying the work – some is wall based and some floor-based.
MH:  For this show, I made a lot of floor-based work.  I wanted to make what I thought was proper sculpture. I'm interested in the construction of memory or the construction of place – I was interested in the idea of making these chunks of place or chunks of something that are sculptures as opposed to architecture. They relate to parts of architecture but I wanted to make sculpture. I have shown things on the floor before but not as sculptural and not as dealing with form and colour as much.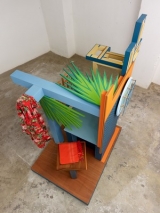 Categories
Tags