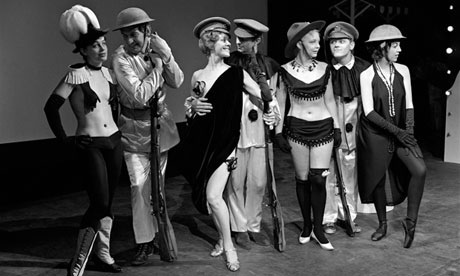 Jeffery's photographs covered 30,000 productions over 50 years, including Oh! What a Lovely War in 1963. Photograph: Douglas H Jeffery
This article titled "V&A's new collection covers 50 years of theatre photography" was written by Mark Brown, arts correspondent, for The Guardian on Wednesday 12th December 2012 00.05 UTC
He could, apparently, be something of a pain when he was taking pictures of actors at work, but it did at least help Douglas H Jeffery to create one of the most comprehensive libraries of theatre photography in Britain.
The Victoria and Albert Museum on Tuesday said it had acquired the archive of a newspaper photographer who spent 50 years going to rehearsals and photocalls to document more than 30,000 productions, a remarkable roll call that includes everything from the early days of the Royal Shakespeare Company to Mike Leigh's Abigail's Party to the more recent musical version of Lord of the Rings.
Kate Dorney, the V&A's curator of modern and contemporary theatre, said they were delighted to have been given such a rich collection: more than 100,000 images representing a pictorial history of modern theatre, good and bad. "He must have been incredibly driven as he often seems to have gone to so many productions in a day."
Jeffery was one of the first photographers to persuade theatres to allow rehearsal access and worked mostly for the Guardian during a 50-year career, living in a studio just off Fleet Street until his death in 2009.
Nobody would deny that Jeffery, often wearing a beret, always wearing a brown Cornish fisherman's smock, could be awkward. In a new V&A app, which uses the pictures to help tell the history of modern British theatre, the actor Simon Callow recalls the presence of Jeffery. "I remember Doug very well from my photocalls – insistent, he would always ask for the most difficult shots. Sometimes, it has to be said, in a difficult manner, infuriating his fellow photographers."
Dorney said: "He was very, very exacting. He would take over and order people round and could be difficult because he was after the perfect shot. I think he was a student of the human condition; it sounds very cliched, but he did love to watch people behaving and seeing what they were doing."
Nor was he infallible. The most famous image from Edward Bond's 1965 play at the Royal Court, Saved, is a shocking one of a baby being stoned. Well, he didn't get that. Nor did he get the rape scene in Howard Brenton's The Romans in Britain at the National Theatre in 1980. "He got there just before," said Dorney. "Imminent buggery with druids on the floor and soldiers behind them."
But Jeffery, who resolutely refused to embrace the digital age, did get many joyous images. Among Dorney's favourites, she said, are shots from the Royal Court's disastrous Macbeth in 1966, which starred Alec Guinness and Simone Signoret with her unfortunately impenetrable French accent; Ginger Rogers in Mame in 1969; and Judi Dench and Michael Williams in the RSC's The Duchess of Malfi in 1971.
Also in the collection are images from the original The Rocky Horror Picture Show; Oh! What a Lovely War; Bent at the Royal Court in 1979; and Shirley Valentine at Liverpool's Everyman.
It was always Jeffery's wish that the collection went to the V&A. Dorney said: "Douglas H Jeffery was a pioneer of modern theatre photography and having indicated that his archive should come to the V&A's theatre and performance collection, we are delighted his intention has been honoured.
"We consider the app offers the most effective way of showcasing this unique record of British postwar theatre to make available the collection in an interactive and intelligent way to as wide an audience as possible."
The V&A app is available to download from iTunes and is called Played in Britain: Modern Theatre in 100 Plays. It has a commentary by the Guardian's Michael Billington
guardian.co.uk © Guardian News & Media Limited 2010
Published via the Guardian News Feed plugin for WordPress.
Categories
Tags