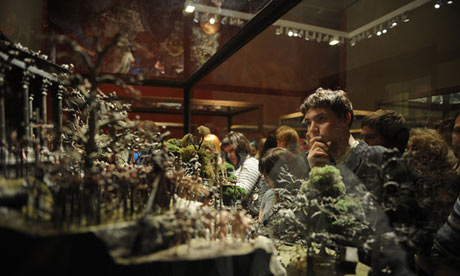 Visitors at the Hermitage museum in St Petersburg, Russia, for the opening of Jake and Dinos Chapman's The End of Fun. Photograph: Shamukov Ruslan/ITAR-TASS
This article titled "Russian museum could be prosecuted over Chapman brothers exhibit" was written by Miriam Elder in Moscow, for theguardian.com on Friday 7th December 2012 16.07 UTC
Russian prosecutors are investigating whether the Hermitage museum in St Petersburg is guilty of extremism after hosting an exhibit by the British artists Jake and Dinos Chapman.
Prosecutors in St Petersburg said they had received 114 complaints from visitors to the exhibit, who mainly complained that it insulted their religious beliefs.
The Chapman brothers' End of Fun opened in the Hermitage in late October in a new wing devoted to the museum's drive to embrace modern and contemporary art. It features glass cases full of figurines, some depicting scenes of extreme violence, with Nazi insignia and a crucified Ronald McDonald. Critics applauded the 248-year-old museum's decision to put on the show.
The museum's director, Mikhail Piotrovsky, criticised the investigation and the creeping conservatism in society. "This is the cultural degradation of our society," he told journalists in St Petersburg on Friday. "There is nothing sacrilegious here, but a clear desire to ruin the mood in our city."
St Petersburg, Russia's cultural capital, has borne the brunt of a state-driven effort to boost conservative religious and social values. It was one of the first cities to adopt a law banning "homosexual propaganda", a bill that is now due to be considered nationwide.
Its cultural scene has suffered. In October a prominent curator, Marat Guelman, said he was forced to cancel an exhibit called Icons featuring religious symbols after city authorities requested its opening be postponed, something he saw as an attempt at censorship. A previous exhibit organised by Guelman in Moscow devoted to the jailed members of Pussy Riot, the feminist anti-Kremlin punk band, was attacked by fundamentalist activists from the Russian Orthodox church.
"This is happening in St Petersburg because obscurants there feel the support of the authorities," Guelman said, pointing to the region's deeply conservative and religious governor, Georgy Poltavchenko, a close ally of Vladimir Putin. "These are people who do not accept the language of art."
Russia's crackdown on freedom of expression was highlighted this summer when members of Pussy Riot were sentenced to two years in jail.
The Hermitage has been attempting to boost its standing in the modern art world, building upon a world-renowned collection of ancient and impressionist art housed in a complex including the tsars' winter palace.
Speaking to the Guardian last month, its curator of modern and contemporary art, Dmitry Ozerkov, brushed off fears of censorship and scandal. "We want to create a dialogue between old and new," he said.
A spokesperson for the St Petersburg prosecutor's office said it was due to wrap up its investigation on 12 December.
It is not the first time one of the Young British Artists has fallen foul of authorities abroad. In 1999 Rudy Giuliani, the then mayor of New York City, tried to shut down Charles Saatchi's Sensation exhibition after taking offence at Chris Ofili's The Holy Virgin Mary, which featured a portrait of the Virgin Mary created partly from elephant dung.
guardian.co.uk © Guardian News & Media Limited 2010
Published via the Guardian News Feed plugin for WordPress.
Categories
Tags