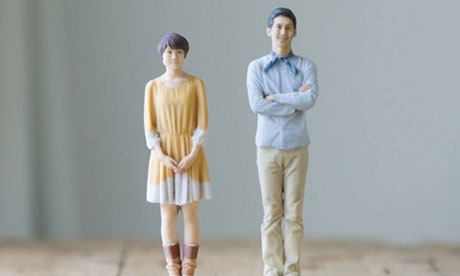 Photo opportunity … the plastic figurines produced by Omote3D

This article titled "Print yourself: the rise of the 3D photo booth" was written by Oliver Wainwright, for theguardian.com on Friday 23rd November 2012 10.04 UTC
3D printing has been enjoying a surge of popularity recently, from making parts for jet engines to print-at-home weaponry, with even the US army getting involved, developing a backpack-size printer to make spare parts on the front line.
So it was only a matter of time before this cutting-edge technology found its calling in the novelty goods industry – and where else, other than that global hub of teenage trendsetting, Tokyo's Harajuku.
Omote3D is taking the photo booth into the next dimension by offering customers the chance to be full-body scanned and given a plastic figurine of themselves. Always wanted a miniature you, but couldn't be bothered with the hassle of parenthood? Well look no further, because now you can have a pocket-size mini-me – starting at £160 for a 10cm version, rising to £320 for the 20cm model.
Taking the form of a temporary pop-up shop at the Eye of Gyre exhibition space, the project is the brainchild of branding agency Party, which was inspired by the Japanese custom of shichi-go-san, a festival that celebrates children coming of age.
"The photo studio is a very special place for Japanese families to shape their memories," says Party creative director Naoki Ito. "Our idea is to attempt to capture you and your family's portraits in 3D."
The process involves a 15-minute scan with a handheld scanner, during which the subject must stay completely still, in the manner of early portrait photography – no doubt resulting in similarly rigid poses and fixed stares. The scanner cannot yet detect fluffy fabrics, small detailed patterns or shiny materials, nor can it read small accessories such as earrings, glasses or bags. So that pretty much rules out most PVC- and fur-clad Harajuku regulars.
But Tokyo is not the only city getting stuck into the print-yourself craze. This week, the MakerBot store opened in New York, offering you the chance to print your own head for the bargain price of . More pixelated than Omote3D's offerings, the heads are constructed from monochrome plastic filament in a choice of lurid colours.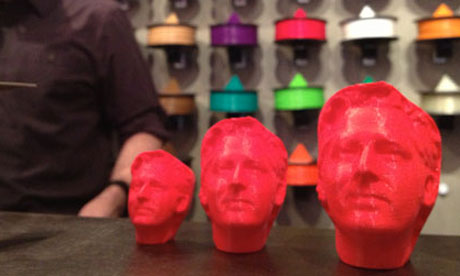 "Ever since we started, people kept saying that this is science fiction – it's not real. So we had to make a MakerBot store," says Bre Pettis, MakerBot CEO. "This is beyond digital photography – it is the future – and to be able to create a 3D image of yourself is just amazing."
The manufacturer also sells the ,200 MakerBot Replicator 2, so you can print off as many of your own heads as you like, in the comfort of your own home.
So where will this scan-and-print trend go next? If the mugshot is to be replaced by the mug-model, one blogger wonders if police departments will one day keep busts of offenders, or casting directors will have drawers full of little actors' heads. Or if, like many Harajuku trends, it will all stay in the realms of novelty action figures and dangly things to hang off your mobile phone.
guardian.co.uk © Guardian News & Media Limited 2010
Published via the Guardian News Feed plugin for WordPress.
Categories
Tags