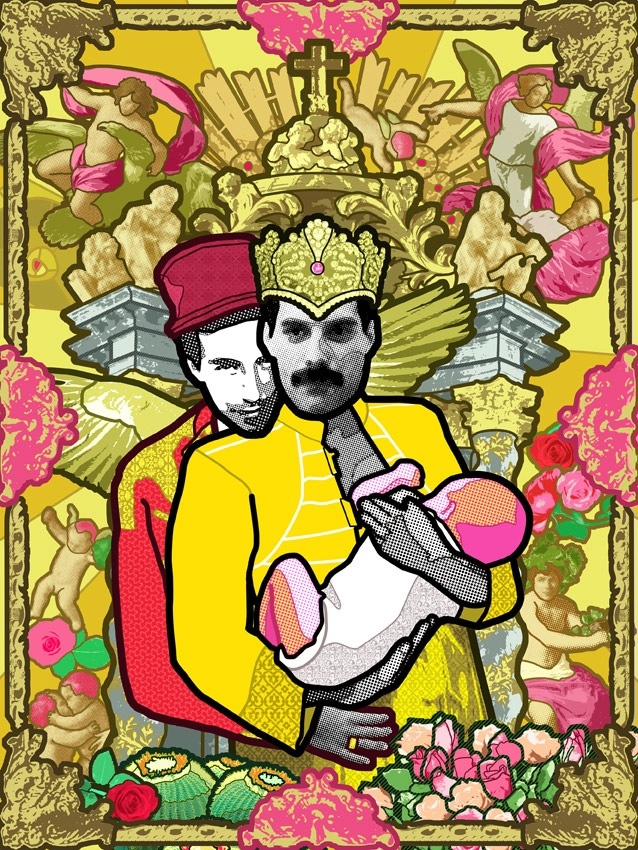 The Other Art Fair www.riseart.com/fair/other-art-fair
Browse work from the Top Artists chosen by Rise Art
Rise Art have picked their Top 10 artists from The Other Art Fair. The selection represents a cross section of some of the best new art talent in the UK and beyond. Each artist is profiled on Rise Art on the official Other Art Fair channel. Collectors can view and purchase work directly from the artists on the site in advance and following the fair.
Rise Art Curator Annelien Bruins (Tang Investments) and Scott Phillips selected the top 10 artists from 100 artists participating at this years fair. The featured 10 Artists are:
???Heloise Delegue, Delphine Lebourgeois ,Sophie Bastien, Carla Nizzola, Darren Macpherson, Jean-Baptiste Colin (JBC), Jennifer Hopper, Rosie Emerson,Clare Johnson and Adam Butler.
Art fans can visit The Other Art Fair Channel to connect with the artists, browse their available artwork and access special member offers on Rise Art.
Each artist has their own channel on riseart.com, with individual pages showcasing an array of artwork on display at the fair. The work is shown alongside editorial on the artist and their practice. All artwork on the preview channel is available for purchase and often rental, enabling customers to live with art in their home before committing to purchase.
"The Other Art Fair champions talented independent artists and provides them with a platform to showcase their work. We are excited to partner with the fair to help promote the top artists to a broader audience throughout the UK and Europe" said Scott Phillips, founder of Rise Art.
Ryan Stanier, Fair Director of The Other Art Fair noted, "The Other Art Fair highlights the top independent artists before they sign with galleries. We're delighted to have Rise Art on board to bring the fair to a wider audience and promote their picks for the top 10 artists for this autumns fair."
?
About the Top 10 Artists:
Heloise Delegue
French Painter who studied at the Sorbonne. Works blur fact & fiction to create imaginative landscapes and abstracts filled with colour: www.riseart.com/user/heloise
Delphine Lebourgeois
French artist and illustrator. Her beautiful illustrations have been featured in the Guardian & Penguin Books. Features at Gas Gallery: www.riseart.com/user/delphine-lebourgeois Sophie Bastien
French born artist living in London. Produces figurative art focused around the tattooed female figure. Her work is bold, graphic and imaginative: www.riseart.com/user/sophie- bastion
Carla Nizzola
Abstract painter who's use of bold colours and experimental mark making creates immersive works on paper and canvas. www.riseart.com/user/carla-nizzola
Darren Macpherson
British born contemporary figurative artist who's acrylic and spray paint works create jarring images full of life and colour. www.riseart.com/user/a_a
Jean-Baptiste Colin
French based artist who integrates raw public materials into his work as a basis for their creation. www.riseart.com/user/jean-baptiste-colin
Jennifer Hopper
Jennifer's oil based paintings focus on memory and collections. What is lost, and found, kept and discarded. The work is subtle, powerful and engaging. www.riseart.com/user/jennifer- hopper
Rosie Emerson
Rosie's practice explores beauty, power and voyeurism interwoven within the subject of the female image. Her beautiful drawings reference archetypes old and new. www.riseart.com/user/rosieemerson
Clare Johnson
Artist Clare Johnson creates wonderful urban landscapes informed by the industrial past and our modernist heritage. Her approach in representing these forms mimics those found in vintage hand-tinted postcards. www.riseart.com/user/clare-johnson
Adam Butler
Born in Edinburgh, Scotland, this photographers work is centred around landscapes both urban and rural. His beautiful panoramas are featured in corporate collections worldwide. www.riseart.com/user/adambutler
Categories
Tags