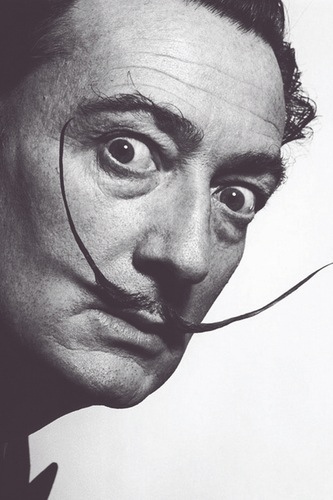 This article titled "Salvador Dalí retrospective has Paris art fans reaching for record books" was written by Angelique Chrisafis in Paris, for The Guardian on Sunday 18th November 2012 16.13 UTC
Paris's reputation for blockbuster art shows – where hordes of diehard visitors will queue all night in the rain to get in – will be confirmed again this week as the Pompidou Centre opens the biggest Salvador Dalí retrospective in more than 30 years. It is the largest show of his works since his 1979 Paris retrospective, which remains the most viewed show in the Pompidou's history – with almost 900,000 visitors, a rate of about 8,000 a day. That show was presided over by Dalí himself, who, with typical immodesty, demanded of curators: "It must be something enormous, colossal, a sort of living apotheosis that makes everyone understand that I am inimitable."
Since the start of the financial crisis, the French capital has repeatedly shown that international economic gloom has not diminished the public's demand for big art exhibitions. In 2010, the world's biggest Monet retrospective, at the Grand Palais, attracted 920,000 visitors and had to open all night to accommodate the crowds. France had not seen such desperate queues since 1.2 million turned out to see the treasures of Tutankhamun in 1967. Another vast Grand Palais exhibition, Picasso and the Masters, was a sellout in 2008. The Dalí show, tipped as one of Paris's biggest arts events of the winter. The theatre-museum in Figueres, Catalonia, the town where Dali was born, has become one of the most popular tourist attractions in Spain.
The Paris show, which will run until March before transferring to Madrid, will feature about 200 works, including oils, sculptures, films and installations, designed to show the inner workings of the artist and provocateur who was lampooned for his political stances and the money he made from his art, and once quipped: "The only difference between me and the Surrealists is that I am a Surrealist."
guardian.co.uk © Guardian News & Media Limited 2010
Published via the Guardian News Feed plugin for WordPress.
Categories
Tags