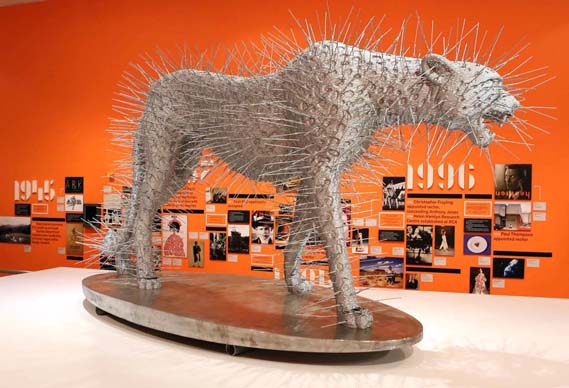 This article titled "Royal College of Art celebrates 175 years of cultivating talent" was written by Mark Brown, arts correspondent, for The Guardian on Thursday 15th November 2012 16.59 UTC
There is a certain irony in the Royal College of Art naming its 175th birthday exhibition after a Tracey Emin piece, given how utterly miserable she was during her two years there – but then The Perfect Place to Grow is a very good title.
The 2001 Emin work, which refers to her dad's capability with plants, is a wooden birdhouse together with eight plants and a trestle, and has been lent by Tate for a major show celebrating what opened as the Government School of Design and is now the world's oldest art and design university in continuous operation.
"There is a deliberate irony," said the RCA's rector and show co-curator Paul Thompson, who helped choose the title. "For Tracey, this was not the perfect place in which to grow," he added, perhaps referring to the time she smashed her paintings with a sledgehammer in the college's courtyard.
Having said that, Emin has subsequently acknowledged the importance of the RCA in making her who she became. As can an astonishing collection of alumni that includes artists such as Henry Moore, Barbara Hepworth and David Hockney; and designers and architects including Edwin Lutyens and James Dyson – all represented in a show that tries to cover the enormous breadth of RCA students' achievements since it first opened in 1837.
It is a huge history to distil. "We could have quite easily filled the galleries 10 times over," said Thompson, who revealed they decided early on to simply do the best of the RCA. "We knew that we couldn't do a roll of honour."
Instead, the show has been broken up into four themes: art for industry; art for art's sake; the public purpose of design; and the politics of artists and designers.
It also tells the fascinating history of an institution whose first students were a small band of teenage boys, as opposed to the 1,200 postgraduate students (average age 28) that it educates today. Despite its name, design has always been a big part of the RCA's reason for being and the show includes many examples of alumni's achievements – a Porsche 991; Britain's motorway signs; James Dyson's ballbarrow and vacuum cleaner; plus the toilet sink from the Shard.
The show includes both student work – there are very early artworks by David Hockney, Chris Ofili and George Shaw – and later professional works, not least a spectacular battle scene of rampaging soldiers on horseback by Elizabeth Butler, called Scotland Forever!
"To see this painting and to think she actually got cavalrymen to charge in Hyde Park to paint them is amazing," said Thompson. "If you look at the horses' eyes, they are absolutely terrifying. It is an extraordinarily good painting."
• The Perfect Place to Grow, 175 Years of the Royal College of Art is a free show at the RCA in London, 16 November-3 January.
guardian.co.uk © Guardian News & Media Limited 2010
Published via the Guardian News Feed plugin for WordPress.
Categories
Tags