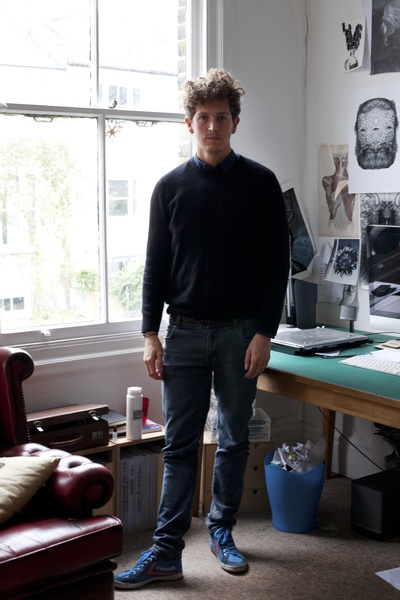 What makes The Other Art Fair different?
There are three main elements that make The Other Art Fair different from others:
1) We are an artist-led fair which means that artists get to sell their work directly. It a chance for them to meet their public and also a great chance for art lovers to meet and discuss with artists they like
2) The 100 artists participating in the Fair are carefully selected by a committee including an art critic, an art historian, a gallerist and an established artist. This selection process process guarantees the best artists are chosen to show their work.
3) More than just an Art Fair, The Other Art Fair offers a whole experience. While art fairs can often feel a bit corporate and uninviting, The Other Art Fair is designed to engage visitors in art related activities such as curated tours, a pop up restaurant and live music.
How has it progressed since the first Fair?
The fair has expanded hugely since the 1st edition in November 2011. Firstly we are attracting a larger number of artists wanting to take part, secondly the increased popularity of the fair means that we are attracting a wide range of art lovers from first time buyers to more established collectors.
The programme of events is also evolving and the move to Ambika P3 has allowed for creative ideas for both artists and partners: this year's fair includes a lively performance programme hosted by FAD. The Breakfast Club is transforming the balcony into a Pop-Up Restaurant and Bar and Sipsmith are running and experimental cocktail bar. All these elements are carefully curated by a guest curator from Jotta, Dave Charlesworth.
The fair's focus on the artist has also developed significantly with a pre-fair artist support including a workshop at the Rosenfeld Porcini Gallery, hosted by gallery owner Ian Rosenfeld. We have also initiated a mentoring scheme where artists receive more support in the build up and at the fair.
What where the highlights of the last fair in terms of sales?
Last year onsite sales reached £120,000 for the 80 participating artists. There are also a high number of artists that were approached and have since developed relationships with visiting gallerists.
It's not just about onsite sales, only this week artist Ben Levy told me about three sales he made a few weeks after the fair in May.
What are you looking forward to at this Fair?
Alongside an array of new artists, I'm specifically looking forward to the performance programme hosted by FAD and Beach London.
In addtion our curatorial partner Jotta will be hosting 'The Others Talk', a series of lectures and masterclasses by key individuals from the art world which are designed to inform, challenge and entertain.
The pre-fair artist support package, combined with a prize hosted by The Office Group for the best curated stand, has encouraged artists to be imaginative with the presentation of their work, hence this fair will hopefully be a particularly inspiring experience for visitors.
In addition the programme of events includes:
– Sipsmith Gin Experimental Cocktail Bar
– The Breakfast Club Pop-UP Restaurant
– Art Below's curated area

If you had $500,000 to buy art what would you buy ?
Half Pint the Panda Boy – Charming Baker. (see above)
You have a new photography area , why is that ?
From five hundred applications, fifteen photographers were selected this year. Grouping these artists together in a specific area has created a valuable new feature of the fair. Not only is it beneficial for the many visitors who have a particular interest in photography but it highlights the importance of photography as a medium within the scope of the fair.
Finally Whats the best way to use the Other Art Fair if you want to buy some art ?
The Other Art Fair attracts a huge range of artists in terms of medium, style and pricing. There is everything from small prints for £40 to large sculptures or paintings from more established artists. It can be beneficial to consider what sort of piece you are looking to buy – both practical and aesthetic elements. Each artist has a personal profile on TOAF website with a biography and examples of their work so use pages for some ideas. The fair is a rare opportunity for buyers to discuss work directly with the artists. Whilst you are considering the purchase, relax in the Breakfast Club's pop-up restaurant or with a Sipsmith cocktail.
The Other Art Fair at Ambika P3 22nd-25th November 2012
www.theotherartfair.com/
Categories
Tags