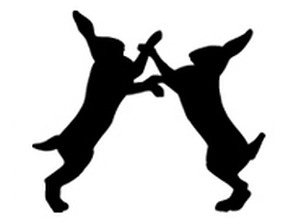 The Digital Dissection Dining Room: a virtual reality future laboratory.
The Yard, 89 Worship Street, EC2A 2BF Midday til midnight on Thursday 15th November, 2012.
The people behind cruelty-free cosmetics brand, Lush, in collaboration with Something & Son, the minds behind Dalston's Farm:SHOP, and 3D pioneers, Inition, are pleased to announce the opening of a one-day only digital reality.
Housed in a showroom in Shoreditch, the Digital Dissection Dining Room – a witty reference to a digital future beyond animal testing – will feature a number of rarely-seen and custom-built augmented reality technologies.
Something & Son have crafted the pop-up space from giant undulating rolls of graph paper. Inition's Z-Space is a holographic interface that looks like a super-sized iPad but allows the user to interact with a 3D scene in front of them.
The highlight of the installation is a piece of custom-built software that will enable guests to scan their table placemats through iPads to reveal vividly lifelike holographic human organs which can be dissected and dismantled.
The Digital Dissection Dining Room will host a series of events, culminating in the inaugural Lush Prize Awards Dinner – when scientists, lobbyists and campaigners will be awarded £250,000 to end animal testing.
"The Digital Dissection Dinging Room represents a future where the brutality of animal dissection has been replaced with a dematerialised and ethically neutral virtual alternative," says Paul Smyth of Something & Son.
"You're taking what's out there, what's shaping people's minds, and giving it a tangible, visceral feel. You can't do it on paper, it doesn't work. This is the real world and the virtual world converging. It's a truly holistic view of life," says Sam Denney of Inition.
"I'm delighted to see that science and technology are speeding us towards a day when the brutal and ineffective practice of testing on animals will be over for good," says Mark Constantine, owner of Lush, who are putting up the £250,000 for the new annual prize which will continue until all animal testing has been replaced.
The Lush Prize is designed to reward groups or individuals working in the field of cruelty-free scientific research, awareness-raising and lobbying to help bring an end to animal testing.
Its £250,000 annual prize fund – the biggest prize in the non-animal testing sector – seeks to focus pressure on safety testing for consumer products in a way which complements projects already addressing the animal testing of medicines.
www.lushprize.org
A social media campaign – I am an #ANIMALPERSON – launches today with a film by Josef Valentino www.youtube.com/
About Mark Westall