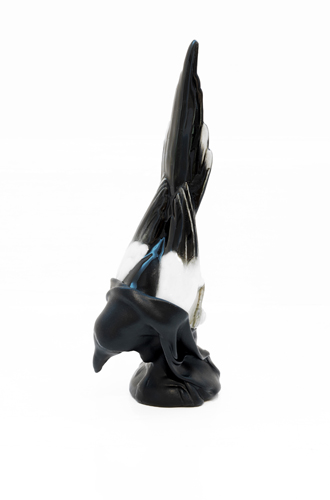 8th – 10th November, 12 – 6pm
Curated by Daniel Barnes
Richard Stone's England is a land of stilted possibility; it is a fable, shrouded in a monochrome fog that conceals a world of unfurling romanticisms. And it is reaching its end.
Stone takes a radical approach to reworking themes of popular mythology, cultural identity and collective memory, based on a series of conversations with curator Daniel Barnes.
In an awkward gap between painting and sculpture, Stone has created a single installation from disparate yet distinct works which take the viewer to the edge of an almost imperceptible decline.
The centrepiece of the installation is a group of paintings, where monochromatic, stormy surfaces gradually unveil ripples of colour that belie Stone's deconstruction of the English landscape.
In the eye of this quietly violent storm is a vision of a world where there is only a passing distinction between myth and reality as if all that is solid melts into air.
Accompanying works see figures encased in wax, from miners, petrified in a balletic state of motion, to the magpie unable to bear its own sorrow. A delicately pencilled gate too, looks out on to an idyllic but absent view, whilst a monumental oak shield speaks of an ideologically tarnished heroism.
The installation is a portent storm that threatens to swell and consume everything in its wake, oscillating between possibility and paradox, archaeology and invention, history and fantasy.
At the end of england, memory is the only reality and objects are the only trace of what has been lost.
the end of england – Richard Stone at Galleries Goldstein, N1 | 8-10 November 2012 | Curated by Daniel Barnes | galleriesgoldstein.com/future/
Gallery information: galleriesgoldstein.com
Richard Stone currently lives and works in London. Recent solo exhibitions include: new portrait capes, Horse Hospital, London; a walk at dusk and dawn, Burgh House, London (2012) and idir eathara, Tank Gallery, London (2011). In 2013 a selection of his works will be included in Nature Morte, by Michael Petry, to be published by Thames & Hudson. A finalist for Anthology at CHARLIE SMITH london in 2012 he was also elected an Associate Member of the Royal British Society of Sculptors. In the same year he was awarded a Departure Foundation: Full Studio Bursary, 2012-13. His work has been selected for many prizes in the UK including recently, The Threadneedle Prize for Painting and Sculpture, Mall Galleries, London (cat.) (sel. Julie Lomax, Lisa Milroy, Godfrey Worsdale) (2011).
Further information: richardstoneprojects.com
Daniel Barnes is a philosopher and curator. His PhD examined theories of interpretation in visual art, offering a resolution to the Heidegger/Schapiro debate over the meaning of van Gogh's paintings of shoes. He has published articles on pictorial representation (Postgraduate Journal of Aesthetics, 2006), architectural experience (Landscape, Space, Place, 2010) and Aristotle's theory of tragedy (Think, 2011); more recently, he has written on art and politics, and contributed reviews to various publications. Daniel has taught philosophy at the University of Nottingham and aesthetic theory at Chelsea College of Art. He is currently philosopher in residence for The Butcher's Apron on NTS Radio, and is working on a monograph that investigates the possibility of meaning and aesthetic experience in commercial art.
Further information: danielbarnes.org
An Essay: And the Shadow that Danced was Cast all Across the Land by Daniel Barnes will accompany the exhibition.
Presented by Russell Maurice at Galleries Goldstein galleriesgoldstein.com in association with NewThey newthey.co.uk
Categories
Tags