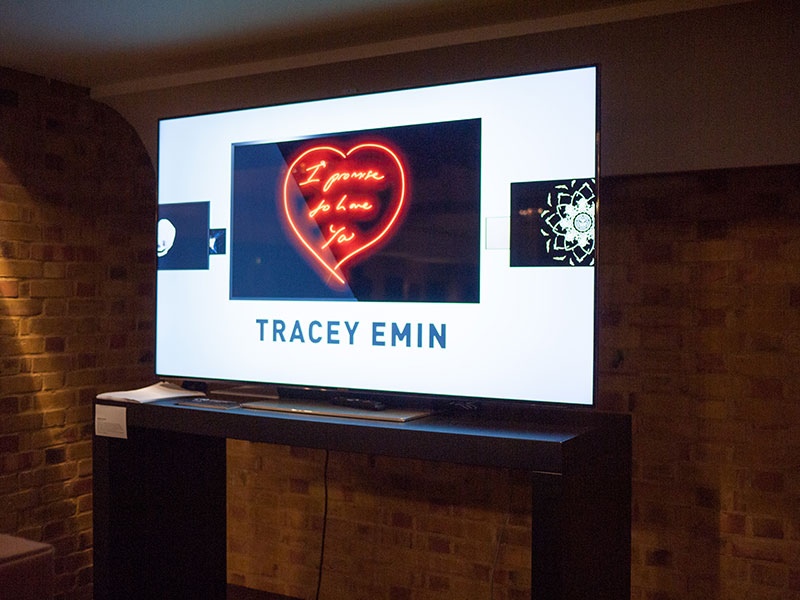 Samsung turns living rooms into art galleries with new App- Samsung unveiled a first look at the s[edition] App on the Samsung Smart TV.
The App includes unique and exciting works from Damien Hirst, Tracey Emin and Shepard Fairey, the s[edition] App provides Samsung Smart TV owners with the chance to buy, collect and display limited edition art for the home. Prices for a work of art range between £5 and £1000 and come complete with a certificate of authenticity.
"The launch of s[edition] on to Samsung Smart TV opens up the world of art to the public, allowing people to view their favourite pieces of art in the comfort of their own home. The beauty of the images they choose will be intensified through the picture quality of the Samsung Smart TV range, creating an incredibly impactful visual experience for viewers."
said Lali Parikh, Strategic Content Manager, CE, Samsung Electronics UK.
"The new App from s[edition] offers contemporary art lovers the opportunity to enjoy art from some of the world's leading artists at affordable prices. It's an easy way to collect contemporary art that can be enjoyed on screens at home and on the move. Via the s[edition] App you can browse a catalogue of unique art, listen to exclusive artist interviews and build a digital collection of limited edition works,"
said Robert Norton, CEO, s[edition].
The App will be available on Samsung 2012 Smart Interaction enabled models. Samsung's unrivalled picture quality and premium design provides viewers with a truly artistic experience for the living room.
About s[edition]
s[edition] is the leading digital platform for collecting contemporary art, bringing limited edition art by the world's leading artists to digital devices and screens. s[edition] offers everyone an easy, enjoyable and social way to experience collecting, at affordable prices. The s[edition] platform allows members to follow artists, browse and collect works, send editions as gifts to friends, and build their own collections. Working directly with artists, s[edition] offers works by Damien Hirst, Shepard Fairey, Tracey Emin, Jenny Holzer, Yoko Ono , Elmgreen & Dragset, Christian Boltanski , Bill Viola and Lawrence Weiner among others.
www.seditionart.com
Categories
Tags