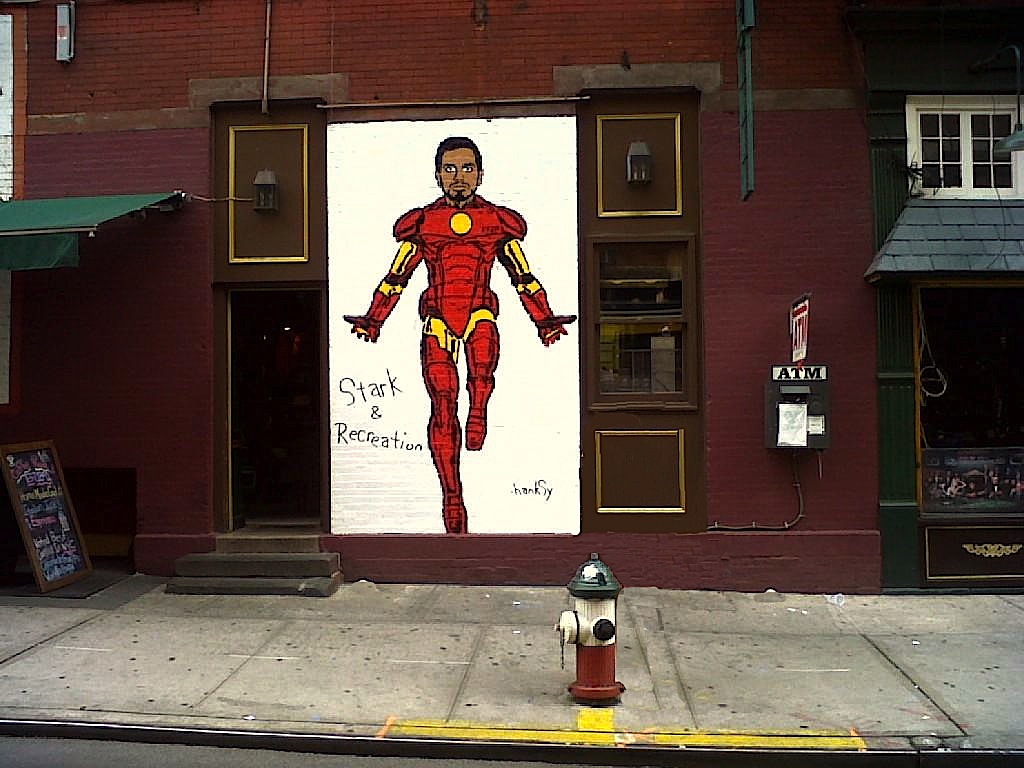 Festival Takes Laughter to Mulberry Street with "The Art of Comedy" Debut Events on November 3rd and November 8rd
The New York Comedy Festival presents, in association with Vandalog.com, Little Italy, and Montana Cans, announced today the addition of "The Art of Comedy," a series of events and art installations involving New York's most talented street artists that will take place this November. "The Art of Comedy" brings together acclaimed artists Ron English, Hanksy, and Gilf! who will showcase their respective humorous works of art in an effort to bring smiles to the faces of millions of New Yorkers.
There will be an "art crawl" debut event on Saturday, November 3rd at 12 noon, with the unveiling of artist Hansky's portrait of comedian Aziz Ansari on the sidewall of Caffe Roma, at 385 Broome Street. The debuts will continue further up Mulberry Street at the following locations:
• At Mulberry & Grand, on the Mulberry side, a restaurant under construction will transformed into a hilarious sight gag featuring Jim Gaffigan – Hanksy
• Umberto's Clam House, 132 Mulberry Street, will be home to another funny or "punny" image – Hanksy
Like comedy, street art is about having fun, but it's also about engaging with public space.
Curated by RJ Rushmore of Vandalog.com and Wayne Rada, "The Art of Comedy" is the NYCF's way to take the laughter out of the clubs and into the streets. This exhibition marks the first time that a comedy festival has teamed up with street artists for such exhibitions and events.
On November 8th, installations by English and Hanksy will be unveiled and on display both inside and outside of Carolines on Broadway (1626 Broadway) the legendary Times Square comedy venue owned by NYCF creator Caroline Hirsch. All three artists will have work in the Carolines Lounge, including an installation by Ron English. Hanksy, best known for his stencils that insert the actor Tom Hanks into artwork by the British street artist Banksy, will also be painting temporary works on the street outside of the club. He will be painting work depicting some of this year's New York Comedy Festival performers.
"We're always looking for new and creative ways in which humor is represented in art," says Hirsch. "These talented artists add a really unique element to this year's festival, literally taking comedy to the streets."
Says Rushmore: "I could not be more excited to be working with such a well-established festival to bring more art onto the walls of New York City. We have some really talented artists, and The Art of Comedy will give New Yorkers thousands of square feet of new public murals, as well as hopefully expose a new audience to just how fun and powerful street art can be."
And as pre-New York Comedy Festival events Hanksy will have a solo show in New York City opening November 1st. Young Puns 2 – Now With More Pun, opens at Krause Gallery (149 Orchard Street) from 6-9pm and runs through November 28th.
ABOUT HANKSY:
New York City based artist Hanksy uses the streets as his canvas, employing clever puns and turns of phrases to delight fans and observant passersby. After moving to New York in 2010 and wanting to contribute to the city's ever-growing street art movement but determined to maintain a light-hearted approach, Hanksy began satirizing British street art legend Banksy by mashing up his most famous works with references from Tom Hanks films. His clever remixes delighted New Yorkers, turning Hanksy into a social media phenomenon. Hanksy's new work broadens his satirical scope, lampooning pop culture icons like Bruce Willis and Ryan Gosling, while staying true to his punny origins. With Hanksy on the streets, no celebrity is safe.
Categories
Tags