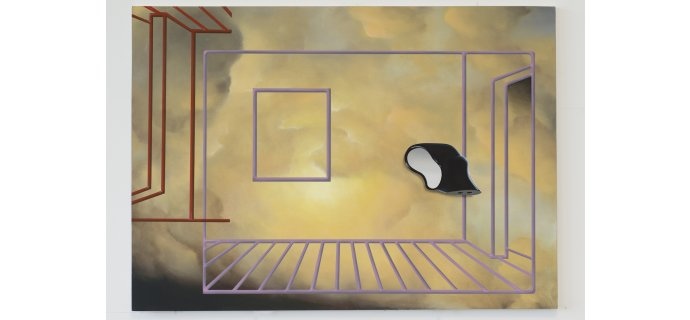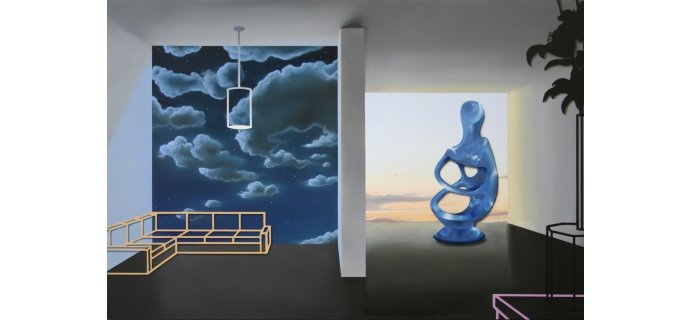 Hannah Barry 110 New Bond Street, London W1S. The exhibition will run through November 30.
Bespoke Solutions, Christopher Page's new exhibition of sculpture, painting and wall installation, presents itself as a collection of aspirational items. Using the familiar visual language of computer screens and soft furnishings, the objects and images appear on first blush to invite relaxation, benign contemplation and to offer choices appropriate to a society structured by the narcissism of minor differences. The logic of the paintings, however, is confused. Access is barred by shiny objects and inappropriate spatial relations. The sculptures are impersonations of what they first seemed, unaccommodating to identification and interaction.
The colour and surface combinations of the sculptures are non-specfic, 'neutral', and drawn from a democratized language of medium-high luxury that can be found anywhere in the 'developed' world. When scrutinized, the 'soft' or 'expensive' surfaces of the sculptures reveal themselves as a masquerade. What appears to be plastic is domestic paint on wood, what appears soft is rigid foam, what appears to be polished granite is oil paint on MDF. The apparent familiarity of the design language – one that postures as self-explanatory – falls away. In its place is an anxiety of misunderstanding.
The paintings appear as playful skyscapes, 'dream interiors' with a surreal turn. The deep space implied by the skies is rendered flat by 'drop shadows', and that which would usually allow the eye perspectival access into a painting (windows, architectural features) is also flattened. If this is a surrealism, it is one after that constellation of thought has been 'cleansed' of its revolutionary pessimism by the debased surrealism of advertising and the mixed metaphors of digital imagery.
If these troubling objects and images are the solutions, what are the problems?
Categories
Tags