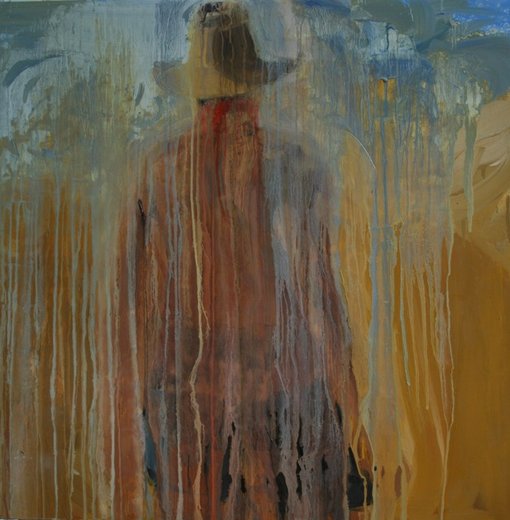 Anna Bjerger, Wet, 2012, Oil on aluminium, 70 x 70 cm
26th October – 1st December 2012
Repetition and a delicate ambiguity animate Anna Bjerger's second solo show at Paradise Row.
The exhibition's title, Da capo, is a musical term, a composer's directive to repeat the previous passage of music on a score. Accordingly this new body of paintings is structured around a number of works that repeat the same motif, a man with a hat, with his back to us. In different hands, repetition may serve different ends. Here the repetition acts to foreground the physical act of painting, the mark making and the materiality of paint, whilst the purported subject recedes.
Bjerger's long-standing practice is to use photographs as the source material for her paintings. Here she has focused on images in which the people depicted cannot be fully viewed as their faces are turned away or their focus is directed at something beyond the picture, or, equally at something inside the picture but invisible to us. As the viewer's gaze seeks the closure of a reciprocated look, a chain of deferment is set up, leading us from one picture to the next, evoking a beautiful quality of elusiveness.
PARADISE ROW 74a Newman Street London, W1T 3DB
www.paradiserow.com
Categories
Tags