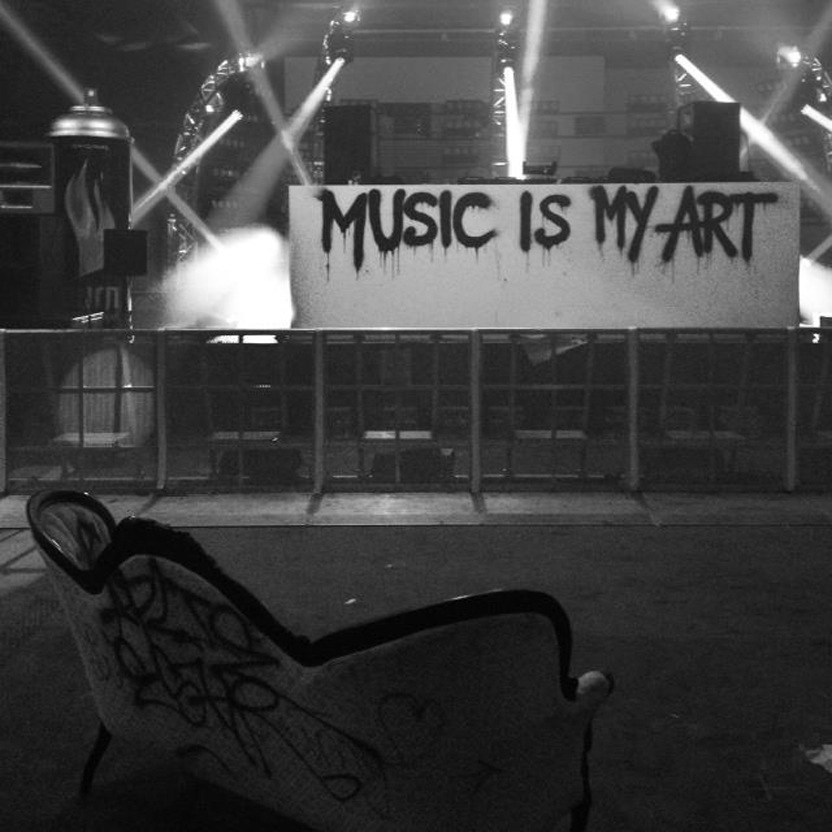 The new music video for club hit 'Metropolis,' fuelled by burn, receives worldwide premiere
Los Angeles-based Filmmaker and critically acclaimed pop artist Mr Brainwash has directed his first ever music video for GRAMMY award-winning DJ and producer David Guetta's latest club hit 'Metropolis', co-produced with rising superstar Nicky Romero. Made possible by burn – a leading energy drink from The Coca-Cola Company – the video is a creative collision of art and music.
You can watch the video from today here : www.youtube.com/burn.
The video, inspired by David Guetta's passion for street art realised by the craziness of Mr Brainwash, is a frenzied fusion of shape and colour. Mr Brainwash creates a montage of images made up of fragments of vinyl and guitars before DJ superstar David Guetta is seen playing an explosive gig to a crowd of revellers.
Mr Brainwash says,
"My vision for art is all about trying new things without any limits. This is my first music video so when burn and David asked me to come onboard I knew I wanted to make it a colourful, artistic collision of both music and art."
Explaining his inspiration behind the video, Brainwash continued :
"My creative inspiration for the video was to take old objects like records and TVs, which have beenused to play music in the past, and make them beautiful again by turning them into pieces of art. It has been an interesting project, working with David Guetta and Nicky Romero, we are all three different people with threevery different characters who think differently but burn has brought us together to help us merge our creativity and create something new that has never been done before."
About Burn
Burn is a category leader in the global energy drink explosion. The red formula is a symbol of active fire, that provides Guetta & Guetta and other drinkers the energy needed to leave their original vision on the world. Dismantling category norms, consumers embody a live-out-loud mentality, without fear of boundaries created by society. Burn is a brand of The Coca-Cola Company. Burn is available in over 80 countries worldwide.
About David Guetta
It has been a phenomenal year for David Guetta since the August 2011 release of 'Nothing But The Beat'. In the year since, release the album has sold 3 million albums and 17 million tracks. In addition to the GRAMMY® nomination for Best Dance Recording, the album was nominated for Best Dance/Electronica Album. It was also named the iTunes Rewind 2011 Best Dance Album. Named the #1 DJ in the world in the influential DJ Magazine Top 100 DJs poll, Guetta was also nominated for two MTV Europe Music Awards, a BRIT Award, an Echo Award, and a Victoires de la Musique Award. For more information on David Guetta,visit: www.davidguetta.com
About Mr Brainwash and the exhibition
Mr Brainwash is the moniker of Los Angeles based filmmaker and Pop Artist Thierry Guetta.
He is considered one of the most prolific and talked about artists of today with five major art shows under his belt already. mrbrainwash.com/
Categories
Tags