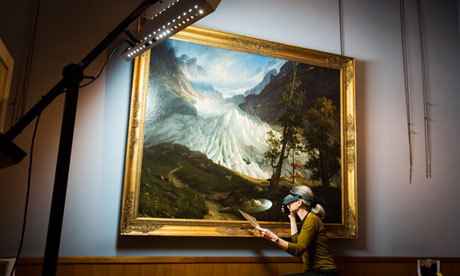 Conservator Ruth Bubb carries out a condition check on the painting Grindelwald Glacier by Thomas Fearnley, which is going on display at the Barber Institute in Birmingham. It is the first time the painting has been exhibited outside Oslo. Photograph: Andrew Fox
This article titled "Thomas Fearnley exhibition aims to reacquaint UK with 'supreme talent'" was written by Mark Brown, arts correspondent, for theguardian.com on Sunday 7th October 2012 13.24 UTC
His name, Thomas Fearnley, may be all Yorkshire, but he was in fact Norwegian. Some of his early 19th-century contemporaries believed was as exceptionally talented as Turner.
The Barber Institute of Fine Arts in Birmingham does not quite go that far, but it does believe Fearnley deserves to be far better known. Which is why, 170 years after his death, it is staging the first UK exhibition devoted to Fearnley's paintings and career.
This weekend it took delivery of one of Fearnley's showstoppers, a large painting of the Grindelwald Glacier in the Swiss Alps, which he first showed at the Royal Academy in 1838 and is being lent by the National Museum of Art in Oslo.
The question is, why Birmingham? "It is what I'm asked most of all, particularly when I went to Norway," said the show's curator, Ann Sumner, who was director of the Barber before she took up her current job in charge of Birmingham Museums Trust.
In fact she was inspired by the Barber's own Fearnley, "a wondrous, tiny oil sketch" of Ramsau that she first saw about five and a half years ago. "I was particularly struck by this work and I remember looking at the name, Thomas Fearnley, and seeing Norwegian school."
Sumner was intrigued. "The more I read and I learned about Fearnley, the more fascinated I became about him as a character and by his career and the fact that his reputation has been lost to us here in the UK."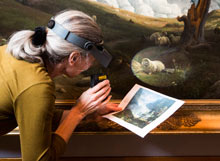 The Barber contends that he should be seen as a supremely talented Romantic-era artist who deserves to have more than the mere two works now in British public collections – one at the Barber, the other in the Fitzwilliam in Cambridge.
Fearnley was far from being a tortured artist; he enjoyed life and food and drinking and socialising, said Sumner. "He fell in love very regularly and he was rejected regularly by his various amours. He's just a fascinating character and the combination of that and his wonderful paintings made me think he would make a very promising exhibition indeed."
Fearnley's career may have been hampered by his very nature. He was extremely sociable but as one friend in London observed: "He has many acquaintances here but he is too proud to ask for their patronage."
His jollity may also have led to the impression that he was not serious about his work. Dying young, aged 39, did not help.
Getting the show together was tricky because many of his pictures are now owned privately in remote parts of Norway, including a piece that Fearnley painted in London of Turner finishing a painting at the British Institution in 1937. That was one of two extended visits Fearnley made to Britain, and the show will include views of the Lake District.
Fearnley's name comes courtesy of his grandfather, who emigrated from Hull in 1753. But Fearnley the artist had only a limited knowledge of English.
The Fearnley family in Norway has kept up the tradition of calling the eldest son Thomas – his grandson became a shipping magnate – and the latest Thomas Fearnley will be at the show's opening on 18 October.
• In front of nature, the European landscapes of Thomas Fearnley, will be at the Barber Institute of Fine Art, Birmingham from 19 October to 27 January
guardian.co.uk © Guardian News & Media Limited 2010
Published via the Guardian News Feed plugin for WordPress.
About Mark Westall