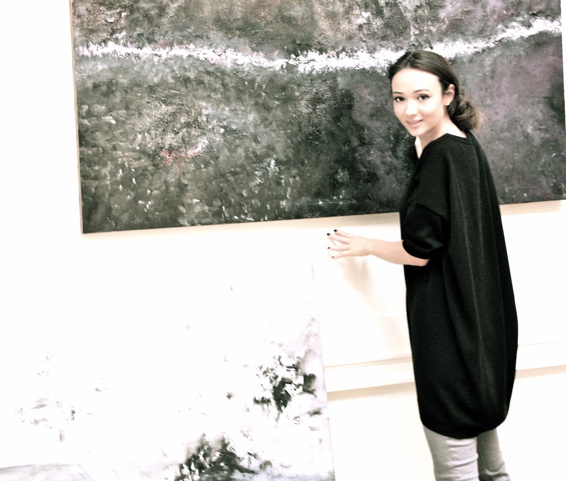 1.If you weren't an artist, what else would you be?
I cant imagine that, but if I had to I would probably do something creative like architecture, interior design or fashion design.
2.Can you tell us more about your work and the ideas you like to express?
In my work I try to demonstrate what I see around me and how I feel about it. In the past I have tried not to let the reality interfere with my art. I concentrated more on the beauty of colours, shades and shapes. But lately I realised that ignoring the reality may be as bad as ignoring life itself. In my eyes, the reality (however harsh it might be) is worth reflecting in art. There is almost some sort of hidden value in the harsh reality of today; maybe it is just what helps us to appreciate all the good that so often we tend to take for granted.
3.How do you start the process of making work?
I usually have a certain image in my head that is impossible to get rid off until I transfer it into a canvas and once it's there I start developing it into a composition. I find it almost like some sort of obsession that I have no control over.
4.Do you consider the viewer, when making your work?
Of course, always! I think that the viewer deserves to see a complete and well thought through work that represents plenty of hard work and dedication.
5.Name 3 artists that have inspired your work?
Very hard to choose only three, I love so many paintings by so many wonderful artists. But if I have to narrow it down to only three today they are: Bobur Ismoilov, Henri Matisse, Philipp Malyavin.
6.Name 3 of your least favourite artists.
I can't do that, but I can say that I really dislike an overly modern approach to art when strange objects like a broken chair or breeding bacteria are called art.
7.What defines something as a work of art?
A strong message behind the work that is combined with a beautiful composition and use of colour. It has to really reflect the soul of the artist and the world around them at that moment in time.
8.In times of austerity, does art has a moral obligation to respond topically?
Yes, always!
9.Anytime, any place – which artist's body would you most like to inhabit?
Natalia Goncharova. She lived in a very difficult yet interesting time and managed to gain so much respect and appreciation in the art world.
10.What is your favourite 'ism'?
Expressionism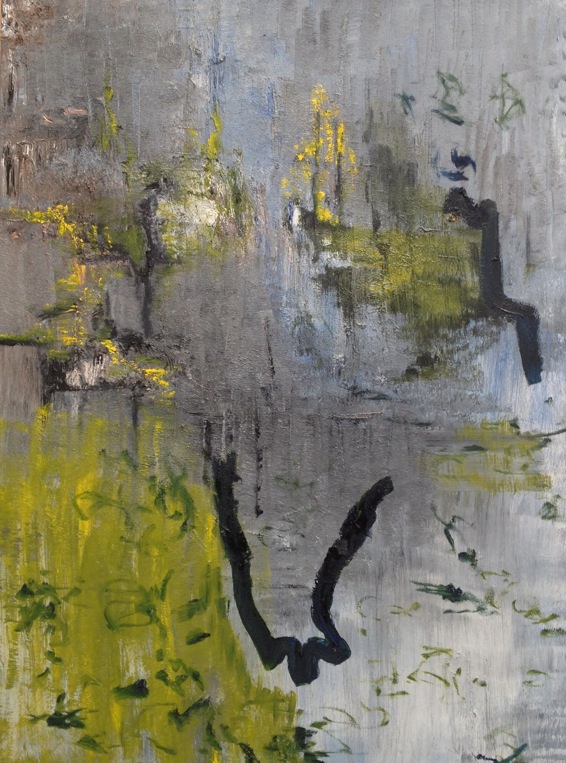 11.What was the most intelligent thing anyone said or wrote about your work?
I have heard a lot of interesting things about my work, but I can't pick just one thing
12.And the dumbest?
That I got where I am today just because of my talent. I don't believe in such thing. You always have to work hard to get somewhere in life! And even more so with art, you have to truly love it and really work for it. Especially as a woman, as discrimination in art and business are still big obstacles.
13.Which artists would you most like to rip off, sorry, I mean appropriate, as a critique of originality and authorship?
Ilya Repin is just one of the most talented artists who never forgot about his duty to inform people as well as blessing us with his masterpieces! I so admire Isaac Levitan, Van Gogh, Edgar Degas, Konstantin Korovin and so many more!!!
14.Do you care what your art costs? State your reasons!
My art is very personal to me and for very long time I refused to sell it. To me – its my creation, almost like my child; I adore it, I put all my love, time, work and energy into it so selling it was never easy. I like to sell it to people who really love my work and understand it no matter how much I charge for it. That's where the art agent comes in very handy; they look at my work as an investment rather then a personal creation.
15.If MOMA and the Tate and the Pompidou wanted to acquire one of your works each, which would you want them to have?
I would want Deep for Tate, Mask for MOMA and Pushkin for Pompidou. To me they really define my abstract thinking and love for the depth of colour!
16.What's next for you?
I have a very exciting year ahead! I have a huge exhibition coming up in October in the Art Gallery of Uzbekistan, which will be a solo exhibition for Art Week in Tashkent, organised by the Fond Forum of Culture and Art Gallery of Uzbekistan. It's such an honour to be a part of it.
When I come back from Tashkent, I am planning an exhibition with Tanya Baxter of the Kings Road Gallery.
Early next year I am exhibiting my work in a new gallery in Dubai called the Alif Art Gallery that focuses on Central Asian Art.
And as soon as I come back from Dubai, I will be revealing my new collection 'Study of Russia' in London, which is my most controversial body of work so far!
Categories
Tags