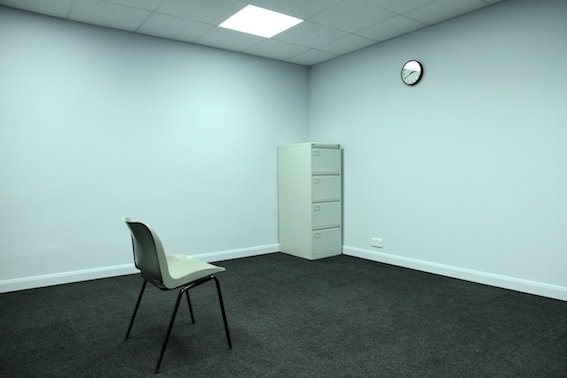 Carroll/Fletcher presents John Wood and Paul Harrison's Tall Buildings at the Moving Image Contemporary Video Art Fair.
Part of our support for Moving image The Contemporary Video Art Fair is to feature some of the great galleries and artists that will be being shown next week first up we have Carroll/Fletcher Gallery from London.
What do you understand by the term video art?
In general, we try to avoid using terms such as 'video art', 'new media art' and 'digital art'.
They always seem misleading and difficult to define in a concise, useful way. Cinema, tv, music, etc. all rely on digital technology. Strictly speaking, the earliest video cameras emerged in the 1930s but 'video art' is often seen as beginning with the hand-held Sony Portapak in the mid-1960s. If you use analogue film, a technology that's been around for over 100 years, is that 'new media art' or 'video art'? Where does photography fit?
Video art's probably the least problematic of these terms. It's become short-hand for 'artist's moving image' or 'artist's short-form film-making'. However, we've always been puzzled by the use of 'artists' in this context as there's plenty film-makers working in 'long-form' cinema who regard themselves as artists, and 'artists' making long-form films. And then there's the question of at what point does 'short' become 'long'… And so it goes on. I guess we'd rather concentrate on the work itself rather than what category people choose to put it in.
How long have you exhibited with Moving image?
As long as we've been open but we only opened in February 2012. However, both the founding partners have been collecting Moving image work for over ten years.
Which artist are you showing at Moving image?
John Wood and Paul Harrison. A duo who've been collaborating since 1983 to make immaculately constructed moving image works, and informative and uninformative text pieces, drawings, doodles and quite useful sculptures, that explore the physical and psychological parameters of the world around them.
Is it easier to sell video art now?
Yes. As the technologies involved in the production, distribution and reception of moving image work have improved and become more widely available and actively used, the quality and accessibility of the work has increased. In the early days, a lot of work was more about exploring the possibilities of the technology than producing engaging, relevant art. There's also a related strand of almost 'Greenbergian' formalism that has emerged from this that, whilst those of us steeped in the field enjoy and is relevant in an art historical context it can be challenging for outsiders.
We've also seen huge improvements in the technologies linked to the presentation of work – flat screens, wireless transmission, retinal displays, etc. – and in the packaging of the product. Consequently, there's a growing realisation that moving image that looks great in a gallery setting can be accommodated in a domestic space.
There's also been a growing realisation that the concerns surrounding editioning, copyright, etc. are largely unfounded. In the main, most of these issues have either been addressed in other areas of the art world or in other businesses.
When you sell it what does the buyer usually get?
Well, for the most part, we've left behind the days when you'd buy a work and it would be delivered in a plastic bag with a scribbled note from the artist confirming it's edition 2 of 5. Today, there's an emphasis on ensuring the buyer gets a beautifully packaged product. In the case of Wood and Harrison's works, the dvd (master and exhibition copies) and betamax tape are presented in a wooden box designed by the artists and production stills, a publication, etc. are often included. There's also been a move towards a comprehensive written contract that details the installation and maintenance requirements and specifies the 'after-sale' responsibilities of the artist.
Do you feel London is behind many other cities in its support and understanding of video art?
No
Carroll/Fletcher Gallery from London.
Moving image Contemporary Video Art Fair October 11- 14th 2012 at The Bargehouse Oxo Tower.
Categories
Tags