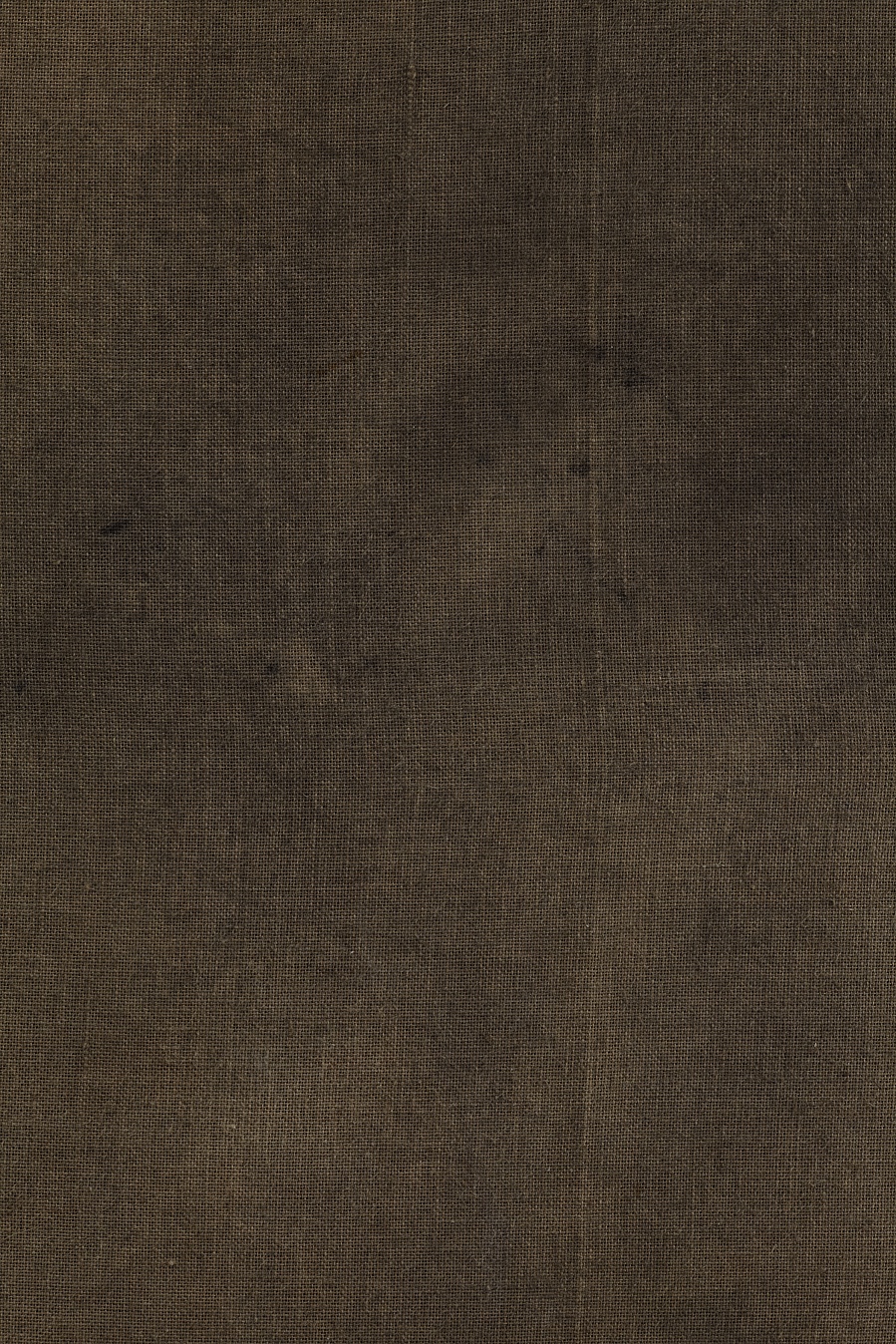 Detail of Deonotlogical Picture A+IV. Photo: Peter White
Keith Coventy has produced a new series of ten paintings that are imposing in scale (each measuring roughly 2 metres high by 1.3 metres wide) and occupy both gallery spaces. They hang according to their serial titling from right to left, starting with Deontological Picture A, and ending with Deontological Picture A +9. These works are not canvas – instead a loose and roughly woven hessian or jute type material is used. Nor do they seem to have been painted as such, but rather the cloth appears to have been subjected to varying intensities of dark staining that has resulted in expansive and immersive areas of patination.
The title of this group, Deontological Pictures, suggests a sombre, academic exercise rather than an act of creative exploration. There are a number of subtle variations of the notion of deontology, but essentially it is a philosophical principal of duty-based ethics that apportions value to an adherence to rules over and above any consequences. At its extreme, as explained by Nick Zangwill in his text for the catalogue to the exhibition, " … the deontological idea is that the value of a thing does not depend on extraneous matters. There is a positive value that is intrinsic or internal to a promise being kept and a crime being punished and there is a negative value that is intrinsic or internal to promise-breaking, punishing the innocent and lying."
As is often the case with Coventry's work, he takes pleasure in co-opting philosophical or art-theoretical positions as a way of testing them, or casting their pure and learned rationale into high relief. The Deontological Pictures have been produced by slavishly following a set of rules, which in his mind safeguards against any wayward aesthetic or ethical judgement having taken place. Each has been made by adding black pigment to rainwater collected in his studio from a leaky roof. The resulting mixture is then brushed onto the material with a broom, whereupon it is left to dry flat on the floor, and then stretched and framed. They have, the artist claims, "made themselves". Without wavering from this self-imposed set of instructions the works' intrinsic value is in their unflinching adherence to their deontological rigour. Whatever beauty we might see in these works is simply a by-product of their manufacture – their real beauty lies in the 'austerity of duty' employed by Coventry in their making.
Like all of Coventry's pictures, each one is encased behind reflective glass with a small, mechanically produced plastic label fixed to the bottom of a conventional, white painted wooden frame. Looking at the pictures in the gallery invariably results in one's reflection appearing in one or multiple works, making the viewer somehow part of and complicit in the artist's rule-making. With the entire exhibition also clearly visible through the plate glass gallery frontage, this imposed interactivity with the work extends to unwitting passersby. This is a quality of the space that particularly appeals to the artist, and one that equally enables PEER and the Deontological Pictures to extend their reach and become part of the daily experience of the local high street.
Keith Coventry lives and works in London. He has shown internationally since the early 1990s and has work in a number of major public collections including, Tate; UK Government Art Collection; Arts Council; British Council; Museum of Modern Art, New York; David Roberts Collection; Saatchi Collection. He is represented by The Pace Gallery, London.
Artist's Multiple: To help raise funds for PEER, Keith Coventry is generously producing a multiple based on the Deontological Pictures.
Categories
Tags