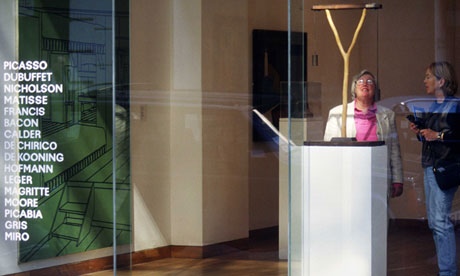 Cork Street in Mayfair, London. Photograph: PeerPoint/Alamy
This article titled "Mayfair's Cork Street art hub under threat from developers" was written by David Batty, for The Guardian on Sunday 23rd September 2012 15.52 UTC
Half the galleries in one of London's most important art hubs face being forced out with the announcement of a second multimillion-pound property development on Mayfair's Cork Street.
Landowner the Pollen Estate plans to redevelop a site that includes numbers five to nine on Cork Street, home to four of the street's 22 galleries: Hay Hill, Bernard Jacobson, Messum's and Petleys. If approved, the project could be completed by late 2016.
The proposals come six weeks after seven galleries on the opposite side of the street were given notice to leave as early as next year. Their landlord, the British insurance firm Standard Life Investments, has agreed a £90m deal to redevelop the building as luxury apartments designed by Rogers Stirk Harbour and Partners, the architects of the Candy brothers' One Hyde Park.
A spokesman for Pollen Estate said the proposals would provide new office, retail and art gallery spaces behind existing facades.
He added: "Gallery owners affected … are being consulted beforehand to give them a first-hand opportunity to comment and for us to listen to feedback on the design proposals."
But gallery owner Bernard Jacobson said: "They showed us these gorgeous plans and then said, 'By the way goodbye and thanks for being a good tenant'.
"I've been forced out. They'll probably triple the rent. They say they want to keep it as an art street but this is just about money to them.
"I'm sure [the disruption from the building work] will be awful for the remaining galleries. Cork Street has been killed off by the greed of the landlords."
Under another deal announced in August, a 7,700 sq m (83,000 sq ft) site at 29-30 Burlington Street, which includes a stretch of Cork Street, will be bought by an international partnership made up of developer Native Land – 45% owned by Qatari investors linked to the royal family, Singapore company Hotel Properties Limited (HPL) and Malaysian investment firm Amcorp.
Native Land plans to demolish the block containing numbers 22 to 27 – including the street's oldest dealership, the Mayor Gallery, which gave Paul Klee, Francis Bacon, Max Ernst and Joan Miró their first London shows.
Simon Tarrant of the Alpha Gallery, which will be forced out under the Native Land deal, said: "Even if Native Land, or the Pollen Estate, make promises of earmarking retail space for galleries, none of the small independent British art dealers, such as Alpha Gallery, will be able to afford the inevitable quadrupled rents that will result from this development.
"What Native Land and the Pollen Estate have completely overlooked is the devastating impact being forced off Cork Street will have on the independent British art dealers whose business stretch back several generations."
A petition against both projects, which has so far attracted more than 8,700 signatories, will be submitted to Westminster council.
Ward councillor Jonathan Glanz expressed sympathy for the campaign but said it was unlikely that the campaigners would succeed in preventing the affected gallery spaces from being converted to other retail businesses.
guardian.co.uk © Guardian News & Media Limited 2010
Published via the Guardian News Feed plugin for WordPress.
Categories
Tags