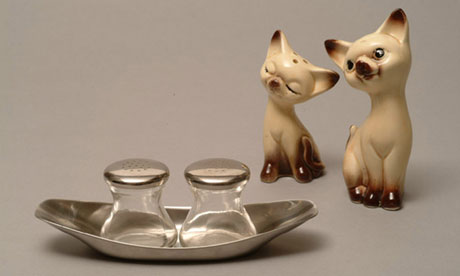 Simple v kitsch … Salzstreuer (salt shakers) at the Museum of Things in Berlin
This article titled "Good takes on evil at Berlin's Museum of Things" was written by Justin McGuirk, for theguardian.com on Monday 17th September 2012 16.45 UTC
In Berlin, on the third floor of an old courtyard building on Oranienstrasse, is a little-known institution called the Museum der Dinge – the Museum of Things. As its name may already suggest, it consists essentially of one long room full of, well, stuff. There are pots and pans, crockery and cutlery, cigarette cases, telephones, vacuum cleaners, rubber ducks, hamburger keychains, you name it. It's the material culture of Germany in the 20th century stuffed into glass-fronted cabinets.
The visitor's first response may well be to wonder what story, exactly, is being told here. How are these objects classified, and what does that classification tell us about the history of German society, or at least German design? It's not instantly clear, but once you start reading a series of lengthy wall texts, you'll be sucked into a Manichean world where every object is either good or evil.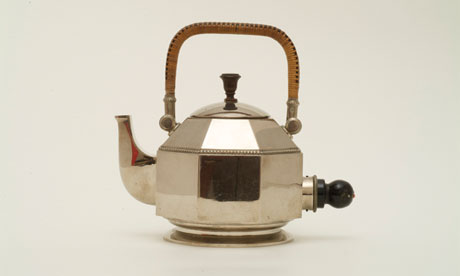 The backbone of the collection is the output of the Deutscher Werkbund, the association of architects, designers and manufacturers that modernised Germany. Founded in 1907 and functioning in some form until the 1960s, except for a spell when the Nazis closed it down, the Werkbund was one of the driving forces of European modernism. It was also almost certainly the single greatest attempt to indoctrinate a nation with the principles of good design – principles that consumers all over the world still espouse, whether they realise it or not.
For the Werkbund, design was quite simply a moral issue. Its members believed in the probity of what they called "good form", which – as anyone familiar with Adolf Loos's 1908 essay Ornament and Crime will know – was honest, mass-produced and undecorated. And in their pursuit of good form, they felt it necessary to identify what bad form looked like. From the perspective of our more liberal times, this is where the Werkbund ideologues start to sound like a bunch of extremist nutters. Gustav Pazaurek, for instance, created a Department of Aesthetic Aberrations. Also known as "the torture chamber of bad taste", this collection of 900 objects – crafty items, kitsch souvenirs and decorative objets d'art – was supposed to serve as a lesson in what not to do, and what not to buy. For the Werkbund, with its catalogues of sanctioned good taste, was nothing if not didactic.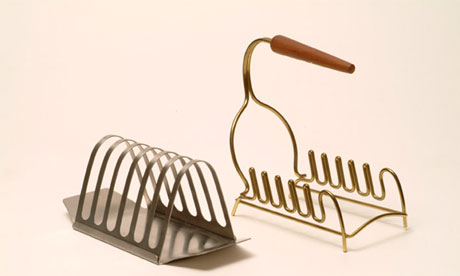 This binary opposition between good and bad design runs through the heart of the Museum of Things. And so you have plain teacups and glassware juxtaposed against decadent, decorative ones. Modernism's thin blue line – electric kettles designed by Peter Behrens for AEG, and products with brand names like Ideal, Standard and Universal – faces off against an army of kitschy beer steins and bourgeoisified vases. This culminates in what is, for me, the most appealing (and most cartoon-like) television ever designed: Herbert Hirsche's HF1 for Braun, a grey box with just one central button. I think we can safely say that the Werkbund won the argument. What is Apple, whose minimalist aesthetic is so influenced by Dieter Rams's products for Braun, if not a descendant of the Werkbund bloodline?
The problem was that, in its battle against the seductions of style, all the Werkbund could offer was a different style, and an authoritarian one. By contrast, the other cabinets in the museum, which contain the rest of the collection and are full of the stuff of everyday life – from Nivea pots and soapboxes to plastic animals and breast-shaped mugs – possess a humanity and often a humour that is free from moralising and aesthetic tyranny. In an age when we all fancy ourselves individuals, we are more suspicious of Werkbund-style (or even Apple-style) orthodoxies. And a younger generation of Germans coming of age in the 1950s and 60s – while the Werkbund was still proselytising – felt the same, demanding objects with more fun and more emotional attachment than the sanitised world of "good form".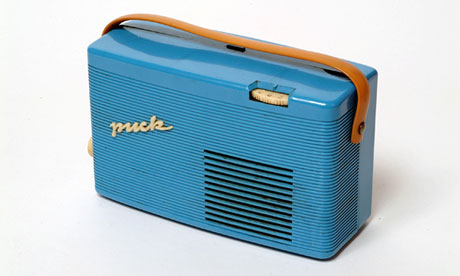 But one of the most compelling aspects of the museum, for me, is its name. Why "things" and not "design"? "We're not a design museum, we're about the production of commodities," says its chief curator, Renate Flagmeier. This is a curious statement, because almost every object in this place has been designed in some way or other. Yet the name is precisely what drew me here. It reminds me of Martin Heidegger's observation that in many European languages the word "thing", or "ding" in German, was originally the same as the word for an assembly or gathering (the parliaments of Denmark and Norway are still called the Folketing and Storting). So a "thing" gathers meanings and memories in it, and is also something to be debated.
The Museum of Things sounds a tad mundane, but what more appropriate name for a museum where every object is part of a moral and political debate? Heidegger divided the world into "things" (more likely to be hand-crafted) and "objects" (more likely to be machine-made), arguing that "things" were more authentic. It's a rather romantic division, but it happens to apply quite neatly to the Werkbund's objective, machine-loving worldview – even if its members would have been outraged by the philosopher's conclusion.
More interesting than such classifications, though, is the idea that a thing – a plastic hamburger on a keychain, say – exists to be debated. How many of us today believe that our taste reflects on us morally? And yet such prejudices still exist, even at the governmental level. Take any of the objects here from the former East Germany. They don't especially jump out, but if you look carefully at this selection of thermoses and radios, they do show subtle signs of belonging to a world cut off from the latest fashions and manufacturing techniques. While products from behind the Iron Curtain have long been the butt of jokes, a revisionist Ostalgie (or nostalgia for the East) looks more fondly on them these days. But at least we can make up our own minds about them, right? Well apparently not. There is a much more comprehensive collection of design from the GDR in Berlin, but it's not on display. It's called simply the Industrial Design Collection, and the government won't fund it.
"The government is trying to control memory," says the design historian Andreas Ludwig, who joined me at the Museum of Things. "The GDR is always portrayed as a dictatorship, and they prefer not to relive that moment of German history – the west won, basically." Indeed, his own institution, a documentation centre for designs from East Germany, is on a watch list of cultural venues that may lose their funding next year. Berlin's local authorities will happily fund art but less so design – and, it seems, especially not design that recounts the political traumas of the nation.
Design, the message would seem to be, is dangerous. Who'd have thought it – all this aesthetic moralising and political controversy in a place called, simply, the Museum of Things?
• This article was amended on 18 September. It originally stated that the Museum of Things is on a watch list of cultural venues that may lose their funding next year. This has been corrected
guardian.co.uk © Guardian News & Media Limited 2010
Published via the Guardian News Feed plugin for WordPress.
Categories
Tags