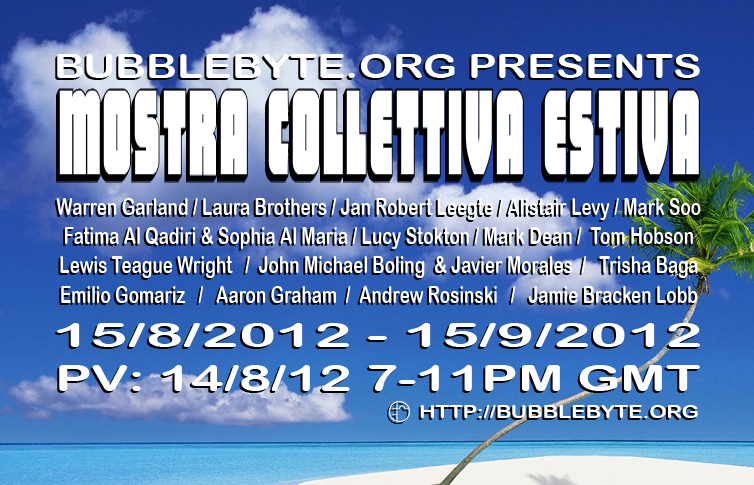 Private view 14th August 7 pm – 11 pm BST (2 – 6pm EDT / 11am – 3pm PDT)
15th August 2012 – 15th September 2012
Warren Garland, Laura Brothers, Jan Robert Leegte, Alistair Levy, Mark Soo, Fatima Al Qadiri & Sofia Al Maria, Lucy Stokton, Mark Dean, Tom Hobson, Lewis Teague Wright, Michael Boling & Javier Morales, Trisha Baga, Emilio Gomariz, Aaron Graham, Andrew Rosinski, Jamie Bracken Lobb.
bubblebyte.org is to present Mostra Collettiva Estiva, a group exhibition of international artists exploring visual ideas of identity, voyage and abstraction.
As a sort of tradition and enquiry, bubblebyte.org has selected various practicioners to celebrate the internet and its dreamy creativity through a summer group show. Playing with the web and its aesthetics, the artists exhibited create hybrids that suggest surreal and synthetic atmospheres.
Everyday images and found materials are overlapped with personal vision and computer graphics to create new aestheticized forms, reverting their contextual references into highly visual outputs.
The virtual presented in Mostra Collettiva Estiva loses its alter-connotations, becoming a mental getaway and playful visual destination.
Attilia Fattori Franchini & Rhys Coren
bubblebyte.org info@bubblebyte.org
Categories
Tags