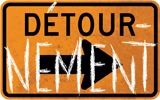 Détournement : Signs of the Times Group Exhibition curated by : Carlo McCormick August 8th – 25th 2012
Jonathan LeVine Gallery is pleased to present Détournement: Signs of the Times, a group exhibition curated by Carlo McCormick, featuring work by a number of artists, including: AIKO, Dan Witz, David Wojnarowicz, Dylan Egon, Eine, Ilona Granet, Jack Pierson, John Law (Jack Napier), Leo Fitzpatrick, Mark Flood, Martin Wong, Max Rippon (RIPO), Mike Osterhout, Posterboy, Ron English, Shepard Fairey + Jamie Reid, Steve Powers (ESPO), TrustoCorp, Will Boone, Zevs
?
CURATOR'S STATEMENT
A détournement is a detour of sorts, but not so much along the scenic route as over the tougher road that goes more directly to the truth. A more proximate translation from the French might be a derailment, but I'm not sure English is so well suited to get both the violence and hilarity of the term. Since coined by the Lettrist International in the 1950s, it has served various generations as a common strategy by which to subvert consensus visual language so as to turn the expressions of capitalist culture against themselves. The most typical folkloric version we encounter of a détournement is when someone writes a word at the bottom of a stop sign, so that with say just three letters this mundane road command might read "Stop War."

Employed brilliantly by the Situationists, whose great philosopher Guy Debord laid out the socio-aesthetic framework for this practice, détournements twist the terms of mimicry in ironic parody using the a semblance of the easily recognizable to dissemble and redirect the literal meaning of signs so as to construe a more honest picture of their deceptive intentions. As such they are a mediation of the media, a way of transgressing the fine art of persuasion that dominates our visual landscape to offer alternative readings and deviant possibilities to the hegemony of mainstream corporate culture. A natural response to the lies and coercions we are fed on a daily basis, the détournement has been the reactive impulse of all those who question reality, from the Punks who adopted it in the 1970s through Culture Jammers, Adbusters, contemporary street artists and the winding legacy of protest movements from WTO to Occupy.

This exhibition is meant to both celebrate the lineage of détournement and bring attention to some of its current practitioners who embody its continued vitality through their art. We live in a forest of signs that are meant to confuse, distract and numb us to the more dire consequences of the human condition as it is. We do not need to follow these signs, we need to make our own so as to find a way out of the mess we are in. I cannot thank these artists enough for their contributions towards helping us find another way.
ABOUT THE CURATOR
Carlo McCormick is an esteemed pop culture critic, curator and Senior Editor of PAPER magazine. His numerous books, monographs and catalogs include: TRESPASS: A History of Uncommissioned Urban Art, Beautiful Losers: Contemporary Art and Street Culture, The Downtown Book: The New York Art Scene 1974-1984, and Dondi White: Style Master General. His work has appeared in numerous publications including: Art in America, Art News, and Artforum.
Categories
Tags