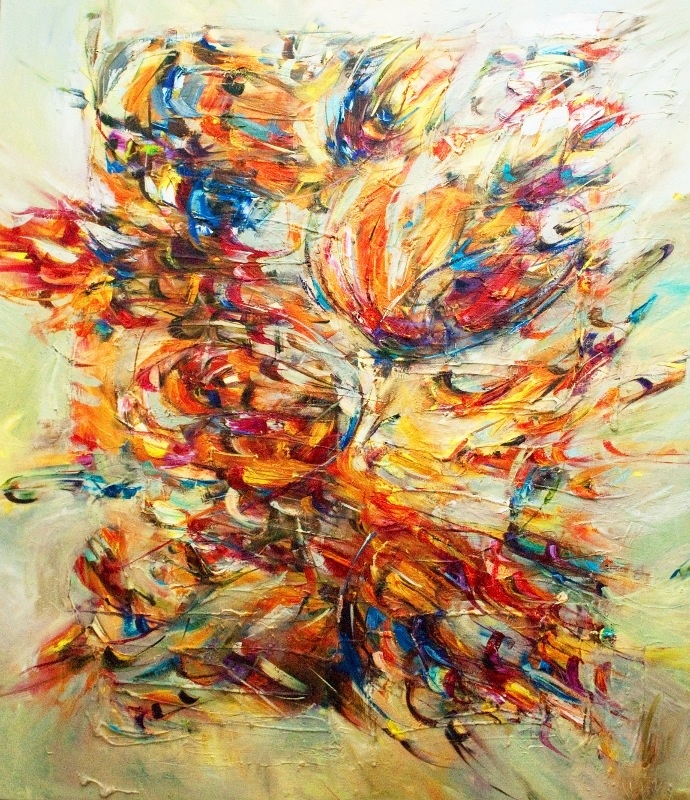 Creatures From The Sky by Victoria Horkan.
You can also submit your work for inclusion on FAD just use our Facebook Page to submit it,please add info about your work and about yourself Good Luck !
Victoria Horkan's work offers a bold, vibrant and expressive milieu of forms and colours that falls somewhere between the realms of impressionism, abstraction and expressionism. Taking inspiration from the natural world, her paintings make reference to creatures from the sky and sea.
Yet her work is by no means directly representational and alludes to subjects such as birds and butterflies by offering a mere suggestion of their forms rather than any literal or realistic transcriptions. She playfully engages with scale and perspective, making large what is typically small but her central focus is on colour, gesture and mark making. Pure, bright colours that are set in sharp contrasts of light and dark, warm and cold are combined with loose, distinct brushstrokes that resonate strongly with the impressionist tradition. These strong, confidently placed marks are the sign of an assured and mature artist and the manner in which they are applied creates a sense of movement, giving the work an energetic, flickering quality that is particularly evident in her underwater scenes.
Horkan is indeed fascinated by the idea of transcribing sensation and used to sit in the dance studios at Bretton Hall College in order to try and capture the dancers' movements through sketching. Horkan is aware of what a powerful stimulus colour can be and recognises its capacity to affect mood and to generate particular emotions. She strives to make good use of this in her art, believing painting should be able to move the viewer in much the same way that music may move the listener.
Categories
Tags