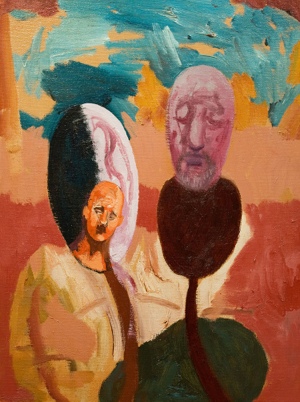 The First Quijote, oil on panel, 16" x 12", 2012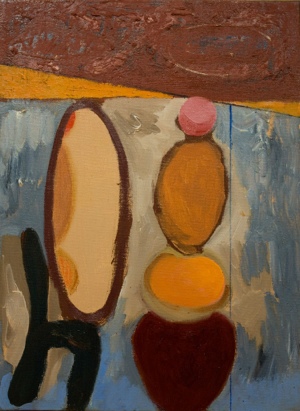 Folly – evening, oil on panel, 16" x 12", 2012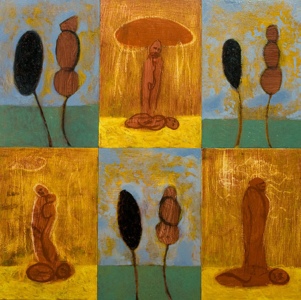 Coriolan Exchange, oil on panel, 23" x 23", 2012

1. If you weren't an artist, what else would you be?
Well I have done all sorts of jobs large and small to support my art, but if I wasn't an artist I really don't think I would choose any of them. It would have to be something creative – perhaps film, theatre or poetry.
2. Can you tell us more about your work and what are the main ideas you would like to express?When people ask me what kind of work I do I tell them I consider it 'lyrical figuration'. In truth I don't much like labels or distinctions, especially if they suggest abstraction is some kind of polar opposite to figuration. I think painting just has to be about finding the right form and materials to contain the idea or feeling. My motifs emerge from sketchbooks and drawings. In recent years the most dominant themes have concerned family, human folly, and different forms of exchange, crossings and boundaries.
3. How do you start the process of making work?
I consider the blank canvas, like a blank sheet of paper to a writer, an open affront. I have various 'ways in': sometimes I lay down designs in oil with large amount of turpentine and rags; other times I find house paint and wood shavings very effective. How I approach things depends as much upon the surface and support as state of mind. I like to have between twenty to thirty different works in progress at any one time, this way one or other option for proceeding always presents itself.
4. Do you consider the viewer, when making your work?
Only in as much as I am an avid viewer of art myself. I look at art from all periods (classical to contemporary) and taking account of my own tastes and critical judgement I am always hoping to produce work that I know would excite me if I saw it in a gallery.
5. Name 3 artists that have inspired your work?
Well I think all artists are magpies, stealing left right and centre, so I could answer this over and over. Leaving aside some major names I'll mention Morandi, the St Ives painter John Emanuel, and the Chinese painter Jia Juan Li.
6. Name 3 of your least favourite artists.
I don't give much thought to this but in my time I have been left cold by late Kitaj, David Salle, and, sad to say, the most recent large canvases of Hockey.
7. What defines something as a work of art?
In my opinion it is a cultural product of society. It is any non-functional object (or event) made by one party to engender awe or personal revelation in another. To qualify as 'good' art the work must refresh or challenge the prevailing tradition.
8. In times of austerity, do you think art has a moral obligation to respond topically?
I do not think there need to be prescribed societal conditions for an artist to consider their position to economic or political events, however I do not think the results can be mandated. The work of Käthe Kollwitz may seem closer to WWI conflict than Monet's weeping willows, but the latter were his carefully considered response, and I would defend them as equally just.
9. Anytime, any place – which artist's body would you most like to inhabit?
There are few candidates in recent times (candles who burnt brightly) but for longevity, genius, and the many other amazing insights it would afford me I will chose Titian.
10. What is your favourite 'ism'?
Individualism
11. What was the most intelligent thing that someone said or wrote about your work?
In a forward to a solo show in 2010 the Poet Adrian Blamires wrote: "Fitzmaurice playfully elides the grammar of the body."
12. And the dumbest?
A member of the public recently said to a gallery steward "What's he got to be so gloomy about?"
13. Which artists would you most like to rip off, sorry, I mean appropriate as a critique of originality and authorship?
I would enjoy tackling Barceló or Tapiés for the sheer material exuberance.
14. Do you care what your art costs? State your reasons!
Of course I do. Art needs to be recognised as both a gift and a commodity with market value.
15. If Moma and the Tate and the Pompidou wanted to acquire one of your works each, which would you want them to have?
What an indulgent thought! I would choose a smaller oil or one my sentinel heads for now, but maybe I would like this fantasy best if each were to take one of the large 'Crossing' or 'Exchange' series I will to produce over the next two to three years.
16. What's next for you?
I am busy drawing and painting my way towards my next solo show 'The Heart's Long Coast'.
Website: www.robertfitzmaurice.co.uk
Twitter: @robFitzmaurice
Facebook page: www.facebook.com/Fitzmaurice.art
Categories
Tags