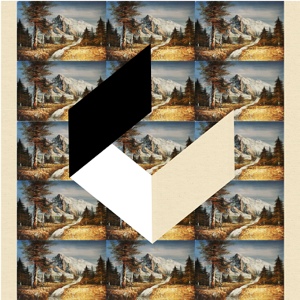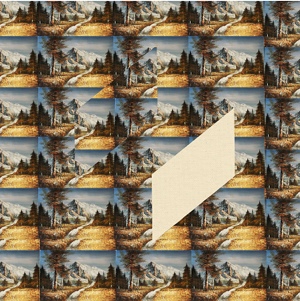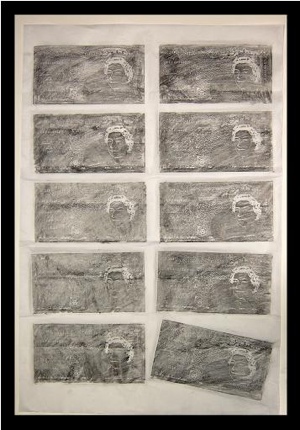 ???????1. If you weren't an artist, what else would you be ?
Most likely – unemployed. Before I went to Art College I was planning on studying politics and theology… dodged a bullet I think.
2. Can you tell us more about your work and what are the main ideas you would like to express?
The main idea I keep coming back to is the removal of the artist as a centre point of the artwork. I have a hard time looking at art that is some sentimental object or idea "chosen" by the artist for some personal reason. So I do the opposite by using commercial imagery that the majority of people have already experienced as a way of getting them involved. I love using kitschy paintings because I feel they are on the same level as gestural abstract painting, just variations on a theme where it's hard to distinguish from one artist to another.
3. How do you start the process of making work?
I like to keep things simple, a certain shape or colour. This year I've been using a lot of black and white and parallelograms, but normally it starts with finding a landscape painting and then doing lots of digital sketches until I'm happy to start putting paint stripper on it.
4. Do you consider the viewer, when making your work?
I like to think that I'm on the same level as the viewer when using the landscapes as the starting point. I feel all I'm doing is removing the unnecessary bits.
5. Name 3 artists that have inspired your work?
Asger Jorn, Amikam Toren, Sol Lewitt
6. Name 3 of your least favourite artists.
Yayoi Kusama, Karla Black and David Hockney.
7. What defines something as a work of art?
Something memorable.
8. In times of austerity, do you think art has a moral obligation to respond topically?I think art has enough problems with itself to start dealing with political issues. It's great to satirise and subvert topical issues, but to be some kind of moral compass is just asking for trouble.
9. Anytime, anyplace – which artist's body would you most like to inhabit?
Feliks Topolski. He had an amazing life. I had a special tour of the Topolski Centre led by his son a while ago and it was mind blowing.
10. What is your favourite 'ism'?
Comparative Vandalism
11. What was the most intelligent thing that someone said or wrote about your work?
I made a monotype of a nude years ago and someone said it looked like a dinosaur if you tilted your head upside down; needless to say, it's now a monotype of a dinosaur.
12. And the dumbest?
They ask if I need to get permission to paint over the factory made paintings.
13. Which artists would you most like to rip off, sorry, I mean appropriate as a critique of originality and authorship?
Well appropriation is pretty much what I do, but it would have to be Alexis Harding or Luke Rudolf. I'm a massive fan of their work.
14. Do you care what your art costs? State your reasons!
As long as I can cover my costs and able make another one, I don't want to make artwork to pay the bills or the studio. That would take the fun out of it.
15. If MOMA, the Tate and the Pompidou wanted to acquire one of your works each, which would you want them to have?
Harder Better Faster Stronger, 2010. It's the best painting I've made and I won't give it away very easily.
16. What's next for you?
Polkadot dot to dot drawings. It's a really simple series about how we sometimes read into and make associations with things that have no meaning, like conspiracy theories.
See and Buy Jack Jones at: www.jesterjacquesgallery.co.uk/
Categories
Tags