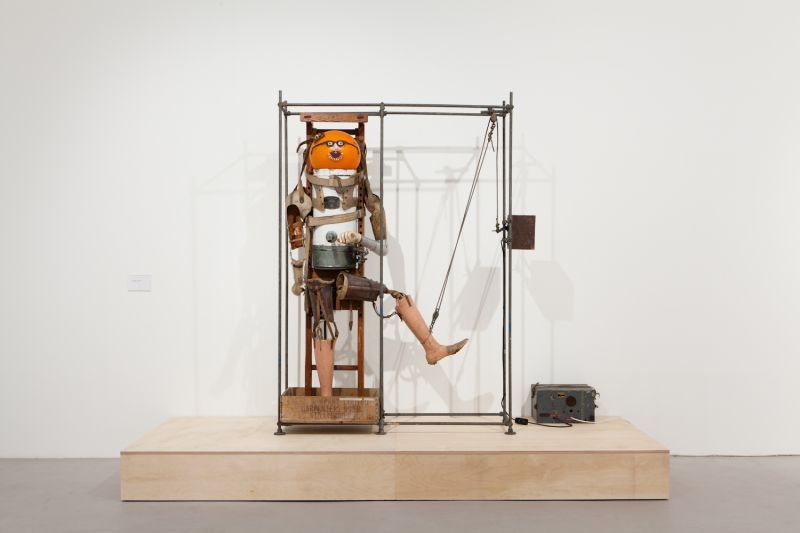 Until 16th September
Camden Arts Centre Arkright Rd, NW3 6DG Tue-Sun 10-6, Wed 10-9 www.camdenartscentre.org
Eccentricity, inventiveness and pure craziness of one man's life as art. Bruce Lacey made a film in 1983 'A Traveller Through Life' and now, aged 85, here is, if not the whole story, a good try at it. A co-incidental meeting with Jeremy Deller has led to the 75 min film directed by Deller 'The Bruce Lacey Experience' & this show, co-curated again by Deller with David Alan Mellor.
The three rooms of the gallery flow through & round Bruce Lacey's childhood, his marriage to Jill Bruce (now Smith), life with his 9 children from 2 marriages alongside all manner of weird & wonderful objects. He was so much part of the counter-culture of the 60's, the 'underground' – performing at the Middle Earth Club, the International Poetry Festival at the Royal Festival Hall, The Establishment Club, working as a prop & costume man with Spike Milligan & Michael Bentine, playing George Harrison's gardener in 'Help' & performing with The Alberts, with the Group H Collective at Better Books. All anti – establishment fun. Creepy time of the Cold War & Harold McMillan's 'You've Never Had It So Good'. Poking fun one way of making a serious political point.
An early love of flying & airplanes, he joined The Fleet Air Arm in 1945, & he had a gift for making mechanical objects from the post war necessity of collecting junk. If he had been accepted as a pilot his life would have taken a different journey, even the toy plane he had aged 5 is in a vitrine in Gallery 1, broken. Did he ever throw anything away? The exhibition is a gem because everything is there – childrens' dressing up clothes, paintings from his time at the RCA, the surreal quality of the performance carefully made costumes, the Bruce's filmed as shamans dressed for air / fire / water / earth – rituals of nature all screened, posters for The Alberts displayed, robots, even if not working, shown in good order, some now in the Tate collection including 'The Womaniser', not groping anymore but those pink plastic gloves waiting for the off. Its as if this show was waiting to happen – ready to all to come out into the open again. For it has been assembled before; as part of the 60's Art Scene (1983 & 1993) & also in 1975 at The Whitechapel Art Gallery's 'Bruce Lacey : 40 Years of Assemblages and Robots'. As early as 1985 his work was described as multi media events.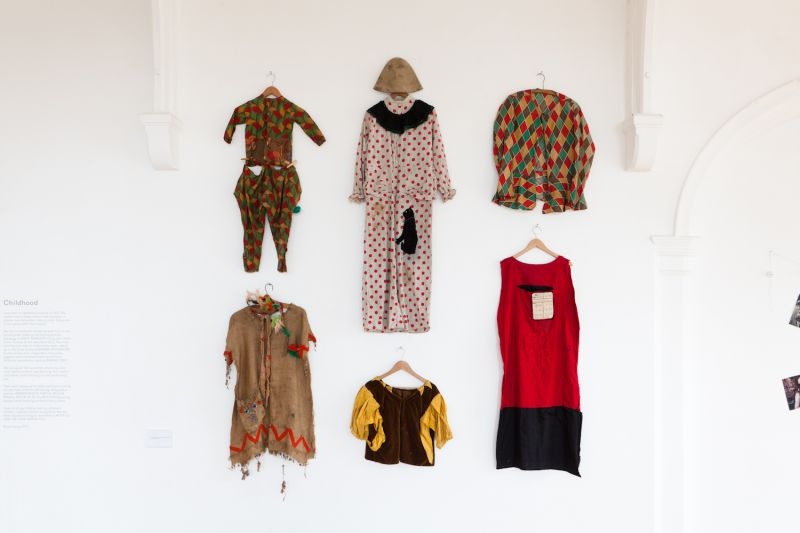 Bruce Lacey moved to Norfolk in the 80's after nine years as caretaker in Space Studios Martello Street. His marriage to Jill Bruce ended – a painfully personal performance marking this is shown in Deller's film. His robot R.O.S.I.E. B.O.S.O.M. was their best man/woman as he couldn't bear to leave her at home. They had collaborated together a series of ritual performances, all shown here as brief films, which somehow work better than the actual experience of being there at the time, all that waiting around for something to happen did dampen the spirits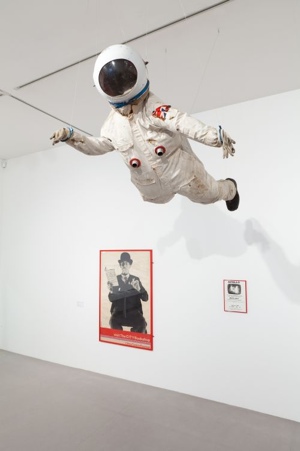 With their 3 children they had lived outside the Serpentine Gallery for a week as 'Home' & made 'The Lacey Rituals', don't miss Saffron playing 'The Bubble Bath'. He obviously relished the pleasure kids took in his 'Incredible Whatsit Machine' & became more involved with community arts in the 70's. The junk collector, props, costumes maker, all coalesce into the 'experience'. What a missed opportunity that they didn't select him for 'Les Magiciens de la Terre' in Paris in 1986. He didn't drop out, but he dropped out of sight.
And so to the happy co-incidence. A chance meeting with Jeremy Deller at EASTInternational in Norwich, not far from where Bruce Lacey lives now, leading to this show. Take along your inner child – if that's not too 60's speak in these harsh times – Bruce Lacey 'Playing Silly Buggars' is seriously funny.
Deller's film The Bruce Lacey Experience is being released as a DVD & there is a season of films at the BFI until 31 July. Both Bruce Lacey (on Sat 18 August 3pm) & Jeremy Deller (on Sat 8 Sept 3pm) are going guided tours of the exhibition.
Words: Kay Roberts
Categories
Tags