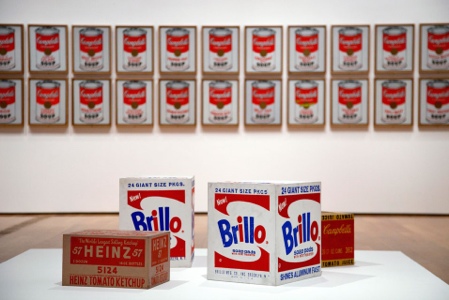 Andy Warhol's "Heinz Tomato Ketchup Box," "Brillo Box (Soap Pads)" and "Campbell's Tomato Juice Box" stand on dispay in front of his "Campbell's Soup Cans". AP Photo/David Goldman.

"In the future, everyone will be famous for 15 minutes." Andy Warhol, 1968.
In today's hyper-connected world of social media, 24 hour news channels, YouTube and reality TV, Warhol's predication seems more likely than ever before. The latest opportunity for fame comes from Brillo®, introduces the 15 Minutes of Fame contest.
Brillo wants to offer artists their own chance at fame. Brillo is calling all artists to create and submit an original Cover Design for a limited-edition commemorative book which will celebrate Brillo's 100 year anniversary in 2013.
The contest winner will receive a $1,000 Visa® gift card and 10 copies of the book, but more importantly, the winning design will also be displayed in the Andy Warhol Museum for one month and could potentially be seen by more than 100,000 visitors.
Second prize is a $500 Visa gift card and two copies of the book and third prize is a $250 Visa gift card and two copies of the book.
Entries may be submitted by August 17, 2012 through Brillo's Facebook page: Facebook.com/Brillo.
Winners will be announced September 10, 2012.
Beginning August 17, 2012, the public will vote to determine the top 10 cover designs. The top three winners, which will be chosen by an independent judging panel, will be announced on September 10, 2012. The independent judging panel includes: Nancy Bock, Senior Vice President, Education, American Cleaning Institute Nicholas Chambers, Curator, The Andy Warhol Museum Carolyn Forte, Director, Home Appliances and Cleaning Products and Director, Textiles, Paper and Plastics, Good Housekeeping Research Institute For the duration of the contest, participants will be able to upload art through Brillo's Facebook page: Facebook.com/Brillo. Visitors will be able to vote for entries they like. Participants must be 18 years of age and may only submit one design.
Categories
Tags