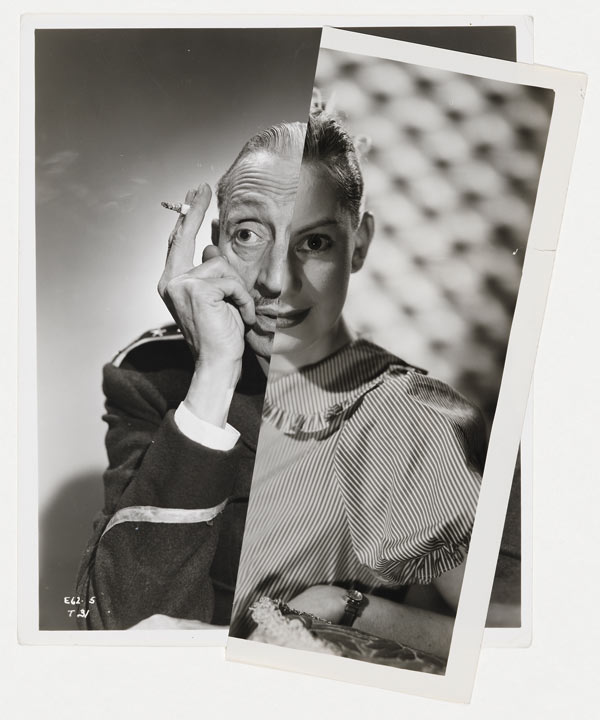 detail from Muse (Film Portrait Collage) XVIII (2012) by John Stezaker, shortlisted for the Deutsche Börse photography prize. Photograph: Alex Delfanne/Courtesy of the artist and The Approach, London

This article titled "Deutsche Börse photography prize 2012 – review" was written by Sean O'Hagan, for The Observer on Saturday 14th July 2012 23.06 UTC
This year's Deutsche Börse photography prize shortlist takes in documentary, fine art, found photography and intimate observation, but as I entered the exhibition what struck me most forcefully was the white space around the photographs. Compared to the newly redesigned gallery's opening show, where Edward Burtynsky's epic landscapes seemed to overfill the two top floors, this small, deftly hung group show allows the work of the four nominees acres of room to breathe. It almost feels like a different gallery.
Pieter Hugo, the young South African who made his name with his startling series The Hyena Men, is the only photographer here to print big and bold. The first image you see is the astonishing portrait Yakubu Al Hasan, Agbogbloshie Market, Accra, Ghana 2009. It's huge: 1.726 x 1.726 metres, to be exact. Hasan stares into the camera, a tyre hanging from one shoulder, a ball of coiled electrical wires on his head. It's one of several big portraits from the series Permanent Error, which focuses on the waste collectors who work amid the toxic smoke on the biggest dump for defunct computers in the world.
The images here suggest that Hugo is moving towards straight documentary, though he retains the detached, almost deadpan gaze of someone still dedicated to merging that medium with fine art. This work is as troubling and thought-provoking as ever, with three TV sets on the floor screening footage Hugo shot of the dump providing an eerie ambient accompaniment – cries, wind, snatched conversation – to the images on the wall.
In the same space, Rinko Kawauchi's work holds its own, though it couldn't be more different in style, content or tone. Kawauchi is a poet of the intimate and the everyday, best known for books such as Utaname (Catnap) and Hanabi (Fireworks). The work on show at the Photographers' Gallery comes from two recent series, Illuminance (2007-9) and Iridescence (2010). Light, often opaque and glowing, and movement are two constants, but so too is a quiet stillness that, in Kawauchi's best photographs, you can almost hear. "I prefer to listen to the small voices in the world, those which whisper," she writes in her artist's statement; "…my eyes naturally focus on small things."
An accompanying video serves as a kind of animated version of her photographs. The choice seems wilfully haphazard, even by Kawauchi's standards: a baby suckling at a breast; ash on a cigarette; a dead bull being dragged from a bullring by festooned horses and matadors while a sated crowd looks on. I'm a longstanding champion of Kawauchi's work, but something seemed to be missing here: the kind of consistency of vision that made her previous work so unique in its rendering of the impressionistic ordinary.
Downstairs, two artists who deploy photography in their practice occupy the gallery space in even more contrastingly dramatic fashion. The Los Angeles-based conceptualist Christopher Williams makes photographs that can be oblique to the point of obtuse. The three images on show here occupy a vast landscape of white wall. In one, a finger presses on a green button on an old electrical instrument of some kind. In another, two trays, one green, one red, stand upturned below an orange light, in a photographic developing lab. Williams is a master of colour and suggestion but what is he suggesting here, given that the two images are separated by a third, black-and-white photograph of a rolled haystack in a field?
The pictures are from the series called For Example: Dix-Huit Leçons Sur La Société Industrielle, which, according to the wall text, addresses the lingering effects of the cold war as well as the role of photography in shaping our society. Alas, we'll have to take Williams's word for that. As with much conceptual work, these images are also unintentionally about the limits of photography to convey the ideas of the artist.
The British artist John Stezaker is having a moment. Following last year's retrospective at the Whitechapel Gallery, and his recent inclusion in the Saatchi Gallery's Out of Focus group show, he's a real contender for this year's Deutsche Börse – despite not being a photographer at all. Stezaker works with found photographs, postcards and film stills, reconfiguring their meaning by slicing, juxtaposing, removing, rotating and masking. His work has a deadpan surrealist undertone and a definable signature.
Images from three of Stezaker's long-term, still ongoing series are on display here. The most familiar are from the Marriage series, begun in 2004, in which he has sliced publicity stills of long-forgotten Hollywood actors, then "married" them with other sliced faces to create a grotesque gallery of misfits – or, more specifically, miss-fits.
Stezaker's images can often look oddly old-fashioned – the end result of scissors, paste and board – and disturbing. He has a surrealist's eye for the grotesque and the absurd. Perhaps the most intriguing series is the one that most addresses the often accidental power of the photograph. In The 3rd Person Archive, Stezaker forgoes cutting and collage to focus on the tiny details in a series of found photographs taken from John Hammerton's 1920 Countries of the World encyclopedia. In each, a single tiny human figure is isolated. The end result is a unified group of photographic miniatures, each one featuring an anonymous figure in motion.
In Camera Lucida, Roland Barthes wrote of the "punctum" – the detail in a photograph that can disturb your reading of it (or, as Barthes put it, "that accident which pricks, bruises me"). In 3rd Person Archive, Stezaker upends this idea by making the detail become the entire picture, and in doing so makes you think about photography's possibilities in a whole new way. He may yet become the first winner of the Deutsche Börse photography prize never to have taken a photograph.
guardian.co.uk © Guardian News & Media Limited 2010
Published via the Guardian News Feed plugin for WordPress.
Categories
Tags