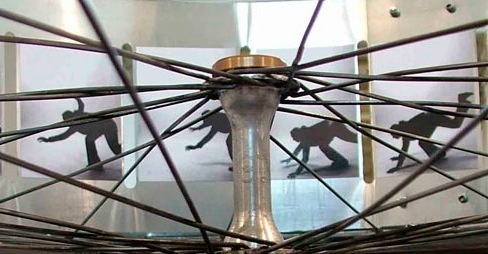 5th July – 28th July 2012
Through her dynamic practice that weaves together performance, installation, video and sculpture, Siobhán McAuley explores our accelerated lifestyles, looking at how we experience and understand time. By contemplating our often tested and fraught relationship with technology, she examines the effect this has on society, the human psyche and our quality of life.
Faster, Faster! includes the exhibition of four works Faster, Faster, (interactive sculpture), Doors Closing, (video), Olympic Dream, (live performance/video) and Tracking (a mixed media sculpture).
The sculpture Faster, Faster, features a zoetrope that is activated by a participant working the pedals of a static bicycle. The cycling action allows a film to be viewed within the optical device whilst pedalling. The eponymously named exhibition Faster, Faster! meditates and reflects on how we often trip over ourselves in an effort to get things done in our rollercoaster-like lives that seem to get quicker and quicker with the endless stream of daily activities.
McAuley will also perform Olympic Dream, a live action performance that neatly observes our quest for sport, competition and speed. Inspired by the universal desire for acceleration, McAuley will present a slow-motion sprint, perhaps jogging peoples' minds as to how fast now lives are … and now our sports are also one big race. A conscious antidote to the Olympics motto of 'Faster, Higher, Stronger'!
Doors Closing is a video portraying time spent waiting. It draws attention to technological advances that have radically changed the world which – in spite of saving us time – have reduced us to the act of waiting for long periods of time – for the tube, bus, checkout and the elevator.
Tracking: these works are 'drawings' created by using the postal system and are the antithesis to the machines that enable our multi-tasking, global and information-hungry lives. Marks are made on the inside of the boxes posted using loose graphite placed in the boxes at the start of the journey. The resultant marks record and represent the journey undertaken, referencing a slow process yet fast trajectory.
194-196 Hoxton Street London N1 5LH
www.abrooksart.com
BIO
McAuley's practice is concerned with our ever increasing need for speed and what this means in our human interactions and daily lives. This includes the impact of technology and how we manage our relationship to it. McAuley's sculptures and performance often instigate discussion that produces a specific sociability in a world where time has become so driven and our presence thin and forced – yet, on interaction with the works, people seem to feel comfortable with spontaneous exchange. The artist is in particular interested in public interactions with her work in the human context and the responses that follow.
McAuley has shown her work across the UK including the Barbican London and has previously exhibited around the globe in Mexico, Portugal, Dublin and China. She is a graduate of the MA programme in Fine Art at St. Martin's School of Art & Design.
Categories
Tags