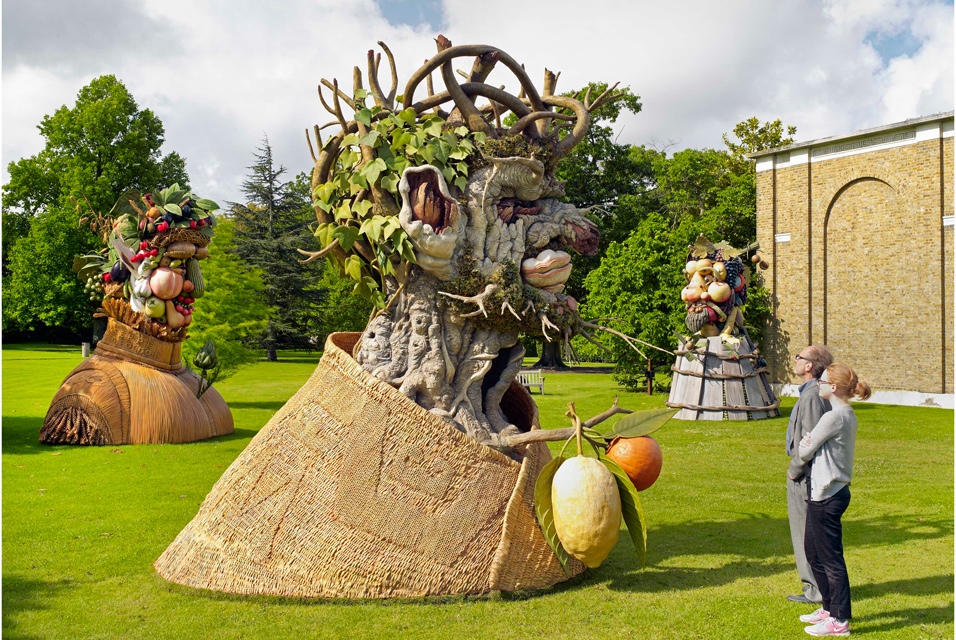 Dulwich Picture Gallery presents a monumental installation in its grounds to coincide with Andy Warhol: The Portfolios, The Bank of America Collection.
The Four Seasons, a set of four fifteen-foot fibreglass sculptures by American artist and film-maker Philip Haas, is the first ever public display of all four works and continues the Gallery's commitment to displaying contemporary sculpture. In a spectacular transformation that is typical of his work, Philip Haas has created a group of large-scale sculptures, inspired by Giuseppe Arcimboldo's renaissance paintings of the four seasons, comprising Spring, Summer, Autumn and Winter. The colossal size of Haas's sculpture accentuates the visual puzzle of natural forms –- flowers, ivy, moss, fungi, vegetables, fruit, trees, bark, branches, twigs -– as they are recycled to form four human portraits, each representing an individual season. The result is at once grotesque, earthy, and exuberant.
Giuseppe Arcimboldo's eccentric, yet scientifically accurate, paintings of composite heads in profile were popular in the 16th century and then again in the 20th, when they were rediscovered by the Surrealists. Haas's 21st–century reinterpretation has taken these beguiling paintings and brought them into the natural world.
The idea of Arcimboldo in three dimensions is intriguing as the paintings are all in profile so the face-on view is something the viewer would never have seen. The first work, Winter, was made in 2010 and was exhibited to great acclaim at the National Gallery of Art, Washington, D.C., before travelling in 2011 to the Piazza del Duomo in Milan and the Garden of Versailles. Ian Dejardin, Sackler Director of Dulwich Picture Gallery said: "Visitors to the Gallery in this Olympic summer will be greeted by – I confidently believe – the most astonishing photo opportunity of a very photogenic year. The presence of these monumental 3-dimensional interpretations of some of the most extraordinary trompe l'oeuil paintings ever made, in the Gallery's grounds, seen against the backdrop of the equally monumental yet diminutive Dulwich Picture Gallery, should induce a frenzy of camera activity: the lemon round Winter's neck is the size of a small child."
Philip Haas said: "I started the Four Seasons project wanting to bring Arcimboldo's sixteenth century nature imagery intothe twenty-first century physical world. I can't think of a better venue than the garden of Dulwich Picture Gallery to inaugurate the tour, where the sculptures will stand in juxtaposition with the old master collection, uncertain whether they should climb back inside the museum — or flee ! "
www.dulwichpicturegallery.org.uk/
Categories
Tags