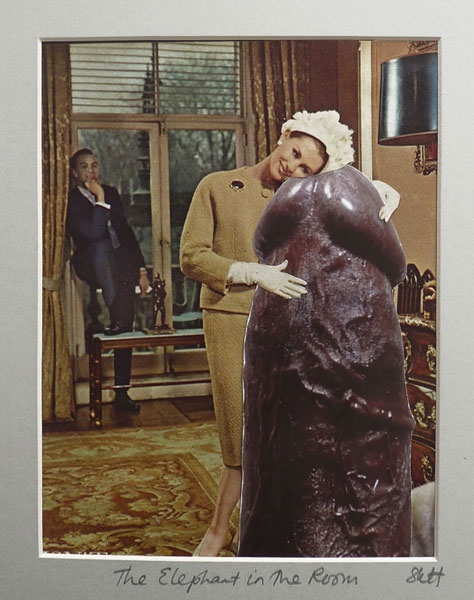 Sadie Hennessy, Elephant in the Room, Collage, 2011, 17cms x 22cms
20th June – 14th July 2012
'…and the (unanswered) mating call, or at least the rallying cry, of the aging woman as she grows old disgracefully.'
The WW Gallery are to present a solo show of new works by Sadie Hennessy. Taking its title from the 1963 British Pulp Fiction book, Strange Hungers delves into the mysterious workings of desire, and the insistent lusts and yearnings of the sexual appetite.
Taking a playful look at the slippage between repression and expression, decorum and disarray, the exhibition is a wry celebration of female empowerment. Hennessy works across media in collage, print and sculpture to explore a catalogue of insatiable hungers, including lady lust, mother love, the fear of female sexuality, the banality of pornographic imagery and the exploitative sensationalism of gossip mags.
Strange Hungers is both a humorously camp commentary on British cultural values and a critical examination of their changing status. Consistently outrageous, Hennessy subverts familiar imagery in an observational wit fest which boldly goes where it probably ought not to.
Sadie Hennessy creates hybrid objects & images which are both comfortably familiar and deeply unsettling. She operates within a cultural framework of 'Englishness' and explores the idea of nostalgia, and more pertinently, the construct of 'faux nostalgia' i.e. the yearning for a time that never actually existed. In August 2010 she won the Jealous Graduate Art Prize for her final MA show ('Accident & Emergency') at Central St. Martins. Since then she has been experimenting with various printmaking techniques, as a vehicle for her ideas, alongside her usual practice. In 2011 she was artist-in-residence in the printmaking department at Croydon College of Art, culminating in a solo show in the Parfitt Gallery in January 2012. She is represented by WW Gallery, London and has exhibited with them at the 54th Venice Biennale (June 2011), Crunch Art Festival (November 2011), London Art Fair (January 2011) and is currently exhibiting work in Diamond Geezer (16 May – 9 June).
Curated by Debra Wilson & Chiara Williams
WW Gallery, 34/35 Hatton Garden EC1N 8DX
Categories
Tags