Apple Cart Festival returns to East London's Victoria Park for its second year tomorrow. An altogether more serene affair than it's older sister, Field Day Festival, Apple Cart brings together art, comedy and music.
An eclectic outing, Apple Cart is a family friendly antidote to the thronging crowds of the Jubilee festivities. Its inaugural outing last year saw traditional torrents of festival rain, but, despite that, the first year was a big success and is back bigger and better this year. Last year FAD joined the crowds who came to dance undeterred by rainy skies, and crammed themselves into the comedy tent that has been made bigger this year to accomodate the masses.
Art Carboot Sale will be in attendance again, offering up their wares with their characteristic frivolity.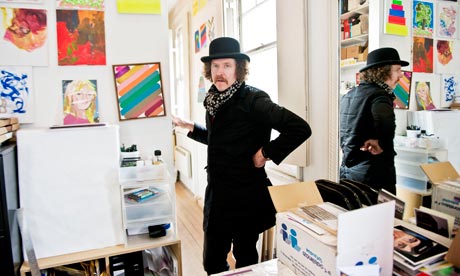 Martin Creed, yes, that Martin Creed, takes to the music stage to kick off his busy summer that is going to include Olympic bell ringing and the release of his debut album. The music stage will also be graced by the ever majestic and enchanting Stornoway, and we're hoping Francois and the Atlas Mountains will entertain us with their trademark synchronized dancing, seriously worth checking out. There are some real musical legends joining the line up too, hero of the left and the bard of barking, Billy Bragg will undoubtedly be leading the alternative Jubilee celebrations, and Adam Ant will be joined by The Good, The Mad, and the Lovely Posse.
A cabaret stage has been added to the lineup and the magic tent makes a return. The comedy tent, though bigger is likely to be as packed as last year with Josie Long, Rich Hall and Sean Lock on the bill.
http://theapplecartfestival.com/ 
Tickets are still available and can be bought here
Categories
Tags