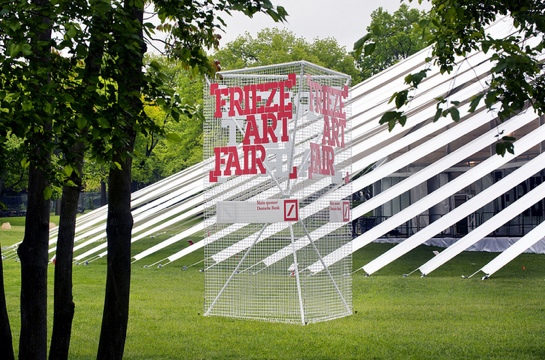 Frieze New York 2012 Photograph by Linda Nylind Courtesy of Linda Nylind/ Frieze
This article titled "Frieze New York review: more glitz, less grit, as art fair moves stateside" was written by Jason Farago, for The Guardian on Thursday 3rd May 2012 19.26 UTC
The question hovering over the inaugural edition of Frieze New York has been whether the British interlopers would displace the Armory Show, our increasingly moribund local art fair, as New York's leading festival of contemporary art and conspicuous consumption.
For the dealers and the collectors it's too soon to tell – Frieze opens on Friday after a collectors' preview on Thursday. But this is a far better fair than might have been expected the first time out, though compared with its old world cousin this is a safer affair, with little grit and lots of gloss.
The best news: Amanda Sharp and Matthew Slotover made the right call by holding Frieze on Randall's Island, a park in the East river usually frequented only by little-league baseball players. New Yorkers had been sceptical – it is hard enough to get us to cross Manhattan, let alone take a ferry (or limousine) across the water. But on the island, Frieze has enough space for a sinuous white tent, designed by the young Brooklyn architectural duo SO-IL, which curves along the waterfront. The tent offers continuous vistas up and down the fair – handsomer than other events' gridded chicken coops, though a bit intimidating as well. There are 180 galleries here, but nowhere to hide.
The original Frieze art fair, for all its wealth, remains closer to its scruffy east London roots than the old-money fairs in Basel or Maastricht. But there's no mistaking that Frieze New York is all business, and provocations of the type London audiences have come to expect – wrecked booths, disruptive performances, installations that mock art market absurdities – are not in evidence. Maccarone, an often confrontational gallery, is showing a sculpture by the brothers Oscar Tuazon and Eli Hansen, incorporating a tree from an Alaskan island where they lived for weeks – but also a 12-metre abstract striped painting by Ann Craven, elegant but benign. Even Gavin Brown, a once reliably provocative Anglo-American dealer, has mounted a beautiful but extremely safe booth, focused on seven achingly delicate paintings by Laura Owens, all linked together by a wooden mesh.
The biggest galleries have taken few chances. Need a monochrome Anish Kapoor disc to decorate your third home? Pick up a giant yellow one or a slightly smaller version in tasteful bronze – or else just wait until you and your 1% friends meet later this spring in Hong Kong or Basel, where you can try again. It's more rewarding to spend time in the single-artist installations by younger galleries, which Sharp and Slotover have placed smack in the centre of the fair. Among the lessons you'll learn: New York is over and all the cool American kids have moved to LA. At Redling Fine Art, Liz Glynn has made papier-mache replicas of gold jewellery from pawn shops across the City of Angels. Money comes and goes, she reminds us, and there's a market for everything.
And there are strong showings from galleries outside the standard art circuit, from Rio to Beirut.
Stevenson, an impressive South African gallery, has given its entire booth over to a sculpture by the Johannesburg-based Nicholas Hlobo: a riotous agglomeration of rubber, string and rainbow streamers covering two gallery walls and much of the floor. It looks like the detritus of a carnival or a mutant biological form that has vomited out the entire colour spectrum.
This first Frieze New York also incorporates a non-commercial section of art commissioned by the fair organisers, and after the procession of art-as-asset-class booths these projects are even more welcome than usual. The most exciting is a reinstallation of a 1979 sculpture series by John Ahearn: painted wax casts of the heads of his friends, other artists and patients from a methadone clinic near his Bronx studio. Ahearn himself is here, producing new works on site: it'll cost you, but as so often in New York, the hard part is not spending the money but getting the appointment.
Other works are scattered outside the tent. In the waterlogged grass near the entrance, with the Brooklyn-Queens expressway rumbling above, the Moroccan artist Latifa Echakhch has strewn dozens of tumbleweeds, the sort you might see roll through a one-horse town in some B-movie western. If they're meant to suggest that New York is more provincial than we natives realise, nobody told the Botoxed VIPs tearing through the preview with chequebook in hand. Frieze timed its arrival in New York to coincide with the massive sales at Christie's and Sotheby's, with its 0m sale of a version of Munch's The Scream – but this week has also seen the May Day resurgence of Occupy Wall Street, and outside the fair, protesting unions blared their horns so loudly that you could hear them throughout the tent. Even at this decidedly commercial affair, the voice of the 99% has slipped through. At Paris's Galerie Chantal Crousel, the New York collective Reena Spaulings has produced a series of monochrome paintings on pizza boxes, which turn out to have come from Zuccotti Park at the height of last autumn's anti-capitalist protests: fast food transubstantiated into high art, the demonstrators sneaking their way into the tent of their opponents. (Though for what it's worth, Frieze will be presenting two programmes this weekend on art's relationship to Occupy, including one entitled Art Isn't Fair: Collecting for the 99%.)
And by the East river, amid a dozen sculptures soon to decorate the gardens of Aspen or East Hampton, the Swiss artist Christoph Büchel has placed a shopping trolley full of newspapers, plastic bags and other debris, all wrapped up in a blue tarpaulin and covered in duct tape. There was no text to indicate it was an artwork, and no mention of it in the official fair map. Nor did anyone pay much attention to a second Büchel, a collapsible upright trolley stuffed with rubbish, the sort you see pushed by older women far from the network of art fairs stretching from here to Shanghai. It remains chained to the fair entrance, unnoticed by the hordes of VIPs striding past.
guardian.co.uk © Guardian News & Media Limited 2010
Published via the Guardian News Feed plugin for WordPress.
Categories
Tags