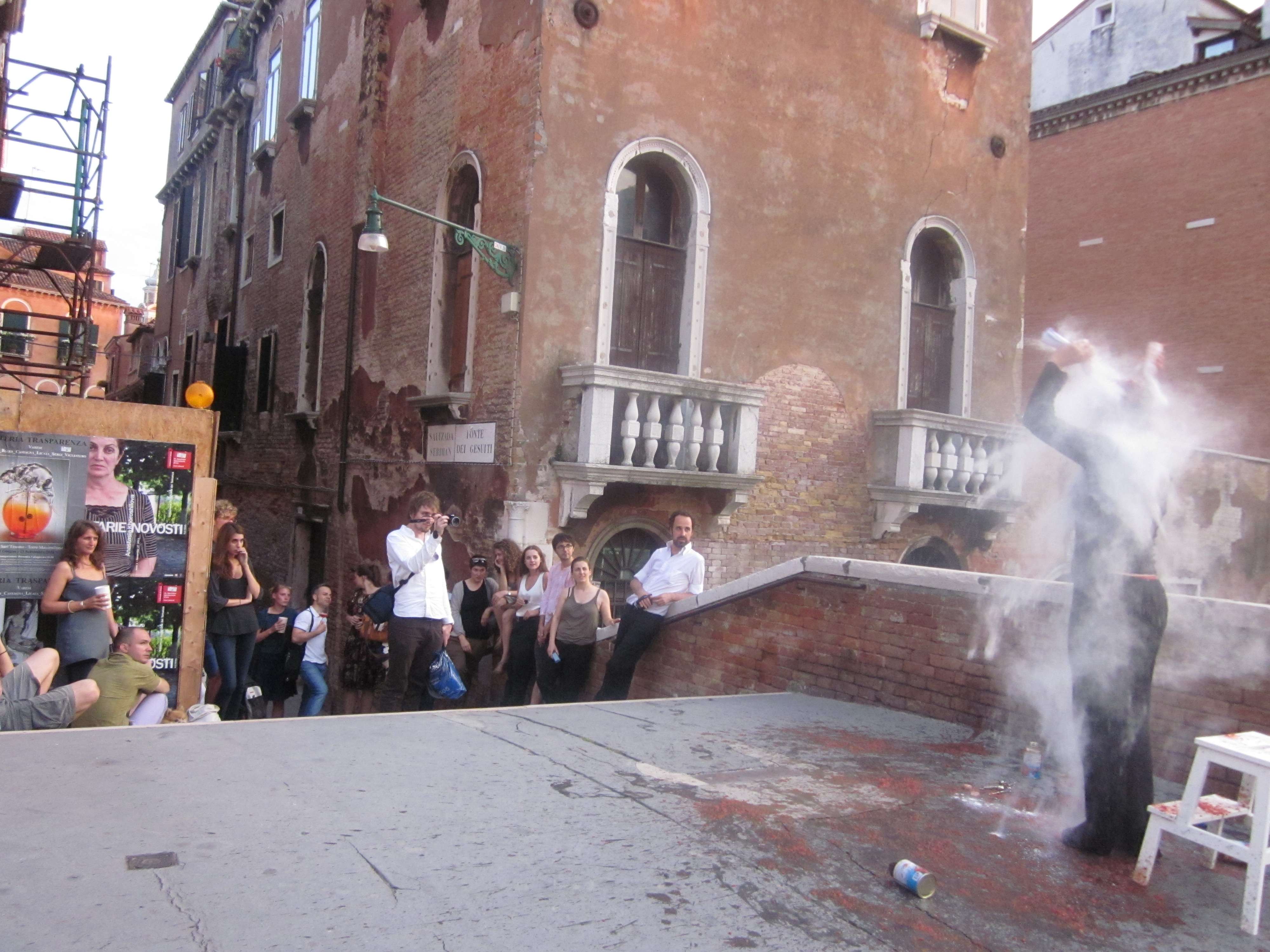 'Aesthetics of Emptiness', Forza Nuova, during 54th Venice Biennale, July 2011
We are delighted to announce that on the opening night of The Other Art Fair (10th May) artist Vanessa Mitter will be performing at FAD Office. 'Marionette' is a piece involving an invocation, an absurdist take on painting and the difficulties and failures encountered as a painter. The piece is loosely based on certain aspects of 'Wide Sargasso Sea', in particular, notions of spirit possession. Mitter makes paintings and drawings, as well as devising performances and writing. Mitter is interested in the use of alter egos and in autobiography, playing with the gestural and with the performative and exploring their complex history(ies).
Vanessa Mitter graduated from Chelsea College of Art and Design with a MA in Fine Art in 2010. Recent exhibitions have included: Collective (Frieze Week Exhibition) The Bear Pit London (through Carter Presents). 'Forza Nuova' at Space 4828, curated by Nicola Ruben Montini during 54th Venice Biennale, 2011. Trajector Art Fair, Brussels, Carter Presents, London. Group show 'de Kooning, de Kooning, de Kooning' at the David Risley gallery, Copenhagen in 2011, curated by Dexter Dalwood.  'I Am Not Here To Entertain You Curated by Karl Weill At the Bun House'. 'I Am Not Here To Entertain You', curated by alter ego, Karl Weill at Field Project Space, South London in 2010 and 'The Dandyism of Contempt', curated by Vanessa Mitter in 2010.
FAD OFFICE at
The Other Art Fair 2012
Curated by Kay Roberts and Chantelle Purcell 
Private View – Thursday 10th May 2012 – 5pm – 9pm
Friday 11th May 2012 – 11am – 8pm
Saturday 12th May 2012 – 11am – 6pm
Sunday 13th May 2012 – 11am – 6pm
FAD OFFICE is a four day event curated by Kay Roberts and Chantelle Purcell which presents performances and talks from established artists and curators alongside emerging artists. Terry Smith, Silvia Ziranek, Michael Petry, Kay Roberts, Douglas Park, Zeitgeist Arts Projects, Will Corwin, Jack Catling, Vanessa Mitter, Arcadia Missa, Ladies of the Press, Vitrine Gallery, Francesca Goodwin from Fabelist, Victory Press and Jennifer Cluskey. (More to be announced!)
FAD OFFICE presents a fictional construct of a 1970's magazine at this year's Other Art Fair (2012). FAD looks to the past to re-imagine the role of the publisher in the future, using the office as a testing site to research and critique ideas that are not openly discussed today. To comment on the shifting values in art both politically and socially. FAD asks; do we need to look back in order to move forward? And what will the future hold for art?
In a hope to bridge the gap between the online and physical incarnations of FAD, FAD Office will present a curated programme of presentations with invited artists and curators from 2pm Friday & Saturday and 1pm Sunday; FAD office will also run a series of interviews with The Other Art Fair artists 2012, all of which will be documented and available online. The responsive staging of the office will take place over the four days for the public to watch – welcoming critical and collaborative discourse and exchange.
From 11am to 1pm the space will be an open forum and working office space, visitors will be free to add their comments or be interviewed. Throughout the days FAD office staff will be re-enacting performances from the seventies whilst documenting the evolving staging throughout the four days.
For more information visit FAD office's temporary site: http://fadoffice.com/
For more information please visit:
http://showtime.arts.ac.uk/VMitter
review/de-kooning-de-kooning-de-kooning/
http://www.positive-magazine.com/art/nicola-ruben-montini-in-conversation-with-vanessa-mitter/
Categories
Tags