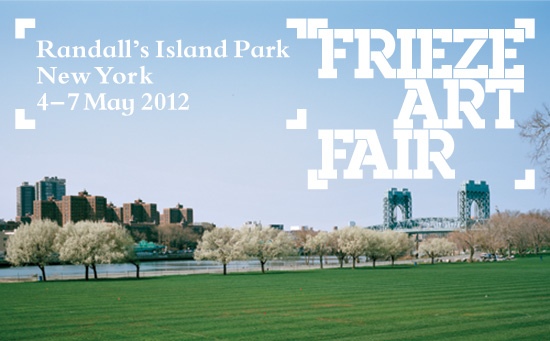 This article titled "London Frieze braves backlash to fly the flag of British culture in Manhattan" was written by Edward Helmore, New York, for The Observer on Saturday 28th April 2012 14.31 UTC
The Frieze art fair is set to plant the flag of British culture and commerce on Manhattan soil in its first overseas expansion of the brand.
But while organisers plan to shake up the cosy world of New York art fairs, and draw thousands of buyers and fans of contemporary art to a snaking, architecturally unique tent on Randall's Island, Frieze arrives as art critics and curators detect a significant shift in art practice away from the overtly market-orientated and commercial.
At the same time Frieze is drawing the attention of the Occupy protesters. The movement, gearing up for a city-wide day of demonstration, has vowed to picket Frieze over its use of non-unionised labour, as well as stage a general protest against art as a luxury for the rich. Members of the subgroup Occupy Museums plan to protest at what it calls "the rampant financialisation of art". Part of their objection, the group says, is that fairs such as Frieze benefit a small number of artists but not the larger arts scene. "We want to un-Frieze art," says representative Noah Fischer.
Besides waving placards, they plan to trade art for objects in kind, even tickets for the fair itself. Frieze co-founder Amanda Sharp says she's not necessarily against the Occupyers, but senses the protest is based on false expectations.
"Over the last 10 years, the art world has tracked global economic change. In America there is a more politicised awareness of inequality between class and wealth. At the same time, more people have decided that art can be a career. They've seen art reality TV shows and they think they can make a career purely out of their work. That's an unrealistic expectation so a lot more people feel disenfranchised," she says.
The fair features 180 galleries from around the world in a tent designed by New York-based SO – IL Architects. Among attractions are a sculpture park featuring works by Cerith Wyn Evans and sound installations by Marin Creed and writer Rick Moody that VIP guests will listen to as they are ferried to the fair in cars provided by sponsor BMW.
Occupy's positions are not far from an emerging view among New York curators and critics sounding the death knell for the era of conspicuous art consumption in which wealthy collectors were celebrated for spending money.
"For nearly 10 years, starting in the late nineties, art and money had sex in public. Lots of it. And really publicly. Art became news. Prices were equated with artistic value," wrote New York magazine art critic Jerry Saltz. "All you could think about was how much it cost." Now that's changing. It's the excess of wealth still pouring into art during the recession that is triggering a backlash. It's a counter-reaction, says Saltz, against an era of art made by armies of assistants in multiples and produced in factories for buyers looking to make markets around certain artists.
Saltz believes artists are looking for less overtly commercial ways to express themselves and art is moving towards performance or abstraction, smaller, more personal and difficult to collect. "A large number of disconnected and discontented artists, gallerists, and others have taken matters into their own hands, changing the directions of art, its structures, and maybe its internal values."
Sharp disagrees. "People may be making the anti-art market work," she says. "But the art world is a complex ecology. Every year there's a different perspective, fad or fashion. The generation that's coming up is community-based, less invested in material benefit and comfortable with new technology so art is not going to be immune to their perspective and influence."
There are signs of change. The influential Whitney Biennial is filled with art that's not commercial and more challenging. The recent suicide of Mike Kelley, perhaps the most influential US artist of the last 25 years, has been interpreted almost as a protest at over-commercialisation. If there is a backlash against art fairs, it may be because of others more oriented towards parties and product launches, like Art Basel Miami Beach.
"There was a point at which the art fair thing was supposed to give you a quick, accurate snapshot of the moment," says curator Neville Wakefield. "But now the moment has moved and there's a consensus against an endless parade of product and an endless parade of stupidity that attends it." Still, there's no doubt Frieze is making waves, luring dealers that would otherwise have booked stalls at the rival Armory Show in March.
But the sense of rebelling against the existing institutions is present at Frieze, too. The organisers chose to place it on an island, says Sharp, "so that it would not be part of the old hegemony".
She adds: "It's got some New York grittiness to it, something the city has lost in recent years."
guardian.co.uk © Guardian News & Media Limited 2010
Published via the Guardian News Feed plugin for WordPress.
Categories
Tags