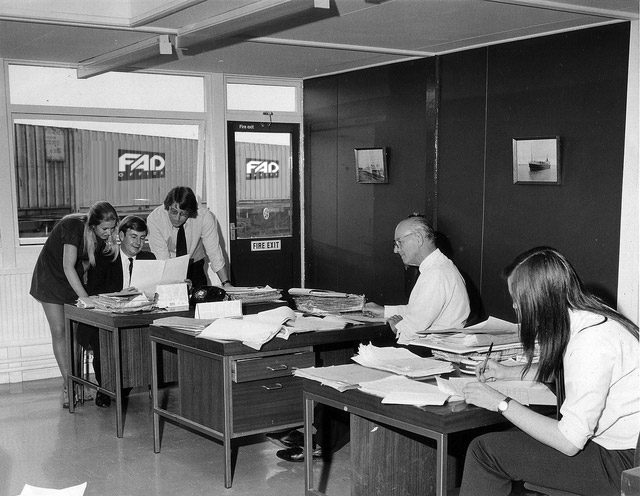 FAD OFFICE
Curated by Kay Roberts and Chantelle Purcell
(Programme to be announced!)
Private View – Thursday 10th May 2012 – 5pm – 9pm
Friday 11th May 2012 – 11am – 8pm
Saturday 12th May 2012 – 11am – 6pm
Sunday 13th May 2012 – 11am – 6pm
FAD OFFICE presents a fictional construct of a 1970's magazine at this year's Other Art Fair (2012). FAD looks to the past to re-imagine the role of the publisher in the future, using the office as a testing site to research and critique ideas that are not openly discussed today. To comment on the shifting values in art both politically and socially. FAD asks; do we need to look back in order to move forward? And what will the future hold for art?
In a hope to bridge the gap between the online and physical incarnations of FAD, FAD Office will present a curated programme of presentations with invited artists and curators; a series of in-depth interviews all of which will be documented and available online.  The responsive staging of the office will take place over the four days for the public to watch – welcoming critical and collaborative discourse and exchange.
Kay Roberts is back in London after 10 years in Paris, where she reviewed art shows for Vingt.Paris & site specific work for Art&ArchitectureJournal. In the 70's she was part of Coracle & in 1978 began publishing new exhibitions of contemporary art listings, eventually developing the web site before leaving for France in 2003. She has an MA in Interactive Multimedia RCA/LCC & did a Churchill Travel Fellowship in the U.S.A., looking at gallery archival systems. In between studies she ran 'Actualites', a project based in Docklands, curated shows in London & Italy, worked for Art in America & Journal of Art N.Y. and has continued making her own photographic work. She is currently writing a 30 year history of the London gallery scene using her archive.
Chantelle Purcell is a visual artist, writer and editor based in London. Purcell directs FAD CURATING along with Mark Westall, which launched in 2012.
Purcell recently graduated with a MA in European Arts Practice at Kingston University. Purcell's interest lies in exploring the ephemera that surrounds an exhibition and how this can be used to educate, promote interaction and build networks. Believing the exhibition should be thought of as more than the 'physical staging' she considers how the archive holds importance. She is currently editor of South London Art Map Magazine and played a pivotal role in the former artist's-run space Core Gallery in Deptford where she co-ordinated and a series of in-depth interviews with artists and curators coregalleryinterviews.blogspot.com
As a practising artist her interest lies in sound, performance and film exploring; the role of the documentation, authenticity within participatory works and how the 'immaterial' can be represented.
For more information: Visit: http://fadoffice.com/ For queries or to find out how to get involved. E: chantelle@fademail.com
Categories
Tags