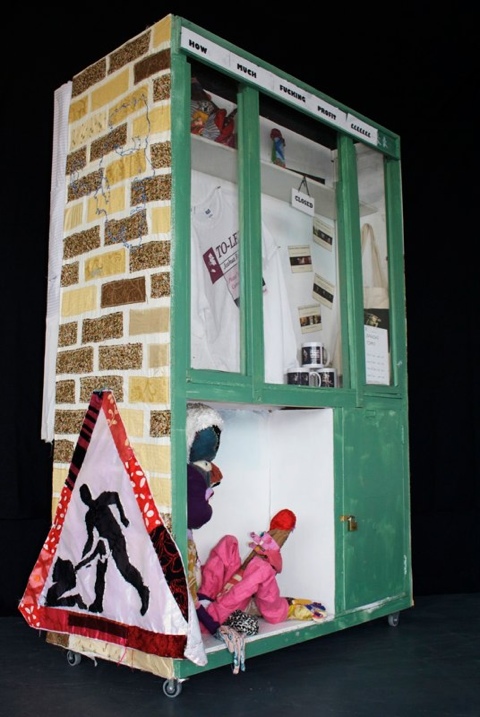 How much Fucking Profit
As part of FADs support for emerging artists we have teamed up with The Other Art Fair to showcase 14 of the exhibiting artists at Boxpark.
The Artists were chosen by Ryan Stanier (Fair Director TOAF) and Mark Westall ( Creative Director FAD) and they will have a piece of their work exhibited by poster In an exhibition at The Boxpark Gallery.
There will also be an art opening on Thursday May 3rd which will have live + performance art, Music + free drink + much more.
In the lead up to this event FAD will be showcasing each of the 14 Artists who were chosen
#ONE: Joshua Raffell
1.If you weren't an artist, what else would you be?
I already have a part-time job as a support worker for Men with schizophrenia. It's such an interesting job. Everyday is different. So I would probably take it more seriously, my boss would be happy.
2. Can you tell us more about your work and what are the main ideas you would like to express?
I want to create work that I believe to be exciting and provocative. I borrow influences from artists who inspire me. I hybridize the work by adding textures and layers that are essentially autobiographical or sensory. I use scrap bits of wood, to build over grown Giacometti like figures. Then adding patchwork fabrics (given to me by Family and friends) and hand stitch, allowing the subjective content of the work to become objective.
These, seemingly innocent, patchwork, puppet-like figures encourage even further interaction from the viewer by featuring projections pulleys, from a dangling piece of wood to a ripped up old teddy.
This inviting quality engages the viewer in an involuntary public masturbation, crossing sexual taboos. Despite their erotic nature, however, the work is intended as a liberation from social correctness around gender and sexual identities, rather than as a shock tactic..
The work plays with ideas that are considered shameful, naughty or over the top. By pushing the boundaries of craftsmanship I aim to explore our conception of shame and our response to situations and images that require tolerance. I want to embrace difference and accept that we all have our own perspective of what we may consider beautiful.
3. How do you start the process of making work?
Its all in my head I do have sketch books but I'm a visual learner and I problem solve hands on. I take from the things that catch my attention and that I'm interested in. I will research something and play with ideas if it remains in my head for a while and other possibilities come from then it's a green light and I'm off
4. Do you consider the viewer, when making your work?
I try to make work that is eye catching and exciting. I have a physical response to pattern and images so I try to make work that I would find exciting and provocative. I hope other people feel the same when they see it.
At my most polemical I refuse to be drawn by other people's inner world conflicts.
5. Name 3 artists that have inspired your work?
Paul McCarthy
Nathalie Djurberg
Spartacus Chetwynd
6. Name 3 of your least favourite artists.
Paul McCarthy
Nathalie Djurberg
Spartacus Chetwynd
Because they all play on my mind … tooo much.
7. What defines something as a work of art?
Something that is able to speak in another language. That touches people. Creates a spark…. Albeit a smouldering fire sometimes.
8. In times of austerity, do you think art has a moral obligation to respond topically?Art does respond to its time and things that are happening. What people think of art, fashion or ideas in the present only gain the realism with time and reflection. The happenings, a series of artistic events the 60's (that influences our own show within a show – 'Wish you were here' At 'The Other Art Fair'), gain interest, value and prestige because they involved people who are famous now. If those people were not famous then the happenings would be vague memories in the minds of a select group of people. Time, and a sense of timing, create both the response and topic.
9. Anytime, any place – which artist's body would you most like to inhabit?
Michelangelo.
10. What is your favourite 'ism'?
outsider art – outsiderism
11. What was the most intelligent thing that someone said or wrote about your work?Joshua's work while very far from the mainstream takes us further into the realm of physical rather than theoretical provocation. We have always been aware of our responsibility to the public and the appreciation (or otherwise) of art by the wider community (of non-artists), and as a gallery committed to offering some accessibility into the difficult area of serious art, we always have our door literally open and are always ready to be the necessary intermediary between the public and the sometimes complex art that we present.
That Joshua's work crosses and re-crosses boundaries of public and private seemed a perfect counterpart to our position in/outside the shifting art world/market where what is a dissenting voice one minute becomes a designated cutting-edge must-have commodity the next.
This can be an uncomfortable place and Josh recognises that we must all bear responsibility for wherever we situate ourselves along the spectrum of comfort and outrage. That Josh's work, beautifully crafted and defiantly object- and outrage-based, can simultaneously offend and delight the same sensibility at the same time seemed to us a perfect choice for our Artist in Residence 2011.
Studio1.1 Michael Keenan Keran James
12. And the dumbest?
At the Photo Workshop at Hackney Wicked 2011, someone left notes on rizzlers saying 'dumb' and 'retard'…
13. Which artists would you most like to rip off, sorry, I mean appropriate as a critique of originality and authorship?
Tracey emin
14. Do you care what your art costs? State your reasons!
Yes … I can't afford to be an artist full time. I have to work part time. So I need to earn from my art to be able to create art full time.
15. If Moma and the Tate and the Pompidou wanted to acquire one of your works each, which would you want them to have?
2012 – my latest work
16. What's next for you?
I was asked to stay on at studio1.1 after my residence in 2011, I go into the gallery on a Monday and Tuesday, Where I make work with the gallery open. Continue to collaborate with other artsits, to build on 'Wish you were here' we have other venues lined up studio1.1, The Other Art Fair.
To take part in 'The Fountain' show, at the Frameless Gallery. Also showing work at the Framing work shop during the Olympics, In Hackney wick. To say 'Yes" to anything else that comes along.
The Other Art Fair + FAD pre fair party Thursday May 3rd 2012 from 6pm at Boxpark
Join The Facebook Event for more info and a free drink: www.facebook.com/
www.joshuaraffell.com/
www.theotherartfair.com/
www.boxpark.co.uk/
Categories
Tags