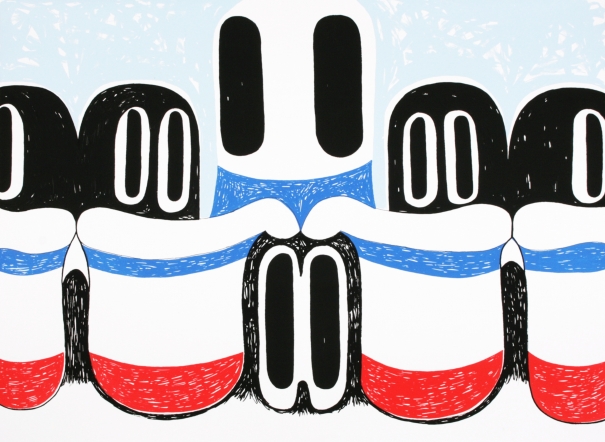 BUY £210 RENT:£35 HERE
About The Art
'Hidden Agenda' depicts a cartoonish set of pelicans in bright blue, white and red colours, that inhabit the paper like a funny, and possibly misleading, puzzle. The works shows Erik Bendix's interest in the repetition of motifs as artistic strategy, forming patterns and illusions of movement across the paper. 'Hidden Agenda' also explores the manner in which viewers approach imagery in an image obsessed popular culture, which Erik considers fundamentally infantile, consumer orientated and repetitive.
Erik wanted to produce a piece of seemingly uncomplicated imagery aimed at attracting the potential viewer, that actually reveals something of a much more serious nature (hence the title of the work): how we relate to mass culture and its pervasive influence in most realms of everyday life. In this sense, the work achieves exactly what it means to criticise, becoming a work of perverse artistic intention that leaves us wondering where, as viewers/consumers, do we stand exactly.
'Hidden Agenda' is a 4 colour screen print printed on 300 gsm Archival Cotton Paper. The edition of 25 hand numbered and embossed prints has been approved by the artist and comes with a signed certificate of authenticity.
About Erik
The main driving force behind my work has its origins in cartoon-based imagery with its ubiquitous presence within popular culture, and my painterly translations of these into something idiosyncratic and significantly less defined. Of particular relevance is the moment when a painting occupies the space of the interstice in content as well as in style. As such the painting becomes neither one nor the other, and clear-cut readings become problematic. The work proposes a re-evaluation of our culturally and historically inherited attitudes and approaches towards painting. As a means to this end my paintings intentionally lack any definite conclusions. Instead, the work places strong emphasis on subjective readings, giving an interchanging discourse between work and viewer prominence.
About Mark Westall