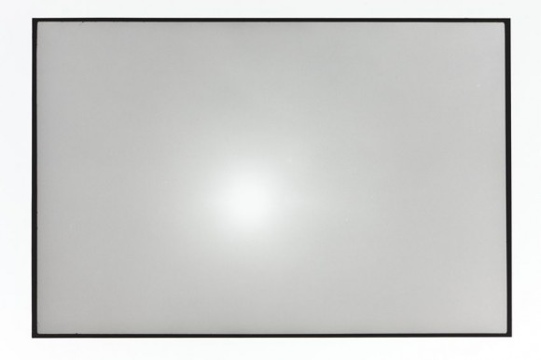 April, 4, frame 2, 2011 Gelitan silver print Courtesy the Artist and Galerie Gisela Capitain © Zoe Leonard
Camden Arts Centre, London, NW3 6DG
31st March – 24th June 2012
This spring, New York-based artist Zoe Leonard (b. 1961, New York) transforms Gallery 3 into a camera obscura. Daylight filters-in through a lens, projecting an image of the world outside onto the floor, walls and ceiling, creating a spatially immersive experience. Alongside this, Gallery 1 is filled with a new series of photographs of the sun and in Gallery 2 there is an installation of found postcards of Niagara Falls.
Across all the galleries this major exhibition engages three distinct forms of photography – experience, image, object – and in doing so pushes at the boundaries of photography as practice and medium. Zoe Leonard: Observation Point runs at Camden Arts Centre from 31 March – 24 June and admission is free.
The experience of Leonard's camera obscura is durational in a way that invites comparisons with film and video. As the ephemeral panorama unravels continually inside the space the viewer's attention is drawn to the shifts in movement and light – some dramatic, others barely perceptible. The north-south axis of Gallery 3 will provide constant light throughout the day, giving rise to a continually shifting, cinematic event. Leonard is harnessing the phenomenon of the camera obscura to think about ways of looking, recording and experiencing time and space as well as broadening current conversations about what photography is or can be.
Leonard's new series of photographs of the sun defies one of the cardinal rules of traditional photography – not to shoot into the sun – and challenges the possibilities of photographic representation. Photography customarily depicts the colour, form and spatial extension that the light of the sun allows us to discern, rather than the sun as subject itself. These images combine subject and process, retaining the glare and flare on the lens, the grain of the film in the enlarged print and the evidence of the artist's work in the darkroom. The third work, an installation of found postcards, continues Leonard's practice of attending to the world around her as a source of material, reframing or representing already existing images so as to refresh our own act of looking.
Tying all Leonard's work together is her constant concern with perception and visual experience. Leonard explores photographic seeing, how we relate to the mediated image and how we perceive the world around us and that affects our emotional, political, or psychological experience.
Notes to Editors
The camera obscura (meaning dark chamber), predates photography, and is a natural phenomenon. From ancient times until the 18th century it was used as a tool by draftsmen, artists, architects and scientists to understand perspective and the physical laws of light. In this way, the camera obscura connects photography not only to the physical sciences, but to drawing, painting and architecture.
About Zoe Leonard
Zoe Leonard (b. 1961, New York) is a New York–based artist working with photography, sculpture, and installation. A retrospective exhibition originated at the Fotomuseum Winterthur, Switzerland,(2007), and travelled to Museo Nacional Reina Sofía, Madrid (2008); the Pinakothek der Moderne, Munich (2008); and Museum Moderner Kunst Stiftung Ludwig, Vienna (2009). Other solo exhibitions have taken place at Dia:Beacon, Beacon, New York (2008 –11); Dia at the Hispanic Society, New York (2008); Wexner Center for the Arts, Columbus, Ohio (2007); Vienna Secession (1997); and Kunsthalle Basel (1997). Leonard participated in Documenta 9 (1992) and Documenta 12 (2007), and Whitney Biennials in 1993 and 1997. Recent publications include Analogue (2007 MIT press), Zoe Leonard: Photographs (2008 Steidl), and You see I am here after all (2010 Dia). She lives and works in New York City, USA.
Camden Arts Centre, Arkwright Road, London NW3 6DG
Categories
Tags