Amongst the half-dozen or so art fairs that take place in New York every March, one of the most interesting and innovative is Moving-Image – dedicated to the appreciation and promotion of video-art, whether it be film or animation, single-projection, sculptural or installation, from around the world.
The first thing that strikes one when walking into Moving Image is its unique atmosphere, which differs greatly from its contemporaries. Set in the old Manhattan Waterfront Tunnel and barely lit (for obvious reasons), it offers a much-needed relief from the hard lighting of other fairs, which can become exhausting, even if you do appreciate why it's necessary.
This feeling of being refreshed continues as one moves through the fair to view the work of its 31 featured artists, presented by galleries from Europe, Asia, the Middle East, Australia and North-America.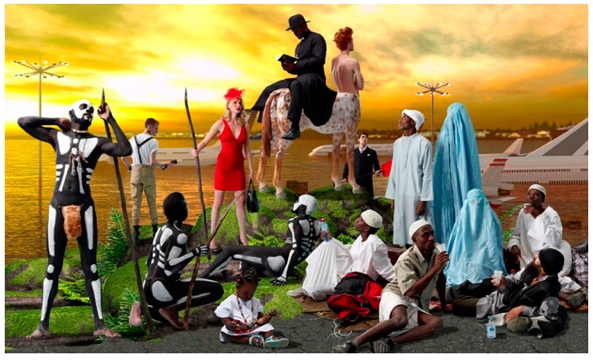 Highlights this year included collective AES+F's Allegoria Sacra (2011) – an epic film inspired by Renaissance master, Giovanni Bellini's painting of the same name. Thought to represent the 'waiting room' before the last judgement, for the film AES+F transpose the painting's location to an airport, where all life – from African Militia to Hollywood starlets, priests, to neo-nazis, – are found, locked together in a modern-day pergatory.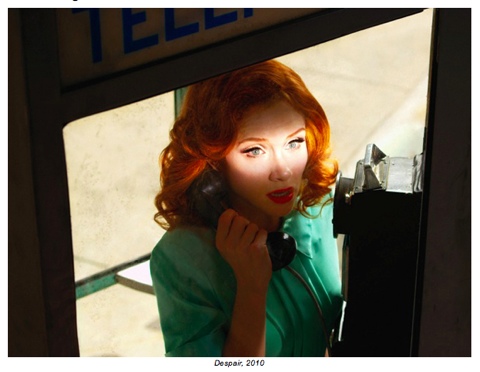 Photographer Alex Prager, who recently began making films, presents her latest, Despair (2010), which stars the young actress Bryce Dallas Howard. As with her still work, the film takes inspiration from glamourous technicolour associated with the 50's. Imbued with Hitchcockian suspense and the clear direct influence of of Charles Laughton's 'The Red Shoes', it's a hypnotic piece of melodrama.

Christopher K. Ho's Lesbian Mountains in Love (2009) is a poignant and sensitive film, which sees two mountains making romantic proclamations to one another. A love-story of two bodies, physically united until the earth's tectonic movement separated them, this simple premise absorbs the viewer in a deeply emotional and nostalgic piece of work. Watch it long enough and it almost seems that the mountain mounds are a bosom themselves, heaving in time with your own.
For those of you who missed this year's fair, their website www.moving-image carries links to all of the exhibitors. Here you can also find details of their planned second visit to London in October 2012, which if the New York show is anything to go by, is well worth a visit.
Bakul Patki

Categories
Tags