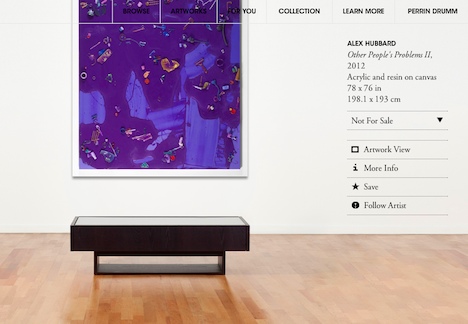 Wouldn't it be great if we had a Pandora for art? ( Its a bit like Spotify not available in the UK)
It would! You'd be introduced to hundreds of new artworks you actually liked and some you might even be able to buy. Cool. So, to accomplish that, we're gonna remove the names of all the galleries you can purchase work from, make sure you can't look at any video, and only include a fraction of the 20th century's most important artists in our database. Wait, what?
WHAT IS IT?
Art.sy is an online database that recommends art to users based on their preferences. The site is still in beta but at present they list 3,000 artists from more than 200 galleries, museums and private collections — approximately 15,000 works in all. Most are for sale.
People care about the Art.sy because, unlike the music or film world, in the art world there's no site that makes it easy for users to find art they might like. Also, there are a lot of fancy people involved: Peter Thiel, the founder of Paypal and a board member at Facebook, and Jack Dorsey, creator of Twitter, are both investors, and the venture has enlisted high-profile advisors like Larry Gagosian, Pace Gallery President Marc Glimcher, and Joe Kennedy, CEO of Pandora.
HOW WILL IT MAKE MONEY?
So far, the answer has been VC funding, which isn't exactly the same as making actual money. However, once the site launches, Art.sy will work on commission-based sales. The company takes 15 percent on the first $10,000 of any purchase, and 10 percent of anything beyond that. In this way, it differs from the VIP Art Fair, which asks galleries to shell out for the limited-time use of their software, but charges no fee for any sales that occur.
Another difference between Art.sy and the VIP Fair—and one we suspect will hurt Art.sy in the long term—is the amount of verbiage dedicated to the art. Whereas the VIP Fair encourages galleries to upload oodles of press, videos, and CVs for the artist, almost none of this is made available on Art.sy. Only a small blurb under each artist tells users about their career; one 75-word biography begins, "American painter Agnes Martin built her oeuvre around the search for sublime beauty and serenity." Frequently the "Additional Information" category is left empty or reads only, "Price includes frame". Needless to say, there's not much on this website that would sell a collector on a work that they weren't already interested in. ArtFagcity.com
Categories
Tags