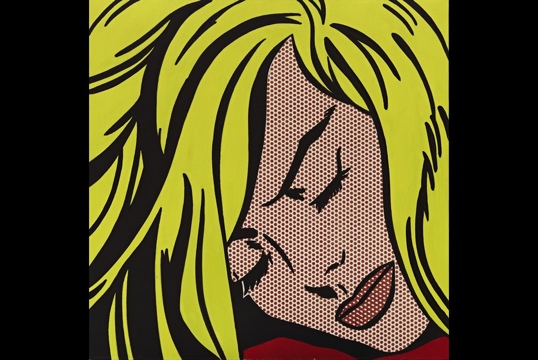 Roy Lichtenstein's Sleeping Girl from 1964 (36 x 36 in., 91.5 x 91.5 cm). Photo: Sotheby's.

Sotheby's Evening Sale of Contemporary Art on 9th May 2012 will feature Roy Lichtenstein's Sleeping Girl from 1964 (36 x 36 in., 91.5 x 91.5 cm) – one of the high-points of the artist's comic book inspired paintings and an icon of Post-War American art. The sexy blonde women of the comic book series are not only one of the most instantly recognizable icons of the Pop Art movement but continue the long, rich tradition of artists' celebrations of the sleeping female form. Paintings from this series are featured in the collections of major institutions throughout the world such as the Museum of Modern Art, New York and this work has remained in private hands for the past 48 years. Sleeping Girl is estimated to sell for $30/40 million and will be shown in Los Angeles, Hong Kong, London and New York prior to the auction on 9 May.
"Sleeping Girl is one of the great masterpieces of the 20th century, counting iconic depictions of women by Pablo Picasso, Constantin Brancusi and Amedeo Modigliani among its peers," commented Tobias Meyer, Sotheby's Worldwide Head of Contemporary Art. "Lichtenstein's 'girls' are arguably his most desirable works today and Sleeping Girl has been coveted since it was acquired in 1964, the year it was painted. It is astonishingly fresh and vibrant, as if it were painted yesterday."
This transformation of mass-produced commercial images into the realm of Fine Art is unequivocally one of the most important principles of 20th century art practice, and Sleeping Girl is its crowning achievement. Sleeping Girl is the highpoint of Lichtenstein's most acclaimed and sustained body of work, painted between 1961 and 1965, and stands out as the clear masterpiece among the single-figure, square format paintings of women from 1964, with a perfect harmony of size, composition and color.
From the Old Masters to Brancusi and Picasso, the sleeping female muse has been celebrated in the visual arts and Lichtenstein's romantic cartoon paintings make a compelling and dynamic contribution to that long tradition. Like Picasso, Lichtenstein was fascinated by women but in contrast to the modern master, works like Sleeping Girl are a vehicle for his innovation and contribution to 20th century art history, rather than homage to specific women.
A number of additional works collected by the Gershes will also be offered in upcoming auctions at Sotheby's this season. Among them are a group of Contemporary works by artists including Mark di Suvero, Susan Rothenberg, Tony Cragg and Kiki Smith, some of which were exhibited alongside Lichtenstein's Sleeping Girl in the 1989/90 MOCA exhibition, Selections from the Beatrice and Philip Gersh Collection. The offerings this spring will also include American Indian and African Works of Art.
www.lichtensteinfoundation.org/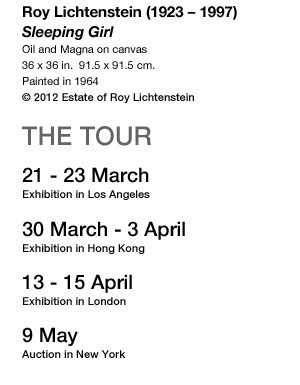 Categories
Tags