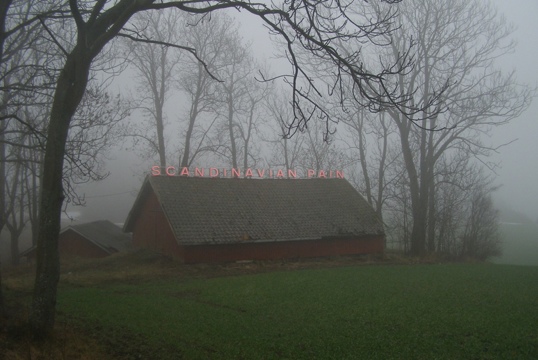 Ragnar Kjartansson, Scandinavian Pain, 2006-2012, Neon sign installed in Moss, Norway 2006. Courtesy of the artist, Luhring Augustine and i8 Gallery, Reykjavik.
The Armory Show, New York's announced the results of the fourteenth edition, held from March 8th to 11th 2012. Hundreds of major sales were recorded, more than 60,000 visitors attended the fair and the redesigned layout of Piers 92 and 94 in central Manhattan was greeted with an overwhelmingly enthusiastic response.
The fair will be remembered as the most vibrant in years. Participants in the 2012 Armory Show represented a thoughtful, curated mix of leading international dealers, who showed work that accentuated the fair's mission of innovation and discovery. In total, 228 exhibitors participated on Piers 92 and 94.
The Armory Show–Contemporary on Pier 94 featured 120 leading international exhibitors, 19 invited exhibitors in Armory Focus: The Nordic Countries, 11 exhibitors in the inaugural edition of Solo Projects and seven arts organizations participating in the Not-for-Profit Section. In total, 157 exhibitors representing 30 counties participated in The Armory Show–Contemporary.
The Armory Show–Modern, a section dedicated to international dealers specializing in historically significant Modern art, presented 71 exhibitors representing nine counties.
Sales Highlights: The Armory Show—Contemporary The Armory Show opened to more than 11,500 VIPs during the preview on Wednesday, March 7, with significant sales setting the tone for the run of the fair. Preview day highlights included the acquisition by Moderna Museet, the leading Swedish museum for modern and contemporary art, of Icelandic artist Ragnar Kjartansson's neon work Scandinavian Pain (2006-2012) from i8 gallery (Reykjavík).
The 40-foot sculpture was a centerpiece of the fair, adorning Pommery's champagne bar at the entrance to Pier 94. At David Zwirner (New York), the site-specific installation Michael Riedel created for the booth was an instantaneous draw: the three large-scale honeycomb panels on view were sold for $50,000 each to collectors from the United States, Europe and South America within the first 30 minutes of the fair's opening. Several additional sales of Riedel's work were also conducted at the gallery on the heels of the fair. "It was great to be back at The Armory Show this year," remarked David Zwirner director, Ales Ortuzar. "Our solo booth by Michael Riedel proved a huge success, and it gave the artist a unique opportunity to do something special here in New York. We look forward to returning in 2013."
Lisson Gallery was likewise successful, quickly selling across their gallery program with Allora & Calzadilla's Solar Catastrophe (2011) finding a buyer for $110,000, Ryan Gander's sculpture, Fortune on a string, or, Your eloquent works appear like a stuttering (2011) selling for £75,000, Jason Martin's oil on aluminum, Boadicea (2011), commanding £70,000, and a Julian Opie inkjet on canvas, Maria 4 (2011), going for $35,000, amongst other sales at undisclosed prices.
Victoria Miro Gallery said that the 2012 edition was their best ever Armory Show since joining the fair in 2001. The gallery sold all five of the Yayoi Kusama paintings on display for undisclosed amounts, including Guidepost to Youth [HOTQOX] and Signs of Spring [WQZY], as well as conducting major sales of work by Conrad Shawcross and Chantal Joffe. The gallery also reported high levels of museum interest at the fair, centering on Chris Ofili, Alice Neel, Stan Douglas and Isaac Julien.
At the Sean Kelly Gallerybooth, highlights included the sale of a large-scale Kehinde Wiley painting, The Tribute Money II (2012), for $135,000 on opening day, in addition to Leandro Erlich's cabinet of glass slides, La Vitrina Cloud Collection (London) (2011), for $65,000, several new photographic works by Idris Khan, whom Kelly recently added to his roster of artists, for $50,000 each, and all of the available Nathan Mabry works at £35,000 each. Kelly said, "Since our very first participation in The Armory Show, the fair has always been extraordinarily successful for us in terms of our outreach to both museum professionals and clients worldwide. We are extremely excited about the newly re-envisioned, reinvigorated Armory Show."
Sprüth Magers (Berlin, London), in the gallery's first appearance at The Armory Show since 2000, reported strong sales from their curated booth which highlighted the legacy of key artists from the 1980s. Sales included a George Condo painting for $480,000 and a work on paper for $120,000, both to American collectors, Barbara Kruger's Untitled (Now You See Us Now You Don't) (1987) for $175,000, Rosemarie Trockel's Ohne Titel/Untitled (1987) for €175,000, Walter Dahn's acrylic on canvas, Les Premier jours du Printemps (1986), for €80,000, as well as a major Cindy Sherman's photograph, Untitled Film Still #23 (1978), for an undisclosed amount. "We're very pleased to have participated in The Armory this year as we have met many collectors from the U.S. and sold works by George Condo, Walter Dahn, Barbara Kruger, Louise Lawler, Cindy Sherman and Rosemarie Trockel," remarked Philomene Magers.
Paul Morris, Founding Director of The Armory Show, noted on opening day that "the feeling at our fourteenth edition was one of excited appreciation for the significant changes executed for this year's Armory Show. Our dealers were selling notable works at solid prices. Our visitors enjoyed our new floor plan with 15 new lounges, wider aisles, larger booths and our Pommery champagne bar quickly became a generous spot to gather at the center of the fair. The re-envisioned Armory Show was amazing, and we were proud to welcome everyone to Piers 92 and 94 this year."
Armory Focus: The Nordic Countries
For the third edition of Armory Focus, The Armory Show turned its attention to the dynamic arts community of the Nordic countries and featured 19 of the most exciting galleries from Denmark, Norway, Sweden, Finland and Iceland. This invitation-only component of The Armory Show, Armory Focus: The Nordic Countries included works by leading artists, an engaging schedule of performances, FREE STUFF and more.
Michael Hall, Managing Director of The Armory Show said of the Focus Section, "the 2012 edition of The Armory Show's annual Focus was amazing and truly one of the standout features of the fair. Working with curator Jacob Fabricius, Malmö Konsthall director, was a new experience for us, but Jacob crafted the section with such care and consideration that visitors walked away with a true sense of the artistic community of the region. The diversity on view was also great, and showcased a wide selection by incorporating both artist run spaces and commercial galleries together."
Sales from the section were strong. Aside from placing Ragnar Kjartansson's Scandinavian Pain with Moderna Museet, i8 (Reykjavik) sold four of the Olafur Eliasson works on display in the $35,000-$60,000 range in addition to other works by Kjartansson and numerous editions from Birgir Andresson's Grey Colours in the work of William Morris at $4,500 each. Galleri Bo Bjerggaard (Copenhagen) reported selling three sculptures by Tal R, an important early painting by Per Kirkeby and two paintings by John Körner. "It was a great pleasure to participate at The Armory Show this year, not only because of the focus on the Nordic countries but also because of the whole atmosphere at the fair," noted Bjerggaard. "We sold major works both to Americans and to European collectors."
David Risely Gallery (Copenhagen) sold a painting by Thomas Hylander for $11,500, three wooden sculptures by Charlie Roberts for $6,700, each to a prominent New York collection and 15 works by artist Anna Bjerger in the $6,000-$12,000 range. Gallery DOR (Oslo), meanwhile, took an unorthodox approach, offering up the gallery, itself, for sale as a franchise for $5,000 (in an edition of five).
Armory Focus curator Jacob Fabricius said, "The Nordic Section was smoking! I was delighted to present the many artists and galleries in New York at The Armory Show as part of the focus on the Nordic Region. Among other things it was amazing to give out FREE STUFF and present artist run, non-commercial spaces within the commercial fair structure. The Nordic lounge was the place to be last week – and the Armory visitors and press loved it too. I could not be happier with the final outcome with the Armory Focus: The Nordic Countries."
Solo Projects At the inaugural edition of Solo Projects, a new section that was dedicated to single artist presentations on Pier 94 featured 11 emerging dealers from around the world in ten solo booths including Josée Bienvenu Gallery: Dario Escobar; Galeria Lucia de la Puente: Billy Hare; Francois Ghebaly Gallery / Nicole Klagsbrun Gallery: Patrick Jackson; Horton Gallery: Wallace Whitney; KS Art: Tom Fairs; MULHERIN: Mike Bayne; On Stellar Rays: Clifford Owens; SEVENTEEN: Kate Owens; TEAPOT: Christian Eisenberger; and Winkleman Gallery:
Jennifer Dalton.
Highlights included Clifford Owens' performance in front of a packed audience at On Stellar Rays' (New York) booth on Saturday, Galeria Lucia de la Puente's (Lima) sale of five works by artist Billy Hare for $7,500 and $12,000 and Josée Bienvenu Gallery's (New York) sale of a sculpture, six sets of drawings and two diptychs by artist Dario Escobar. Winkleman Gallery (New York) owners Ed Winkleman and Murat Orozobekov: "We were delighted with the response to our first presentation at The Armory Show, a solo project by artist Jennifer Dalton. We had strong sales of Dalton's mixed media sculptures, and welcomed hundreds of people wanting to have their photo taken with the cardboard cut-out of Jennifer in her Party Photo Op installation. Known for her wry critiques of the art world and art market, Dalton's piece, The Collector-ibles: Top Ten 2011 (based on ArtNews' annual rankings), also drew esteemed collectors such as Edythe and Eli Broad into the booth. The Broads appeared to be charmed by the miniature 'superhero' representation of themselves in Dalton's work."
Sales Highlights: The Armory Show—Modern On Pier 92, The Armory Show–Modern
reported the strongest sales yet as it ended its fourth edition, featuring blue-chip dealers, such as Marlborough Gallery (New York), Galerie Thomas (Munich), Galleria d'Arte Maggiore G.A.M. (Bologna), James Goodman Gallery (New York), Pace Prints (New York) and Marc Selwyn (Los Angeles). First time exhibitor Galerie Sho Contemporary Art (Tokyo) sold works totaling more than $600,000 on the first day of the fair, and Sicardi Gallery (Houston) sold a historic piece by Jesus-Rafael Soto titled Escriture Fine (1979) to a private collection in the United States for $550,000-600,000. Hollis Taggart Galleries (New York) sold a marble sculpture by Pablo Atchugarry for $150,000-$175,000, The Ballerina by Chuck Close for $125,000-$150,000 and a Richard Poussette-Dart work Garden Strata (1978) for approximately $100,000. Michael Schultz Gallery (Seoul, Berlin) sold Andy Warhol's NY Post (1984) for $200,000 in addition to a Cornelia Schleime work to a New York collector for $43,000. Galerie Thomas (Munich) made a number of sales on opening day and Marc Selwyn (Los Angeles), participating for their fourth year, placed major works with local and European collectors. Deborah Harris, Managing Director of The Armory Show – Modern, noted "the diversity of works on view in the Modern section this year was noticeable, and the quality of works available for sale was outstanding.
Rare and important works that were new to market, most with impeccable provenances were sought after by collectors and institutions. These factors contributed to the success of the show." James Barron Art (Rome) placed Sol LeWitt's Irregular Grid (1999) for $175,000 with a prominent New York collection. Works by Gerhard Richter were on display at several notable galleries and Galerie Ludorff (Düsseldorf) reported selling a rare painting by the renowned artist for an undisclosed price. Elsewhere on Pier 92, Vivian Horan Fine Art (New York) sold several works the first day and Pace Prints (New York), exhibiting for the first time, reported a number of sales to new clients. David Cleaton-Roberts of Alan Cristea Gallery (London) reported that buying remained strong throughout the weekend. LEVY (Hamburg), a returning Armory Modern exhibitor, sold a dozen small works from their well curated booth, and first-time exhibitor Whitestone Gallery (Tokyo) sold several works from their ambitious Gutai exhibition to major American collectors. John Ollman of Fleisher/Ollman Gallery (Philadelphia) reported he sold more on the VIP Preview Day than he did during the entire fair last year, while Gerald Peters Gallery (New York) reported several notable sales including a Georgia O'Keeffe work as well as the sale of Mark Sijan's Security Guard to a museum. Galleria Repetto (Acqui Terme) reported great success with Agostino Bonalumi, Melotti Fausto and Lucio Fontana works they presented in New York for the first time and Amy Wolf Fine Art and Elrick-Manley Fine Art (New York) placed a piece by Rudolf Stingel, two drawings by Isamu Noguchi and painting by Esteban Vicente among others. Louis Stern Fine Arts (West Hollywood), another first time Modern exhibitor, sold works by West Coast abstract painters Lorser Feitelson and Karl Benjamin at prices ranging from $40,000 to
Categories
Tags