March 24th until June 17th 2012
The Grand Palais in Paris is set to hold a retrospective of famed photographer Helmut Newton's work, featuring more than 200 photos – most of them original or vintage prints made under the photographer's direct supervision.
Since Helmut Newton's death (1920 – 2004), there has been no retrospective of his work in France, although he did much of his work there, particularly for the French edition of Vogue.
Provocative, sometimes shocking, Newton's work tried to capture the beauty, eroticism, humour – and sometimes violence – that he sensed in the social interaction within the familiar worlds of fashion, luxury, money and power.
The exhibition bring together more than two hundred photographs, mostly original or vintage prints made under Helmut Newton's supervision: Polaroid, working prints in various sizes, monumental works. It will be supported by press records, and a film made by his wife of sixty years, the photographer June Newton: Helmut by June.
It takes a retrospective, thematic angle. Through the major themes in his work: fashion, nudes, portraits, sex and humour, the exhibition seeks to show that Newton was much more than a fashion photographer. His photography shook off all constraints, even though he often worked within the rigid framework of fashion and portraiture. His work is eminently classical, fitting into a very broad view of art. It experiments freely with themes and formats, and presents a unique vision of the contemporary female body.
We used to say of Yves Saint Laurent that his creations had empowered women. The same could be said of Helmut Newton, who was long intimately involved in YSL's approach, and that was no accident. Nude or in a dinner jacket, Newton's women are powerful, seductive and dominant – never icy but always impressive or even intimidating. They are liberated women who take full responsibility for the freedom of their bodies, timeless and unclassifiable, open to all fantasies. They are rich women, who have conquered the world and its money, and luxuriate in refinement, from evening gowns to bed. Luxe, classe et volupté could be the motto of the Newtonian woman. When Newton published A World Without Men, he formulated the visionary expression of a society in which women had gained enough power to do without men if need be.
The exhibition does not stop at Newton's women, but explores the many, sometimes secret fields of his work. Designed by June Newton and punctuated by quotations from the photographer, it will be on both counts "Newton by Newton".
Conception
June Newton, with the collaboration of Jérôme Neutres, advisor to the President of the Réunion des musées nationaux – Grand Palais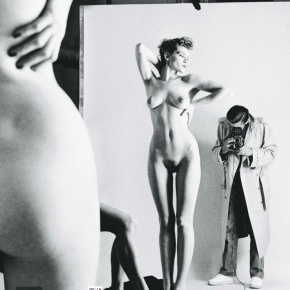 Categories
Tags