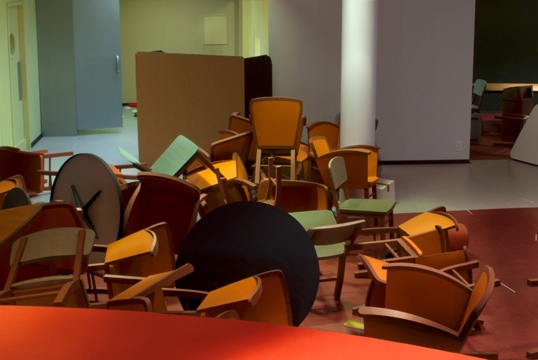 Thomas Demand is known for uncanny photographs and films made from his meticulous recreations of press or mass media images—often historic incidents or current events involving disaster or threat. During his recent stay in California as the artist-in-residence at the Getty Research Institute, Demand chose as his subject disturbing online footage of the tumultuous effects of big waves rocking a cruise ship called the Pacific Sun.
Before this new work is presented at galleries internationally, the Getty will present a sneak preview of Pacific Sun (2011) as part of a conversation with the artist, Oscar-winning film director Florian Henckel von Donnersmarck, and Michael Fried, author of Why Photography Matters as Art as Never Before (2008) and the R. Herbert Boone Professor of Humanities and Art History at the Johns Hopkins University, Baltimore, Maryland. Moderated by Thomas W. Gaehtgens, director of the Getty Research Institute, the discussion will center on Pacific Sun and explore the intersections of photography and film, of art and memory, and of aesthetics and technology.
Demand's most challenging and sophisticated project to date, Pacific Sun is a 100-second animated film based on a YouTube clip, showing people and furniture tossed dramatically about as waves batter the cruise ship. Over the course of months, and with the help of a 12-person team of animators, Demand carefully constructed a model of the ship's dining room in his signature media: paper and cardboard. In a painstaking process, he then brought the set to life through stop-motion animation. Demand meticulously retraced the movements of each item in the room—from chairs and tables to lemon slices at the bar—and recorded each shift in a single frame. The combined total of 2,400 frames creates a continuous film. The process resembles a technologically advanced version of Eadweard Muybridge's early animations of animals in motion. Devoid of human actors, Pacific Sun results in a surreal, stylized, but oddly familiar film that evokes memories of disasters at sea.
Source: ArtDaily
www.thomasdemand.info/
www.getty.edu/
Categories
Tags