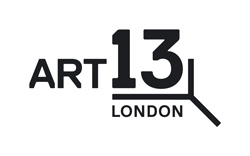 Art13 London, the international art fair for Europe's global city, launched by the founders of ART HK, Asia's premier art event Stephanie Dieckvoss appointed as Fair Director.
Art Fairs London Ltd is delighted to announce the launch of Art13 London, a new art fair for London, showcasing the best in international Modern and Contemporary Art. The first edition will take place at Olympia Grand Hall in the heart of West London, from 1-3 March 2013 (VIP day: 28 February 2013).
Art Fairs London Ltd is owned by Tim Etchells and Sandy Angus, the original founders of ART HK – the Hong Kong International Art Fair, which in four years has established itself as Asia's premier art event. The new Fair will feature between 80 and 100 of the most prestigious and interesting UK and International galleries, presenting art from the past 100 years in an elegant setting right in the heart of London. Gallery applications will open today March 12th. www.artfairslondon.com
The recently refurbished Olympia Grand Hall is centrally situated, close to major London institutions such as the Serpentine Gallery and the Victoria & Albert Museum. The location offers easy access for International and regional exhibitors and visitors due to its proximity to Heathrow airport, London's main train stations, and the national motorway network.
The dates of Art13 London follow on directly from London's most noteworthy film, music and fashion events such as the BAFTA's, the Brit Awards and London Fashion Week and place it firmly on the must-see list of the London spring season.
The organisers are pleased to announce the appointment of Stephanie Dieckvoss as Fair Director. Stephanie has a wealth of experience in the commercial and non-commercial art world.
Having worked as Fair Manager at Frieze from its inauguration in 2003, Stephanie played a central role in the launch of ART HK in 2007. As joint Fair Director alongside Magnus Renfrew, she was instrumental in the success of the first two editions of the Fair. In 2010 and 2011 she worked for the Serpentine Gallery, curating the Anish Kapoor exhibition as well as being responsible for the auction to benefit the Serpentine's Sackler Gallery, which took place in June 2011 in partnership with Sotheby's. Since 2009 she lectures regularly at Central Saint Martins College of Art and Design.
Co-Founder Tim Etchells commented, "Following the success of ART HK, we feel there is a demand for a quality International art fair in London with a global focus and an emphasis on a social and fun experience. We are delighted to welcome Stephanie Dieckvoss on board. Having worked for a range of prominent international galleries and art fairs including ART HK, she brings with her a wealth of institutional and fair experience."
Fair director Stephanie Dieckvoss added "I am thrilled to be Fair Director of Art13 London, a new global art fair for Europe's global city. Our aim is to translate a unique vision into a great experience for collectors and the general public alike. We will offer a dynamic and ambitious programme of commissions, lectures and educational programmes which each year will follow a unifying cultural theme that will truly expand ways of seeing and collecting. While the focus will be on the quality of the works, great importance will be given to establishing an easy to navigate fair."
About Mark Westall